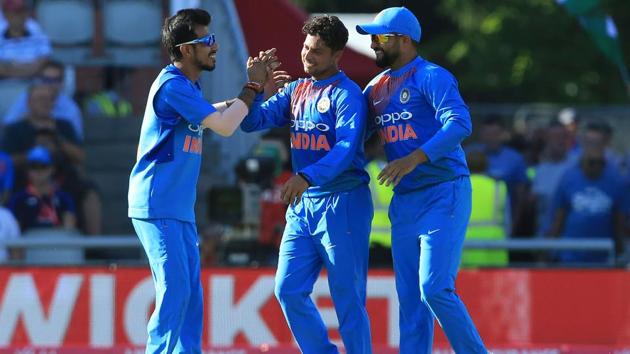 Batsmen not reading wrist-spinners reflects on poor training system
Batsmen's inability to read wrist-spinners out of their hand is causing them problem and shows modern methods don't prepare players to handle the challenge
By Ian Chappell
PUBLISHED ON JUL 08, 2018 12:25 PM IST
It's not only the stroke range that has dramatically evolved in short format batting but also the mental approach.
Contrast the somnambulistic approach of Essex's Brian Ward in a 1969 40-over game with England's record-breaking assault on the Australian bowling in the Trent Bridge ODI.
READ | CoA asks states units to cancel players' NOC to play in Tamil Nadu T20
Ward decided that Somerset off-spinner Brian Langford was the danger man and eight consecutive maidens resulted to hand the bowler the never-to-be-repeated figures of 8-8-0-0. On the other hand, England's batsmen displayed no such inhibitions in rattling up 481 off 50 overs, as Australia's bowlers, headed by AJ Tye's 9-0-100-0, were pummelled.
Nevertheless one thing has remained constant in the short formats; a wariness around spin bowling, although currently it's more likely to be the wrist variety than finger spin.
Wrist-spin brigade
The list of successful wrist-spinners in short-format cricket is growing rapidly and there have been some outstanding recent performances. Afghanistan's Rashid Khan was equal leading wicket-taker in the BBL; England's Adil Rashid (along with spin bowling companion Moeen Ali) took the most wickets in the recent whitewash of Australia; and in successive T20Is against England, India's Yuzvendra Chahal and Kuldeep Yadav have claimed the rare distinction of a five-wicket haul. It's a trail of destruction that would have gladdened the heart of Bill 'Tiger' O'Reilly, a great wrist-spinner himself and the most insistent promoter of the art there has ever been.
READ | India gear up for T20 shootout, Ben Stokes back for England
Wrist-spinners are extremely successful in the shorter formats and are being eagerly sought after for the many T20 leagues. Their enormous success is mostly down to the deception they provide with turn from both the leg and the off with only a minimal change of action.
Kuldeep's strikes
Kuldeep provided a perfect example when he bamboozled both Jonny Bairstow and Joe Root with successive wrong 'uns in the opening T20 at Old Trafford. The fact that Bairstow -- a wicket-keeper by trade -- was deceived by the wrong 'un is symptomatic of a malaise that is sweeping international batting; a general inability to read wrist-spinners.
This failing is not only the root cause of wicket loss from mis-hits but also contributes to a desirable bowling economy rate, as batsmen are hesitant to attack a delivery they're unsure about. This inability to read wrist-spinners is mystifying.
READ | MS Dhoni turns 37, celebrates birthday with family, Virushka and teammates
If a batsman watches the ball out of the hand the early warning signals are available. A leg break is delivered with the back of the hand turned towards the bowler's face while with the wrong-un, it's facing the batsman. As a further indicator, the wrong 'un, because it's bowled out of the back-of-the-hand, has a slightly loftier trajectory.
Final confirmation is provided by the seam position which is tilted towards first slip for the leg-spinner and leg-slip for the wrong-un. Any batsman waiting to pick the delivery off the pitch is depriving himself of scoring opportunities and putting his wicket in danger.
Subtlety pays
When Shane Warne was at his devastating peak, fans marvelled at his repertoire and offered this as the main reason for his success. "Picking him is the easy part," I explained, 'it's playing him that's difficult."
Richie Benaud, another master of the art, summed up spin bowling best; "It's the subtle variations," he proffered, "that bring the most success."
O'Reilly was not only an aggressive leggie but also a wily one and he bent his back leg when he wanted to vary his pace. This action altered his release point without slowing his arm speed and consequently it was difficult for the batsman to detect the subtle variation.
This type of information is crucial to successful batsmanship but following Kuldeep's demolition job, Jos Buttler said; "It may take one or two games" for English batsmen to get used to the left-armer. This is an indictment of the current system for developing young batsmen when you send them into international battle minus a few important tools.
Close