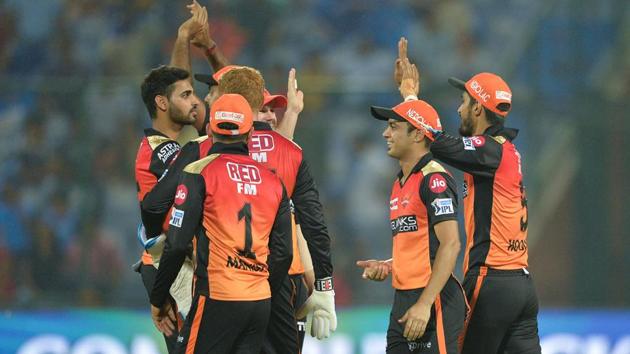 DC vs SRH, IPL 2019 Highlights: Sunrisers Hyderabad win by five wickets
Highlights: Mohammad Nabi played a pivotal role as Sunrisers Hyderabad dished out an all-round effort to record a five-wicket win over hosts Delhi Capitals and register their third consecutive victory in the Indian Premier League. Nabi (2/21) took two wickets with the ball and also played a crucial 9-ball 17-run unbeaten knock towards the end to help Sunrisers keep their winning run intact. By virtue of this win, Sunrisers have moved to the top of the eight-team standings with six points from four games. (SCORECARD)
Follow DC vs SRH and updates here -
UPDATED ON APR 05, 2019 08:22 AM IST
23:25 hrs IST
Good show for Sunrisers
SRH beat DC by 5 wickets
· 9th win for SRH vs Delhi in IPL — the joint- most for them against any team along with Kings XI Punjab.
· 4th win out of 5 IPL matches against Delhi at Kotla.
o Their only defeat vs Delhi at Kotla came in 2017.
· 5th win at Kotla in IPL out of 7 matches for SRH.
23:21 hrs IST
SRH win
Sunrisers Hyderabad have done it! It got a bit tough towards the end by Mohammad Nabi ended the encounter with a six and Sunrisers continue their winning run!
23:12 hrs IST
Match getting close
16 runs needed from 3 overs - This match is going down to the wire. The pitch has been extremely slow and if Delhi Capitals can bowl well, we may have an interesting ending to this game. SRH 114/5
23:07 hrs IST
Sunrisers lose fifth wicket
Another wicket goes down and this time, it is Deepak Hooda! He went for the big one but was caught in the deep by Kagiso Rabada. Sunrisers Hyderabad 111/5, need 19 runs to win in 24 balls.
23:05 hrs IST
Four wickets down
Vijay Shankar dismissed or 16 by Axar Patel
· 2 out of his 3 dismissals in this IPL has come on the bowling of spinners and one run-out.
· 13th consecutive innings without fifty for Shankar in T20s.
· 10th consecutive innings without fifty for Shankar in IPL.
23:01 hrs IST
Another wicket goes down
Will there be another batting collapse? Vijay Shankar ended up gifting his wicket to Axar Patel and Sunrisers Hyderabad are now 101 for the loss of four wickets.
22:57 hrs IST
Stat Attack: Manish Pandey
Manish Pandey dismissed for 10 by Ishant Sharma
· 9th consecutive T20 innings for Manish without fifty.
· 10th consecutive IPL innings for Manish without fifty.
· 3rd consecutive innings without fifty vs Delhi in IPL.
22:53 hrs IST
Pandey out
7 overs left and Sunrisers Hyderabad need 35 runs to win. But, Sunrisers Hyderabad lost their third wicket as Manish Pandey is caught in the deep off the bowling of Ishant Sharma. SRH 95/3
22:44 hrs IST
SRH taking it slow
The pitch at Feroz Shah Kotla has not been easy for the batsmen till now and with the exception of Jonny Bairstow, hardly one was able to play with much confidence. However, Vijay Shankar and Manish Pandey have a lot of time to chase down the target and they are taking it slow at the moment. SRH 87/2
22:28 hrs IST
Stat Attack: David Warner
David Warner dismissed for 10 by Rabada
· 1st innings without fifty for Warner after 3 innings in this IPL.
· 3rd consecutive innings without fifty vs Delhi in IPL for Warner.
22:31 hrs IST
Warner out
Kagiso Rabada strikes for Delhi Capitals and this time, his victim is David Warner. He slammed it straight to mid-off and Chris Morris made no mistake. DC 68/2
22:29 hrs IST
Stat Attack: Jonny Bairstow
Jonny Bairstow dismissed for 48 by Tewatia
· 2nd time Bairstow dismissed in 40s in 3 innings this IPL.
· All 4 times Bairstow dismissed by leg-spinners in this IPL
o Tewatia, Chahal, Gopal and Chawla have dismissed him in this IPL.
22:24 hrs IST
Bairstow departs
Jonny Bairstow's innings finally comes to an end as he was trapped LBW by Rahul Tewatia. However, Sunrisers Hyderabad are still in control and after 7 overs, the visitors are 64 for the loss of one wicket.
22:16 hrs IST
Stat Attack: Opening partnership
50 partnership for 1st wicket between Warner and Bairstow
· 4th consecutive 50+ stand between Warner and Bairstow in IPL.
Two more boundaries for Bairstow and he is racing towards another well-deserved fifty! SRH 61/0
22:12 hrs IST
Bairstow on fire
David Warner may be struggling a bit but there is no stopping Jonny Bairstow! Six boundaries and a six already under his kitty and the England international is making it look too easy for Sunrisers Hyderabad. SRH 47/0
22:06 hrs IST
Poor DRS call
Lamichhane was confident that David Warner was out bit the ball landed outside the leg stump and as a resutl, the DRS decision went against him. Bairstow followed that up with two consecutive boundaries and SRH are 28 for no loss.
22:00 hrs IST
Axar drops easy chance
Jonny Bairstow slammed it straight back to Axar Patel but he was unable to hold on to the ball. After the miss, Axar looked in a bit of trouble as he was holding his ribs. But it does not look like there was any injury. Just one run from the over as SRH are 7 for no loss.
21:56 hrs IST
Cautious start for SRH
Sandeep Lamichhane to open proceedings for Delhi Capitals and both David Warner and Jonny Bairstow played him quite cautiously. However, Bairstow did get one boundary in the first over as he guides it to the boundary through fine leg. SRH 6/0
21:40 hrs IST
Delhi Capitals 129/8
What a show from the Sunrisers Hyderabad bowlers! Siddarth Kaul took another wicket in the final over as they restricted Delhi Capitals to 129/8! Axar Patel did get a couple of good blows in the last over but will that be enough? Only time will tell.
21:32 hrs IST
Bhuvi strikes again
This is just too easy for Sunrisers Hyderabad! Bhuvneshwar Kumar strikes for the second time and this time, his victim was Chris Morris. Delhi Capitals 107 for the loss of seven wickets.
21:28 hrs IST
Stat Attack: Shreyas Iyer
Shreyas Iyer dismissed bowled for 43 by Rashid Khan
· 7th consecutive innings without fifty for Iyer in T20s.
· 10th consecutive innings without fifty for Iyer in IPL.
· Identical score (43) in consecutive innings at Kotla for Iyer in T20s.
21:24 hrs IST
Iyer out
Rashid Khan strikes and it is the big wicket of Delhi Capitals skipper Shreyas Iyer. Iyer was castled for 38 and it is almost all over for the hosts. They are 97 for the loss of six wickets.
21:18 hrs IST
DC need intent
5 overs to go! Delhi Capitals have a tough job ahead of them as they have not even crossed 90 yet. They have skipper Shreyas Iyer at the crease but he will have to increase the run rate soon. On the other hand, 130 may end up being a good target at Kotla tonight! DC 89/5
21:12 hrs IST
Stat Attack: Colin Ingram
Colin Ingram dismissed by Siddarth Kaul for 5
· Only 2nd wicket for Kaul in this IPL from 4 innings.
· 6th consecutive innings without fifty for Ingram in T20s.
· 8th consecutive innings without fifty for Ingram in IPL.
21:07 hrs IST
What a catch!
What a catch from Manish Pandey! Siddarth Kaul strikes for Sunrisers Hyderabad and Colin Ingram departs. This is not good news for Delhi Capitals as the hosts lose their fifth wicket for 75.
21:03 hrs IST
Iyer steady
Shreyas Iyer has been a solid presence at one end of the crease but he is losing partners at an alarming rate. The Delhi Capitals skipper needs some support on the other side and his partnership with Colin Ingram can be crucial to their fortune in this game. DC 72/4
20:59 hrs IST
Advice from Harsha Bhogle
150 will be a really good score here but #DelhiCapitals have to give themselves the opportunity to get there

— Harsha Bhogle (@bhogleharsha) April 4, 2019
20:54 hrs IST
Sandeep strikes
A slower one from Sandeep Sharma and Rahul Tewatia was completely foxed by the delivery. He ended up giving an easy catch to Mohammad Nabi as Delhi Capitals are 61 for the loss of four wickets.
20:51 hrs IST
Stat Attack: Rishabh Pant
Rishabh Pant dismissed for 5 by Nabi
· 4th consecutive innings without fifty for Pant in IPL.
· 3rd consecutive innings without fifty for Pant at Kotla in IPL.
· 1st time dismissed for single-digit score at Kotla after 8 innings in IPL.
· 1st time dismissed for single-digit score vs SRH in IPL in 7 innings.
20:46 hrs IST
Nabi strikes again
Deepak Hooda takes a good catch on the boundary and Rishabh Pant departs for 5. Pant went for the big one but was unable to connect properly with the delivery from Mohammad Nabi. A huge wicket for Sunrisers Hyderabad as Delhi Capitals are 54 for the loss of three wickets.
20:38 hrs IST
Sandeep Sharma
Sandeep Sharma, right-arm fast medium, comes into the attack and he was quite successful in the last match. He took three wickets in the last match and he will be surely be looking to add more to his tally. Read his full interview with Hindustan Times here.
20:32 hrs IST
Stat Attack: Shikhar Dhawan
Shikhar Dhawan dismissed for 12 by Nabi
· 3rd consecutive innings in IPL without fifty for Dhawan
· 4th time Dhawan has been dismissed by a spinner in this season of IPL
20:27 hrs IST
Dhawan departs
Shikhar Dhawan goes for the sweep but just ended up giving an easy catch to Bhuvneshwar Kumar. It is not looking good for the hosts as Delhi Capitals are 36 for the loss of two wickets.
20:24 hrs IST
Dhawan, Iyer steady
Shreyas Iyer and Shikhar Dhawan have steadied the innings after the initial fall of wicket and both the batsman are playing quite well. Iyer heaved Siddarth Kaul for a six and Dhawan followed it up with a boundary through fine leg off the bowling of Mohammad Nabi. DC 35/1
20:16 hrs IST
Stat Attack: Prithvi Shaw
Prithvi Shaw dismissed bowled by Bhuvneshwar for 11
· 1st wicket for Bhuvneshwar in this season of IPL
· 1st bowled dismissal for Shaw in this IPL season
20:12 hrs IST
Bhuvi strikes
You miss and I hit! A straight delivery from Bhuvneshwar Kumar and Prithvi Shaw missed it completely. The ball crashed into the off stump and Delhi Capitals have lost their first wicket. DC 15/1
20:09 hrs IST
Nabi into the attack
Mohammad Nabi bowls the second over and his disciplined line gives nothing away to Delhi Capitals openers. This has been a slow start for the hosts but do not be fooled. Delhi Capitals have a lot of power hitters and they can accelerate any time they want. DC 14/0
20:05 hrs IST
Good start
Shikhar Dhawan and Prithvi Shaw opened the innings for Delhi Capitals and they looked quite comfortable against Bhuvneshwar Kumar in the first over. The ball is keeping low at Kotla and as a result, both players played it out cautiously. DC 8/0
19:57 hrs IST
Friendly Rivalry
Shreyas Iyer 🤝 Bhuvneshwar Kumar #OrangeArmy #RiseWithUs #DCvSRH pic.twitter.com/OXe00ZwI8d

— SunRisers Hyderabad (@SunRisers) April 4, 2019
19:54 hrs IST
Vijay Shankar
"We have been playing good cricket all-round. All I am looking for right now is to contribute in whatever way possible to the team's victory." - Confident words from SRH all-rounder Vijay Shankar.
19:48 hrs IST
Captain quotes
"It's a dry wicket but keeping the way we've batted in the last few games, we want to chase," Bhuvneshwar Kumar said at the toss.
"We would have bowled first as well, irrespective of what happened the other night. Looks a dry surface and it might spin more in the second half. So, banking on that." - Shreyas Iyer.
19:45 hrs IST
it's almost game time!
Here's the Playing XI for #DCvSRH

Live - https://t.co/eCgmofbt5n #VIVOIPL pic.twitter.com/Xdzq3enqqg

— IndianPremierLeague (@IPL) April 4, 2019
19:43 hrs IST
DC Playing XI
Three changes for Delhi Capitals - Ishant Sharma, Axar Patel and Rahul Tewatia come in.
Delhi Capitals XI: Prithvi Shaw, Shikhar Dhawan, Shreyas Iyer(c), Rishabh Pant(w), Colin Ingram, Chris Morris, Axar Patel, Rahul Tewatia, Kagiso Rabada, Sandeep Lamichhane, Ishant Sharma
19:38 hrs IST
SRH Playing XI
Sunrisers Hyderabad XI: D Warner, J Bairstow, V Shankar, M Pandey, M Nabi, Y Pathan, D Hooda, R Khan, B Kumar, S Kaul, Sandeep Sharma
19:33 hrs IST
SRH opt to field
Sunrisers Hyderabad have won the toss and they will field first against Delhi Capitals. Considering the batting performance of SRH in the last couple of years, it will be an advantage for the visitors to chase.
19:23 hrs IST
Rohit Sharma on World Cup squad
"I know how it works with the captain. The preference of the captain is very important in terms of that extra player he wants in the squad. I think Virat and (Indian team's head coach) Ravi shastri have to decide what exactly the combination that they want or what extra player or where is that extra cushion they are looking for. That is something that will matter the most," Rohit said at the launch of website cricket.com.
"I think we are pretty much settled. A few spots are there which everyone knows about. It all depends on what captain, coach and selectors think about the combination, whether we need to go with an extra middle order batsman, extra opener, extra seamer or spinner. Conditions in England will matter a lot."
19:16 hrs IST
DC's over dependence
DC's batting order has choked in their last two league games vs KKR and KXIP.
• Chasing 186 runs vs KKR with just 18 runs needed in 18 balls, DC lost 4 wickets managed to
score just 17 runs and won in the super won with the brilliance with the ball by Rabada.
• In the other game vs KXIP, chasing 167 runs DE were bowled out for 152 runs after being 144/3.
o DC lost 7 wickets for just 8 runs in space of 17 balls.
• Hence, if we look at runs scored by DC batsman in IPL 2019 out of the 669 runs 74.29 % of the runs have come from the top-order batsman (#1-#4) (497/669).
• Main reason behind Delhi's failure in IPL is due their over dependence on their top-order batsman.
• In the last five year the top 4 batsmen have scored more than 60.00 % of the Delhi's runs in IPL.
o 2015: total runs -2061 out of which 1524 by top 4 (74.93%)
o 2016: total runs -1995 out of which 1362 by top 4 (68.27%)
o 2017: total runs 2131 out of which 1364 by top 4 (64.01 %)
o 2018: total runs 2250 out of which 1650 by top 4 (73.33 %)
19:07 hrs IST
SRH's super weapon
The opening pair of David Warner-Jonny Bairstow have put on a hundred runs stand in all the matches they have come out to bat.
o 118 vs KKR at Kolkata
o 110 vs RR at Hyderabad
o 185 runs vs RCB at Hyderabad
• Overall in his IPL career so far, Warner has been involved in 10 hundred plus opening stand.
19:02 hrs IST
SRH impressive at Kotla
Match results between DC and SRH at Kotla:
o In 2013: SRH won by 3 wickets
o In 2014: SRH won by 4 wickets
o In 2017: DC won by 6 wickets
o In 2018: SRH won by 9 wickets
• SRH is one of the most successful visiting sides playing at Kotla as their win rate is joint highest among all the active team at this venue.
18:53 hrs IST
Pitch Prediction
The Kotla wicket has remained low and slow and it could be a battle of spinners. But in that case, it will again be Rashid Khan and in-form Mohammad Nabi, who will hold the edge against hosts Delhi. While DC also have quality spinners in their ranks in Amit Mishra, Axar Patel, Sandip Lamichhane among others, SRH clearly hold the edge.
18:45 hrs IST
A message from Shreyas Iyer
#SkipperSpeaks 🗣 We caught up with our captain last night and here's what he had to say about #DCvSRH!

Ab #NeelaPehenKeAanaHai aur dikhana hai #QilaKotla mein aap ke support ka kamaal! Let's win this!#ThisIsNewDelhi #DelhiCapitals #IPL #IPL2019 pic.twitter.com/Ic4MMoWUob

— Delhi Capitals (@DelhiCapitals) April 4, 2019
18:34 hrs IST
SRH on the rise
After losing the opening game to KKR from a winning position, Sunrisers regrouped and came back strongly. While their first win against Rajasthan Royals was a good game of cricket, they decimated Royal Challengers Bangalore in their third game. Riding on centuries from David Warner and Jonny Bairstow, SRH put on 231/2 from their 20 overs before bundling out RCB for just 113. The 118-run win will definitely fire-up the team when they walk into the game at the Feroze Shah Kotla on Thursday.
18:27 hrs IST
Elaborate traffic arrangements in Delhi
The Delhi Traffic Police has made elaborate traffic arrangements for parking of vehicles, pedestrians' movement and safety of the visitors in and around the Feroz Shah Kotla Ground here which hosts an IPL T-20 cricket match on Thursday, officials said.
18:24 hrs IST
New 'Mankad' moment
In Wednesday's blockbuster clash between Mumbai Indians and Chennai Super Kings, the 'mankad' controversy made its return as Krunal Pandya stopped mid-action and although he did not do anything, MS Dhoni was alert enough to drag his bat back into the crease. Full story here.
18:16 hrs IST
Amit Mishra's record
Amit Mishra is just one wicket away from making history in the Indian Premier League. The leg-spinner needs one more scalp to become the first Indian to take 150 wickets in the cash-rich league. Read full story here.
18:13 hrs IST
Sayan: SRH's impressive bowling attack
Bhuvneshwar Kumar and Rashid Khan are capable of finding a spot in any side on any given day and the fact that Sunrisers Hyderabad have both of them in their ranks show how strong their bowling line-up is. Add Siddarth Kaul and Sandeep Sharma to the mix and it will be quite difficult for Delhi Capitals to score against them. Look at the last season - SRH consistently defended quite below par totals and considering how DC struggled in the last two games to finish the matches, that can prove to be the deciding factor in today's encounter.
18:08 hrs IST
Arnab: Don't forget about Pant
Rishabh Pant has transformed himself as one of the most destructive batsmen in the IPL and his record actually speaks for itself. Although they are some criticisms about his temperament, it will be unwise to underestimate him and as proof, here are just a few impressive statistics about the young wicket-keeper batsman.
35: Runs Pant needs to surpass D Warner to become the 2nd highest run getter for DC in IPL
9: Sixes Pant needs to have most sixes for DC in IPL, he will overcome Virender Sehwag with 85 sixes
128* by Rishabh Pant is the highest score against SRH at Delhi.
161.93: by Rishabh Pant has the 2nd best strike rate against SRH after AB De Villiers (167.96).
18:04 hrs IST
Sayan: SRH have a new weapon
Warner may have struggled against Delhi Capitals but do not forget his opening partner - Jonny Bairstow. The England international has found instant success in the Indian Premier League and he will be a major asset for the visitors. After getting two good starts, Bairstow finally made it count against Royal Challengers Bangalore and his 114 was undoubtedly one of the best innings of this edition.
17:58 hrs IST
Arnab: DC have the cure for Warner
The past records may show that DC have struggled against SRH but the hosts have always neutralized the threat of David Warner. Warner, who was once part of the Delhi Daredevils franchise, has struggled to score against his old team and the Aussie opener has scored just 203 runs in 8 matches - the lowest among all the current active IPL teams. So, without Warner, it will be interesting to see how SRH can post a big total.
17:55 hrs IST
Sayan: History is with SRH
After two convincing wins against Rajasthan Royals and Royal Challengers Bangalore, Sunrisers Hyderabad will lock horns with Delhi Capitals and in their last 12 matches, SRH have emerged victorious eight times. SRH have a win rate of 66.66% against DC which is the second best among all the active teams. SRH have also dominated DC at Feroz Shah Kotla and in the four matches played at the venue, they have won thrice!
17:48 hrs IST
Hello and welcome
Welcome to the live coverage of the IPL 2019 encounter between Delhi Capitals and Sunrisers Hyderabad. A dramatic lower-order collapse against Kings XI Punjab exposed Delhi's batting frailties and they would look to plug those holes to stand a chance of taming Sunrisers, who have been on a roll with back-to-back wins. My name is Sayan Ghosh and I believe that SRH are the favourites to win this game while HT Digital sports editor Arnab Sen is of the opinion that DC will reign supreme at their home ground.
Close