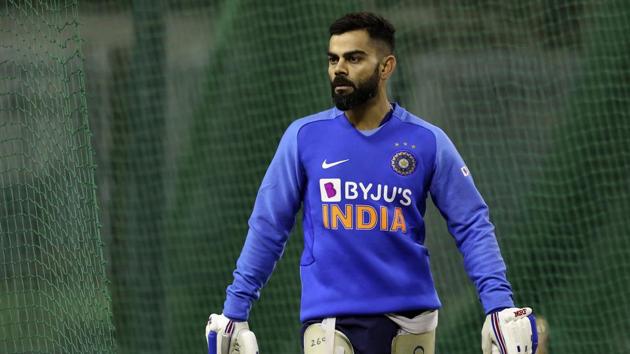 'Can only comment when I have total knowledge on it': Virat Kohli deflects questions on CAA
India vs Sri Lanka: The state of Assam has witnessed protests since the introduction of bill in the Lok Sabha last month, but Kohli assured the reporters that he believes the city to be safe.
UPDATED ON AUG 17, 2020 03:38 AM IST
Saying that he doesn't know enough to pass judgment, India captain Virat Kohli deflected the question on the contentious Citizen Amendment Act (CAA) that has seen protests in the city and most of Assam and has led to deaths, curfew and internet shutdowns. The question was the last one in the over-14 minute interaction between Kohli and the media ahead of Sunday's T20I against Sri Lanka at the ACA Stadium in Barsapara here and came on the day JP Nadda, BJP's working president, addressed party workers in another part of Guwahati.
As he does at media interactions, Kohli looked at the questioner seeking his point of view on the CAA and said: "The city is absolutely safe. We didn't see any problems on the roads.
Watch | Virat Kohli deflects CAA question: 'Can't comment without total knowledge'
Also read: 'Don't think that is fair to the purest format': Virat Kohli has his say
"And the issue—I do not want to be irresponsible and speak on something that has, you know, radical opinions (on) both sides. I need to have total information, total knowledge of what it means and what is going on and then be responsible to give opinion on it. Because you can say one thing and then someone can say another thing. So, I would not like to get involved in something that I don't have total knowledge of and it's not going to be responsible on my part to comment on."
Over three years ago, in November 2016, days after demonetization, Kohli had been asked about it and, stroking his beard, had said: "I was actually going to pay my hotel bill in Rajkot and I was taking out the old money and I forgot that it was not of any use anymore. I could have actually signed on it and given it to people. It's that useless now."
Also read: India vs Sri Lanka 1st T20I statistical preview: Team India's incredible record on the line
As laughter rippled in the media conference room, Kohli too had smiled. Following a pause and with a hand on his chest, Kohli had said: "For me, it is the greatest move I have seen in the history of Indian politics. By far, hands down, I have been so impressed by it; it's unbelievable what's happened."
Most Indian sportspersons have been silent on the issue that has sparked protests and police action and led to over 20 deaths in the country. It led Jwala Gutta, the badminton doubles specialist and a 2011 world championship bronze medallist, to urge sportspersons to condemn violence over Twitter.
Footballer Darren Caldeira, who has played in Mumbai, Kolkata, Bengaluru and is now with Kerala Blasters in the Indian Super League, tweeted on December 21: "You've got to be either thick or blinded by hate or maybe both to not see discrimination in the CAA-NRC. What's clear is that your deep-rooted bigotry is not a secret anymore. It's rampant and normalised. #NoCAANoNRC."
Topics
Close