'For once, straight drive wasn't my favorite shot': Sachin Tendulkar's hilarious banter with RP Singh, Aakash Chopra
Published on Jan 21, 2023 10:13 AM IST
Sachin Tendulkar's international career lasted a whopping 23 years and while he is remembered as the most prolific batter of all time, it also meant that he was also dismissed in a number of unusual ways.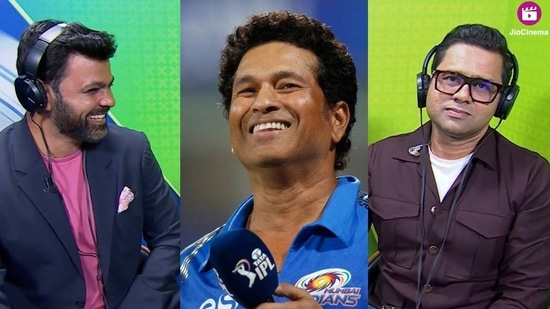 Sachin Tendulkar had an international career that lasted 23 years and in this time, he set a plethora records. Among these are records for most ODI and Test appearances - Tendulkar played just one T20 international for India and that was before the 2007 T20 World Cup itself. He sits atop the ODI list with 463 appearances and is the only player to have played 200 Test matches.
The flipside of having played so many matches is that Tendulkar, apart from being in a world of his own in terms of career runs in ODIs and Tests, has also been dismissed in a number of ways, some of which may have been rare freak dismissals. Former India fast bowler RP Singh recalled one such incident in which he was inadvertently became involved in Tendulkar's dismissal despite both playing for the same team.
Singh was commentating on an SA20 match with former India opener Aakash Chopra in which a batter at the non-striker's end was dismissed after the ball hit the bowler's leg after the striker hit a shot off the delivery. Chopra spoke about the fact that it was strange that this is considered a legitimate dismissal while running out a batter at the non-striker's end for backing up before the delivery is bowled is not due to the fact that the latter does not involve skill.
"It is a run out at the non-striker's end for sure but I have a question for you. Where is the skill in this? The ball just hit the his (bowler's) leg and then went to the stumps. Have you ever done something like this?" said Chopra. "I have never been able to run out someone after the ball hit a part of my body while bowling but then I did hit a straight drive once while batting and the player at the non-striker's end was run out because of that," Singh replied.
When Chopra asked who this batter was, Singh said: "Sachin Tendulkar." Chopra then asked Singh to apologise to Tendulkar. "I had apologised right then. Sorry for having hit the ball like that, please forgive me," said Singh.
While Chopra then apologised for Singh once again on air, he then apologised yet again on Twitter, taggint Tendulkar. Tendulkar ended up responding to the tweet by saying that this was one moment when the straight drive, a shot he was renown for, was not his favourite shot.
"For once, the straight drive wasn't my favorite shot! @cricketaakash. @rpsingh bhaiyya toh batting karte samay bhi wicket lete the! (RP Singh used to take wickets even when batting!)" said Tendulkar in his tweet.
Sachin Tendulkar retired from international cricket in November 2013 with a final Test match played at his home ground Wankhede Stadium. He scored 15,921 runs at an average of 53.78 with 51 centuries to his name in Test cricket. In ODIs, he scored 18,426 runs at an average of 44.83 with 49 centuries.
Topics