Gautam Gambhir steps down as Delhi Daredevils IPL 2018 captain, Shreyas Iyer new boss
Gautam Gambhir, who led Kolkata Knight Riders (KKR) in IPL 2017, managed to score 85 runs in five innings for Delhi Daredevils in IPL 2018.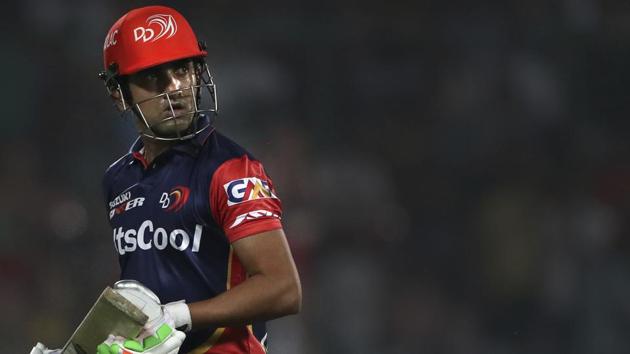 Updated on Apr 25, 2018 04:46 PM IST
Following a poor start to this season's Indian Premier League, Gautam Gambhir stepped down from Delhi Daredevils (DD) captaincy. Shreyas Iyer will lead the side for the rest of the 2018 Indian Premier League (IPL 2018) season. (IPL full schedule)
"It was absolutely my decision," said Gambhir at a press conference in New Delhi on Wednesday.
"I haven't contributed enough. So I owe that responsibility considering where we are in the points table." (IPL results)
Ricky Ponting, coach of Daredevils, praised Gambhir for taking such a decision keeping the best interest of the team in mind.
READ MORE | Didn't play with our heads vs Sunrisers Hyderabad: Mumbai Indians coach Mahela Jayawardene
"Gautam deserves a lot of credit for taking the decision," said Ponting when asked whether he was surprised an Indian captain has taken a an Aussie-like decision. "Something that may have been unheard of in Indian cricket. Really, the media should give him some credit for his decision . It shows great character as a leader to stand up and say that."
The Daredevils are languishing at the eighth spot in points table with just one win in six matches. They are lying just below the Mumbai Indians.
READ MORE | How Delhi Daredevils got undone by a Kings XI Punjab bowling gamble in IPL 2018
The two-time IPL champion captain had shifted to the Delhi franchise this season after seven years of successful run with the Kolkata Knight Riders.
He has however, failed to produce the results and has also failed with the bat putting a question mark on his place in the eleven. Gambhir has aggregated just 85 in six matches, averaging just 17.
Meanwhile, new skipper Shreyas Iyer said he was confident the team would bounce back with eight games in hand.
"I thank the management, coach and gauti bhai (Gambhir), we have the potential to bounce back with eight games in hand. I really love the responsibility," said Iyer.
Close Story