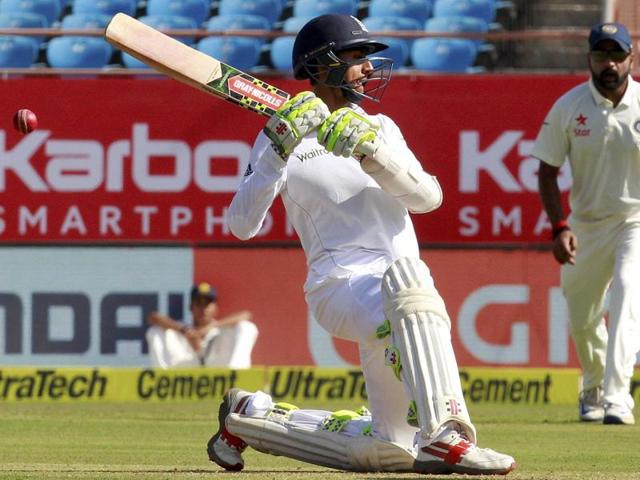 Haseeb Hameed, England cricket team's 'Baby Boycott', blooded in Rajkot Test
Haseeb Hameed, whose family roots are in India, is England cricket team's fifth youngest Test cricketer at 19 years and 297 days and the youngest since Ben Hollioake played against Australia in 1997
UPDATED ON NOV 09, 2016 04:25 PM IST
Haseeb Hameed was in the England cricket team which toured Bangladesh last month. The opener, known for his patient approach to batting which has earned him the nickname 'Baby Boycott' (his style similar to that of English legend Geoffrey Boycott), didn't get a call-up to the playing XI in Bangladesh. The wait must have been tough for the 19-year-old but it turned out to be for something special. (LIVE COVERAGE | LIVE SCORECARD)
Haseeb Hameed made his England debut in the first Test against India in Rajkot, the state from which his family hails. In fact, it is a second-straight occasion to celebrate for Hameed's family as last weekend, his brother, Numan, was married in Gujarat.
And the way Hameed opened the innings for England, he would give more reasons to celebrate for his family and the English team.
The right-handed batsman, who plays for Lancashire in the English County championship, opened the innings for the England cricket team on Wednesday, and showed exactly why he has been given a chance in the squad for the long and important sub-continent tour.
Hameed showed patience and technical brilliance. He not just succesfully negotiated Ravindra Jadeja and Ravichandran Ashwin's tricky spin (something his skipper Alastair Cook struggled with), he also went on the offensive, whenever the Indian bowlers got a little loose in line or length. He scored 31 (off 82 balls, six fours) and eventually fell to the guile of Ashwin, who trapped him leg-before with a delivery that straightened after pitching.
However, Hameed did showed his class and technical prowess in the time he spent in the middle.
The English camp has tremendous confidence in the young cricketer's ability and skipper Cook believes Hameed will not be overawed playing away against the top Test team in the world and facing Ashwin, the top-ranked Test bowler.
"Haseeb has impressed everyone so far on this trip," Cook told reporters ahead of the Rajkot match.
"You wonder if a 19-year-old, coming on tour, will be overawed but he hasn't been at all. He has looked really good in the nets and the way he has gone about his business. It's obviously a very special day to pick someone so young."
Back in England, the cricketing fraternity has their hopes pinned on Hameed becoming the answer the English cricket team's opening woes. While Cook has been a steady opener, England have struggled to find a consistent partner for the skipper at the top of the batting order.
Close