'Have the brains and common sense to...': Brett Lee's advice to Arshdeep Singh; 'Rohit and Dravid need to shield him'
Nov 27, 2022 06:26 PM IST
Former Australia fast bowler and one of the mightiest pacers of the world, Brett Lee has a few crucial advices for Arshdeep to help him get better and prevent him from falling off the tracks.
Fast bowler Arshdeep Singh has been one of India's breakout stars of 2022. The young left-arm quick has quickly cemented his place in India's T20I set-up and is on his way of doing the same in ODIs. Since making his debut in June, Arshdeep has become captain Rohit Sharma's go-to bowler in the absence of Jasprit Bumrah and has shouldered the responsibility of bowling effectively with the new ball and in death overs, having picked up 33 wickets from 23 matches. However, former Australia fast bowler and one of the mightiest pacers of the world, Brett Lee has a few crucial advices for Arshdeep to help him get better and prevent him from falling off tracks.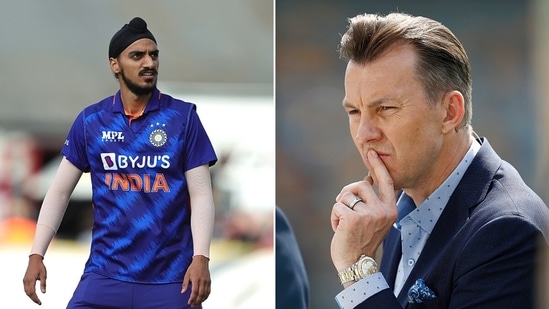 Lee's first suggestion to Arshdeep, and even India coach Rahul Dravid and captain Rohit Sharma for that matter, is to keep the young quick away from too much brainstorming. Lee reckons Arshdeep getting subjected to too many opinions can have an adverse effect on the left-arm quick.
Also Read - 'Wo itni acchi batting kar rahe hai...': Shubman Gill's ultimate praise for India star after IND vs NZ 2nd ODI
"Very often teams don't know what to do with these young and breakout stars. We have seen it before when young players get involved and advices from players, TV, commentators, at the hotel. Every man means well but very often, too much advice can be counter-productive. So, I think Rahul Dravid and Rohit Sharma have the responsibility to shield Arshdeep Singh from this overdose of advice," Lee said on his YouTube channel.
Having said that, Lee reckons a few of his advises can go a long way in aiding Arshdeep, who is in the initial stages of his career. For starters, Lee has cautioned Arshdeep from excessive gyming. With several India fast bowlers getting injured such as the likes of Bumrah and Deepak Chahar, the former Australia pacer believes Arshdeep can really do without too much muscle building exercises.
"As someone who has played a few matches, I believe I am pretty qualified to pass him my thoughts. I have got a couple of little things that I believe can help Arshdeep with his action and take more wicket. My first advice to Arshdeep would be that people often say that a fast bowler should get to the gym, and bulk. We hear they want him to bulk up, be strong. Now strong can be strong in the mind. I would say do not over-gym. Lightweight, high repetitions, don't worry about the beach muscles… if you want to do that, it won't help you bowl fast," Lee added.
Lee urged Arshdeep to strike a balance between playing and his engagement on social media. After the India fast bowler had dropped a catch during the Asia Cup, he was trolled endlessly on Twitter, which is why Lee reckons that Arshdeep should develop a 'filter' and make sure trolls don't affect him in any which way. Besides, Lee also wants Arshdeep to head back to domestic cricket whenever possible to hone and build his skills away from the public eyes.
"Number 2 will be to build a mental filter to social media comments because we know that the guys and girls playing are all on Facebook, Instagram and Twitter. If you're going to play a sport and have a social media presence, you have to understand that you should turn off notifications. Don't read what's written. Have the brains and commonsense to separate that. If you don't like it, get off social media and focus on your cricket," he said.
"Keep working on your skills in domestic cricket, because when there is no big World Cups, and you're not playing Test cricket, there aren't any spectators. This is where you have to shine. So this is what I believe what was the bread and butter of my career. Going back to First-Class cricket, enjoy the quietness of the crowd and hone and build those skills. If you can look after that, the high-level will follow,"
Lastly, Lee wants Arshdeep to not prioritise speed. The left-arm India quick mostly bowls in the last 130s and occasionally even hits the 145-mark. Having said that, Lee feels Arshdeep should bowl at a pace most suited to him, one that will allow him to concentrate equally on line and length.
"We also often hear about fast bowlers trying to bowl too fast. Don't be obsessed with bowling at 150 kph ball every time. On one hand, I would always say bowl as quick but you also ought to bowl that right line and length. We talk about bowlers trying to bowl too fast, they lose their shape, rhythm and seam position. Make sure you work on optimizing what is your best speed and work on your execution," Lee pointed out.
"It will come from practice and bowling line and length. Can you great fast and have a good line and length? Of course, but don't try to bowl every ball at 160. That would be the best way for Arshdeep. At the same time, don't be bowling all slower balls every single time. Work on containing that speed but sometimes take 5 kph off and hit that line and length. Get that wicket. That is my advice to you."