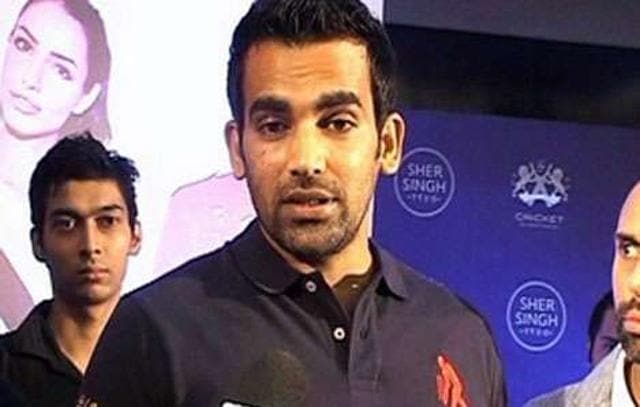 Haven't thought about retirement, says Zaheer Khan
Everyone may have written off Zaheer Khan, but the 35-year-old pacer isn't ready to hang up his boots just yet. "Playing for India was never easy in the first place. It was an impossible dream," he says in an interview.
UPDATED ON AUG 02, 2014 09:35 AM IST
Injuries and Zaheer Khan seem to go hand in hand. As a young pacer in his mid-twenties, barely a few years after making it to the Indian side (in 2000), he suffered a hamstring injury. Now, at 35, an injury he picked up during the recent IPL season kept him out of the ongoing test series in England.
Of course, pace bowlers in cricket are somewhat like actresses in Bollywood - the proverbial 'short shelf life' applies to both. As for Zaheer, even his own mentor, coach Sudhir Naik (who worked with Zaheer at the National Cricket Club, Mumbai), said in a recent interview that the left-arm pacer may never play for India again.
But Zaheer is defiant. Ask him about Naik's statement, and he says, "This is going to be another battle for me. Playing for India was never easy in the first place. It was an impossible dream. Things are always difficult at that level, and injuries add to it."

The Mumbai boy isn't just being blithely optimistic. Ever since the latest injury, he's been hard at work. "The first phase of rehabilitation [post injury] is now over. In the first week of August, I'll start bowling again. And then, it [playing for the national side] has to happen on its own," he says.
Zaheer's last appearance in an India shirt was in February, in New Zealand. And missing out on the England tour (where he has a good record) must surely be frustrating. "It's no longer frustrating. Looking back, I've always had injuries. This time, I guess the timing was wrong… I'd been preparing for a year-and-a-half for this tour," he says.
Injuries aside, his age - and rumours about him dating Isha Sharvani till a couple of years back, followed by a rumoured break-up - begs the question of whether the cricketer has given marriage any thought. Predictably, Zaheer clams up at the question. All we're able to eke out is, "I'm single and happy… I haven't even thought about retirement yet, what'll I think about marriage?"
Close