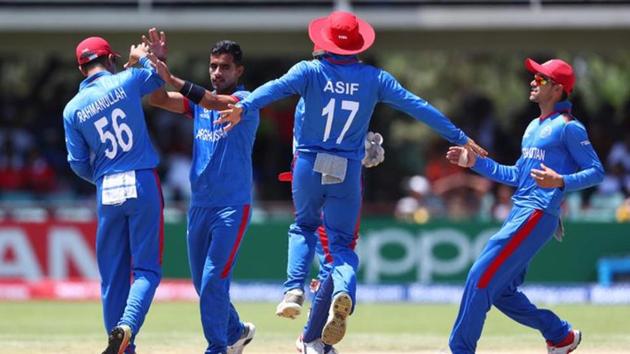 ICC U 19 World Cup South Africa vs Afghanistan Highlights: Ghafari stars as Afghans thump hosts
Afghanistan beat South Africa by 7 wickets. The win was set up by Afghan leg spinner Shafiqullah Ghafari who picked up 6 wickets.
UPDATED ON JAN 17, 2020 06:00 PM IST
South Africa vs Afghanistan Live Updates, ICC U 19 World Cup: The ICC U-19 World Cup is underway in at the Diamond Oval in Kimberley, South Africa and it is the hosts who are up against the colts from Afghanistan in the tournament opener. The hosts have won the toss and elected to bat first. Here you can follow live updates from the match and also watch the live score.
13:00 hrs: South Africa captain Bryce Parsons has won the toss and elected to field first
13:30 hrs: The opening fixture of the 2020 ICC U19 World Cup gets underway.
13:35 hrs: And it is a dream start for the young boys from Afghanistan. Fazal Haque has cleane up the Protea opener Jonathan Bird for a duck. It is the worst possible start for the hosts.
13:40 hrs: It is a tight start by the Afghans. The left arm spinner Mohammadi bowls a maiden over. South Africa yet to get going.
13: 55 hrs: The medium pacer has struck again. Haque has the other opener Andrew Louw clean bowled for 2 now. South Africa are in a state of shock.
14:00 hrs: Captain Bryce Parsons has started on a positive note. He has hit a couple of boundaries and things are now looking up for the hosts.
14:10 hrs: This is a good partnership coming up for South Africa. Parsons and Like Beaufort are looking settled in the middle now. They are watchful and are taking their time.
14:20 hrs: Skipper Parsons looks in tremendous touch. He is the captain for a reason. South Africa's 50 has come up within the 10 overs. Sometime back it looked almost impossible but Parsons has brought his team right back into the match.
14:30 hrs: Parsons is inching towards his half-century. That will be the first 50 of the tournament.
14:35 hrs: Huge wicket for Afghanistan. The left arm spin Noor Ahmad left Bryce Parsons bamboozled and he has to depart for 40. This is a major setback for the hosts.
14:43 hrs: The fourth wicket is down for South Africa. Manje has been bowled by a perfect googly from Ghafary. The South African had no idea about it.
14:50 hrs: Another one goes. Ghafari has struck again. This time he traps Jack Lees right in front. Another one bites the dust for a duck. South Africa
15:00 hrs: Cotani and Beaufort are trying to get a partnership going. They have been watchful and have dispatched the bad delivery once in a while.
15:05 hrs: Beaufort's watch ends. Noor Ahmad has struck again. South Africa has now lost 6 wickets. It is a blood bath.
15:13 hrs: WOW! What a googly. Ghafari has beaten Cotani all ends up. He goes for 8.
15:22 hrs: The magic of Shafiqullah Ghafari is becoming too much to handle for the South Africans. van Vuuren fails to spot teh wrong one and gets an edge. It is caught well at first slip by Rahmanullah. van Vuuren goes for 5, South Africa 90/8
15: 25 hrs: Gerald Coetzee has hit two big sixes and taken South Africa past the 100-run mark. Some clean hitting by the tailender.
15:40 hrs: And it's a fifer for Shafiqullah Ghafari. The Afghan leggie has struck with yet another googly. Achille Cloete has no clue about that one.
15:47 hrs: Gerald Coetzee's fine innings comes to an end. The destroyer-in-chief is Ghafari again. Another googly and another one bowled. South Africa bowled out for 129.
16:10 hrs: The home team bowlers will have a big job on their hand. They need to be sharp and look for wickets from the word go. Even in the senior teams, Afghanistan's bowling has always been better than their batting. It needs to be seen how good the colts are with the bat.
16:18 hrs: Afghanistan begin their chase. Bad start from the South African paceman Coetzee, he has given a lot of extras. Can't afford it when your team has scored just 129. Afghans 7 for no loss after the first over.
16:30 hrs: The Afghanistan openers, captain Fahan Zakhil and Ibrahim Zadran are off to good start. They have added 22 runs in 3 wickets.
16:33 hrs: Cloete has struck for South Africa. Captain Zakhil departs for 11, Afghanistan 26/1
16:45 hrs: Afghanistan's 50 comes up, The duo of Imran and Ibrahim are making the South African bowlers sweat.
17:10 hrs: It has been all one way traffic in the match so far. Afghanistan are now 90 for 1 in 14 overs. Imran is closing in on a half-century while Ibrahim has played the sheet anchor's role.
17:15 hrs: Imran has brought up his half century in 37 deliveries. Fine attacking innings from the young Afghan number 3.
17:22 hrs: The 100 is up for Afghanistan and they are just 30 runs away from a convincing win in the World Cup opener against the hosts. This is a huge result for them.
17:30 hrs: Imran the half-centurion falls.
17:38 hrs: Ibrahim closes in on 50. Aghanistan 11 runs away from victory.
17:42 hrs: Ibrahim gets to his fifty.
17:52 hrs South Africa pick up a wicket but it is all too late as Afghanistan need 2 more runs to win the match. Ibrahim Zadran goes for a well made 52.
17:59 hrs: Afghanistan win by 7 wickets.
Close