'If Bumrah doesn't want to play Test cricket…': Australia legend Jeff Thomson's message for India pacer
Feb 03, 2023 11:33 AM IST
Jasprit Bumrah has ended up missing the Asia Cup and, more importantly, the T20 World Cup last year due to injuries.
Jasprit Bumrah's injury woes dealt quite a blow to India's chances to win two trophies in 2022. He had been ruled out of the Asia Cup as a precautionary measure considering the T20 World Cup later in the year but he ended up getting injured before the marquee tournament itself. In both tournaments, India failed to make it to the final, with Rohit Sharma's side getting knocked out after a 10-wicket defeat to England in the semi-finals of the T20 World Cup.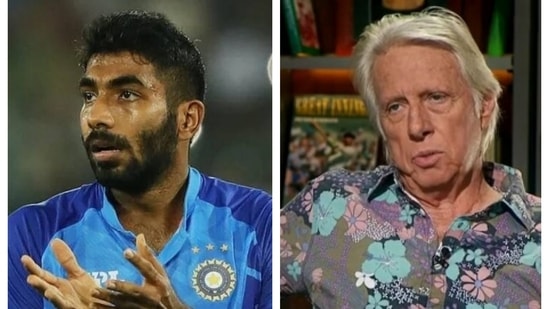 Bumrah has not played since September last year due to a back injury he suffered before the T20 World Cup. He was expected to make a comeback during India's ODI series against Sri Lanka but he ended up suffering another injury and was withdrawing from the squad at the last moment. Bumrah has not been included in the squad for the first two Tests against Australia but captain Rohit Sharma is hopeful that he will be able to join the team for the rest of the series.
Australia fast bowling great Jeff Thomson has said that Bumrah may have to take a call on whether he wants to prioritise limited overs cricket or Tests so as to prolong his career. He said that he understands players, particularly fast bowlers, having to take rest as they have to play all year long in mulitple formats, unlike what was the case back in his heydays. "There is so much cricket. They play all year round. We didn't do that. We used to play seasons, the summer season. Occasionally we would go to England for our winter. It was a long tour, four and a half months. But generally we just played the summer so we would gradually build up after Christmas full on. Because I knew I was going to get rest," Thomson, who took 200 wickets in 51 Tests between 1973 and 1985, said on Revsportz.
"Now, you can't do that. So you have to pace yourself to be around. That's why they have all those back up bowlers and they rest people. In our day we didn't rest. If we had a rest someone else would take our spot. It is a matter of having to rest these days because it is a 12-month a year job."
Thomson admitted that it would have been difficult for him to play Test cricket considering the shorter formats can help him prolong his career while earning a good amount of money.
"Well, (Bumrah) has to work out what he wants to play, short formats or Test matches or both. If I think about if I was playing now, it would be very hard for me to play Test matches. Especially, when you get so much money in the short version of the game which just makes your longevity better. We didn't have to think about money in our days because there was no money. Now it's a huge business. The only one who is going to look after you is yourself. So, you got to work out how long I am going to play for and how am I going to manage that because no one else is going to. I think you have to be more cunning these days in terms of workload and watch what you got to play. If you are good enough, they are going to pick you any way so you should be able to pull the strings," he said.
Thomson said that regardless of what decision Bumrah makes, his standing as a great bowler lies in the fact that he will attract crowds regardless of what format he plays in. "I think it is the crowd that decides that. They know how good he is. If he doesn't want to play Test cricket that is a bit of a blow but if he plays in a T20, they will turn up to watch him. What I am telling you is that if a guy limited himself to that, he is going to be playing for longer," he said.