India Red take huge lead vs India Blue after Day 3 of Duleep Trophy final
Updated on Sep 27, 2017 11:13 PM IST
India Blue skipper Suresh Raina operated spinners on Day 3 of the Duleep Trophy final and his tactic paid off with Bhargav Bhatt (3/75) and Akshay Wakhare (2/53) claiming five wickets but India Red still ended the day on 187/7, stretching their lead to 371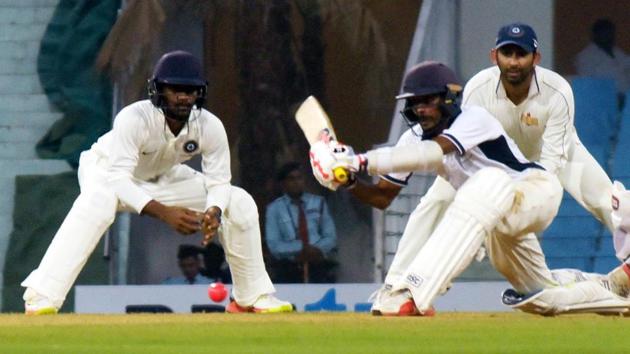 The pitches in India for domestic tournaments, such as the Ranji Trophy and Duleep Trophy, continue to discriminate against pacers, even though 'doctored' wickets are more an exception than a norm following the BCCI's strict guidelines.
Even after three day into the Duleep Trophy final between India Red and India Blue, there is nothing for seamers, including Test bowler Ishant Sharma and Pankaj Singh.
Pankaj came in to bowl only in the 28th over for India Blue, while Ishant was pressed into service by India Blue in the 34th over of the second innings on the red-clay pitch at the Ekana Stadium. Jayadev Unadkat remained the only seamer, who could get a wicket on Wednesday.
India Blue skipper Suresh Raina operated with spinners on Day 3 and his tactic paid off with Bhargav Bhatt (3/75) and Akshay Wakhare (2/53) claiming five wickets as India Red ended the day on 187/7 in 62 overs, thus stretching their overall lead to 371 on Wednesday, as they enjoyed a 184-run first-innings cushion.
Ishant remained wicket-less in the first innings even after bowling 14 overs while Pankaj and Jayadev Unadkat had a wicket each. This wasn't the case with just India Blue, as India Red skipper Dinesh Karthik too realised the futility of pressing his pacers into service. His three seamers -- Siddarth Kaul, Basil Thampi and Ashok Dinda -- bowled a total of five overs in the first innings, with former India seamer Dinda bowling just one.
The dominance of spinners can be gauged from the fact that out of the 27 wickets that have fallen so far, the pacers have accounted for only three. Out of 84 overs bowled on Day 3, the spinners bowled 69.
But amid the near-complete dominance of spinners, young Abhimanyu Easwaran stole the limelight, hitting a sparkling century --- his fourth in first-class cricket --- to help India Blue avoid the follow-on. Before Easwaran (127, 171b, 15x4) was caught brilliantly by Ishank Jaggi off Washington Sundar, he along with overnight batsman Jaydev Unadkat (83, 90b, 7x4, 6x4) added 140 runs for the sixth wicket to help India Blue save the follow-on.
All-rounder Sundar, who had his career-best 88 in India Red's first innings on Tuesday, celebrated yet another achievement of his career on Wednesday, bagging his maiden five-wicket haul, finishing with five for 94, while left-arm orthodox bowler Vijay Gohil finished with five for 121.
Things became difficult for India Red too when they began their second innings. Prithvi Shaw (31) was run out, while Akhil Herwadkar (8), Ishank Jaggi (3) and Dinesh Karthik (9) fell cheaply. But thereafter, Baba Indrajith (59, 116b, 6x4) and Washington Sundar (42*, 113b, 2x4) held the innings together, adding 77-run for the fifth wicket.
Brief Scores
India Red 483 & 187/7 (B Indrajith 59, W Sundar 42*, P Shaw 31, B Bhatt 3/75, A Wakhare 2/53) vs India Blue 299 in 67 overs (A Easwaran 127, J Unadkat 83, V Gohil 5/121, W Sundar 5/94).