India's unbeaten series run halted, have work to do ahead of 2019 World Cup
The Indian cricket team lost the ODI series 2-1 vs England and it has shown that Virat Kohli's men are not the only favourites for the 2019 ICC World Cup. Under normal English conditions, it will be a different ball game.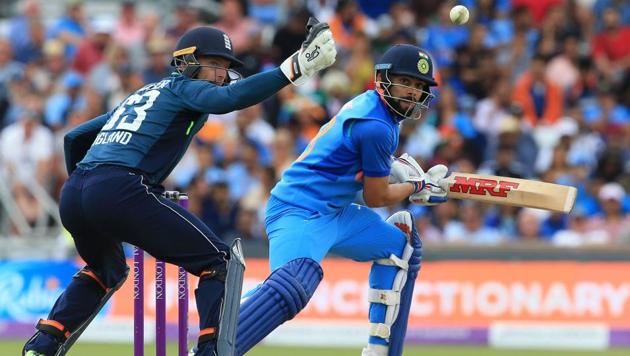 Updated on Jul 18, 2018 11:44 AM IST
India had started the one-day series confidently, but at the end of it, have been left grappling for answers in a few key areas. (IND v ENG 3rd ODI HIGHLIGHTS) (FULL SCORECARD)
The 2-1 defeat at the hands of England, has shown that India are not the only favourites for the World Cup. Under the normal English conditions, it will be a different ball game.
Some bizarre selections, a misfiring batting lineup, an insipid bowling attack and a listless fielding unit, all resulted in the big final of the limited overs series turn into a horror day for India.
Having conceded the psychological edge to England at Lord's, the visitors completely lost the plot in the series decider played at Headingley on Tuesday as a rampaging England outplayed Virat Kohli's boys by eight wickets to clinch the One-day series 2-1.
READ | Joe Root, Eoin Morgan guide England to ODI series win over India in Headingley
It ended India's unbeaten run of nine straight wins in bilateral series, which started after the defeat to Australia in January, 2016.
India had conceded the momentum to England at Lord's and the eight-wicket pounding at Headingley has given the Indian team a proper reality check.
The poor show has undone all the psychological advantage gained by India by dominating the early exchanges. On the other hand, England have ticked all the boxes in their preparation for the 2019 World Cup.
Most of all India have been left with doubts over key positions in their batting line-up, most importantly No 4. Leaving out KL Rahul for Dinesh Karthik made little sense and the decision to play Bhuvneshwar Kumar over Umesh Yadav also backfired.
ALSO READ | Virat Kohli surpasses MS Dhoni, Sourav Ganguly to break another ODI record
The experiment of Dinesh Karthik at No 4 also failed and India could manage a below par 256 for eight after being put into bat.
The total proved insufficient and for the first time, the India spin duo of Yuzvendra Chahal and Kuldeep Yadav were outdone by Adil Rashid and Moeen Ali.
Rashid picked up three wickets while the Indian spinners went wicketless. Joe Root and captain Eoin Morgan's match-winning partnership proved India cannot be relying on only one player.
It is an eye-opener for the team. England have exposed some of gaping holes. But, India have almost an year to sort to sort their combination and strategy when the matches are played in the English weather-type conditions.
IN PICS | England beat India at Headingley, win series 2-1
India pacer Shardul Thakur who was straight drafted into the playing eleven for the final game, had no hesitation that while it will be a challenge for other teams, England will be the favourites at the mega event.
"England are obviously favourites because it's their home conditions. England knows them better how to play cricket here, so other teams have a big challenge to play here," said pace bowler Shardul Thakur, who was left to face the media queries after the defeat.
"They have played well against Australia recently and now against us, so it will be difficult to beat them. But when we do come back (for WC) we will be all geared up,"
He highlighted the positives from the series as well, saying overall India had gained valuable experience of what to expect.
ALSO READ | Alastair Cook makes 180 as India A totter against England Lions
"It's unfortunate that we lost this game. If you see overall we have done quite well. Keeping the World Cup in mind which is next year, I think whatever batsmen have learnt from this T20 series and ODI series, how to bat in these conditions and for bowlers how to bowl in these conditions, in ODIs or T20s.
"I think it is very important and going forward in this year's cricket, whichever games we play, I think our team would execute what we want to do."
Close Story
Personalise your news feed. Follow trending topics