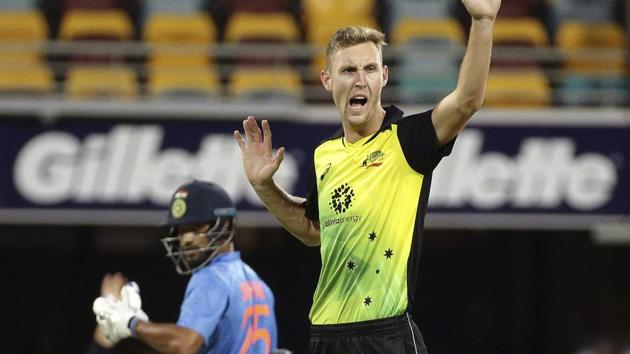 India vs Australia, 1st T20I at Gabba, Highlights: As It Happened
In a bid to assert themselves as favourites for the Test series, which starts December 6 in Adelaide, India would be hoping to dominate the three T20Is. The touring side has won its previous seven T20I series dating back to November 2017, and its last defeat in the format was against West Indies in July last year. Not to mention, on their last visit here, the Men in Blue won the T20I series 3-0. So, they will be riding high on a wave of confidence and eager to make an early mark on this trip. Follow live updates from the game between India and Australia here:
UPDATED ON NOV 21, 2018 06:07 PM IST
17:30 hrs IST
Australia register thrilling win
Australia have managed to keep their nerves and register a 4-run win. Kuldeep hit a boundary on the last ball of the over but by then India had lost the match. Australia go 1-0 up in the three match series.
17:26 hrs IST
Stoinis takes two in two
Marcus Stoinis has stunned Indian fans as he gets rid of Pandya and Karthik off successive deliveries. India now need 11 runs off 2 deliveries and it seems it is out of there hands now.
17:20 hrs IST
DK comes up with the goods
Just when it seemed that India will be chasing 17 off the last over, Karthik hits a boundary off the last ball from Tye . India now need 13 runs from the last over to win the match.
17:18 hrs IST
Pant dismissed, ray of hope for AUS
Australia have found a ray of hope from nowhere as Pant is dismissed by Tye for 20. In trying to play an outrageous scoop shot, Pant is caught by Behrendorff around the point region.
17:11 hrs IST
Another expensive over for hosts, India cross 150
DK and Pant manage to score 11 runs from the third last over of the innings which now means that India need 24 off 12 deliveries. As things stand, the visitors are likely to win the match.
17:05 hrs IST
Excellent over for India
This could be the over that decides the fate of the match as India score 25 runs off Andrew Tye. Pant hit two boundaries to begin with and then Karthik hit a four and a six on the last two balls of the over. India now need 35 off 18 deliveries.
17:02 hrs IST
Four and Four
Rishabh Pant thinks that this is the over where he needs to take India closer to the target as he hits back to back boundaries off Andrew Tye. India need more of such shots to get closer to the target.
16:56 hrs IST
Excellent over under pressure from Zampa
Rishabh Pant was trying to hit every ball out of the park but Adam Zampa kept his cool and conceded just five runs from the over. India now need 60 off 24 deliveries to win the match. Time for Pant and DK to show their worth.
16:50 hrs IST
India losing the plot
Australia have completely changed the flow of the match as Shikhar Dhawan is the latest Indian batsman to head back into the hut. After hitting a huge six off Stanlake, Dhawan hits the ball into the fielder at third man. India are four down now as DK joins Pant in the middle.
16:46 hrs IST
Zampa gets Kohli
India are in a spot of bother now as Virat Kohli has been dismissed by Adam Zampa for 4. Kohli top-edged the delivery into the hands of Lynn at third man. Australia are right back in it now. Pant comes out to bat for India.
16:41 hrs IST
Hosts trying to stage a comeback
Since the dismissal of Rahul, Australian bowlers haven't conceded a boundary but Dhawan and Kohli are doing well to rotate the strike. Stoinins concedes nine runs from his over as seven overs are left in the innings now. India edging closer to the 100-run mark.
16:34 hrs IST
Second blow for India
The stage was set for KL Rahul to shine but he perishes for 13 off the bowling of Adam Zampa. Rahul stumped by Carey and his foot was on the line when the bails were taken off. Kohli now joins Dhawan in the middle.
16:28 hrs IST
SIX and half-century
Shikhar Dhawan has ripped apart Behrendorff as after Rahul took a single on the first ball, the southpaw hit him for 6,2,4,0,4. With that, Dhawan has also completed his half-century and India are motoring along nicely at the moment.
16:23 hrs IST
Expensive first over from Zampa
Adam Zampa concedes eight runs from his first over and it also included a stunning cut shot towards points for a boundary. India are scoring runs at a rapid pace now.
16:17 hrs IST
Dhawan dealing in boundaries
Shikhar Dhawan now hits back to back boundaries off the bowling of Andrew Tye and with that India have also crossed the 50-run mark in their innings. Dhawan has given the impetus that India needed and despite the dismissal of Rohit, India are in a good position.
16:09 hrs IST
Rohit Sharma falls
In trying to hit one out of the park, Rohit Sharma is caught by Finch off the bowling of Behrendorff straight down the ground. India have lost the first wicket of the day. KL Rahul joins Dhawan in the middle now.
16:06 hrs IST
Another good over from India
At the moment, Rohit Sharma is playing second fiddle to Shikhar Dhawan who is looking in good touch on the other end. Dhawan takes his boundary tally to five by hitting one on the first ball of the Stanlake over, who conceded 8 runs in total.
16:00 hrs IST
Dhawan looks in fine flow
The ball is coming onto the bat and Dhawan is looking in fine touch here as he is waiting to capitalise on anything that has a bit of width. Dhawan has looked to ensure that the bad balls are put away as India are chasing a target of 174 in just 17 overs. Playing like he is batting at home.
15:50 hrs IST
India start chase of 174
Thanks to the D/L method, India will have to chase 174 to win the opening T20I here and Dhawan has started in great fashion with a vintage drive through the covers. After that comes an inside edge that runs to the boundary ropes. India will want Rohit and Dhawan to stay positive in their approach as they chase the target in just 17 overs.
15:38 hrs IST
Aussies finish on 158/4
Brilliant last over from Bumrah as he gives away just 6 runs to bring an end to the rain-curtailed innings. 3 overs deducted from both teams and Bumrah finishes with figures of 1/21 from three overs while Kuldeep is the star giving away just 24 runs from his 4 overs and picking two wickets. Maxwell shines with a 24-ball 46.
15:35 hrs IST
Bumrah gets Maxwell
Bumrah gets his man here off the first ball after the rain break as Maxwell looks to heave that onto the leg side. Good catch from Bhuvneshwar here and Maxwell fails to add to his score before the break as he goes for 46 off just 24 balls. Bumrah is one of the best when it comes to the end of the innings.
15:34 hrs IST
Match reduced to 17 over-a-side
Rain has ensured that the match has been reduced to 17 overs per side with just a 5 minute break between innings. Bumrah will end the innings here bowling the last 5 balls as Maxwell will look to go big.
15:12 hrs IST
Covers back on again
Looks like it is going to be one of those tough nights for the groundstaff as it has started to drizzle once again. Just when it seemed that the skies had cleared up and the game would start in a short while, the rain is back. Puddles were already formed and one will hope that this is nothing more than a passing shower. The score reads 153/3 in the 17th over. Maxwell is batting on 46 and Stoinis is unbeaten on 31.
15:05 hrs IST
Rain stops
Finally some respite for the fans and players alike as rain seems to have stopped and the officials are out in the middle to inspect the conditions. They will take a stock of the situation and will let us know when the play can resume.
14:55 hrs IST
Raining heavily now
Bad news folks as rain has started to lash now hard at the venue now. Most of the supporters are taking shelter under umbrellas and the entire pitch is covered now. We will keep updating you will all the latest from Brisbane.
14:35 hrs IST
Khaleel drops Stoinis
That was a sitter and Bumrah is not at all impressed. Khaleel drops a sitter here at third-man and Bumrah is livid as Stoinis gets a life on 30 with the score reading 152/3 after 16.1 overs. There is a rain interruption now as there is a heavy drizzle. The players walk back to the pavilion.
14:30 hrs IST
Maxwell playing it smart
Apart from going for the big hits, Maxwell is also running the ones and twos and making things very difficult for the Indian bowlers here as both Maxwell and Stoinis are looking to ensure that they finish the innings on a high after they got off to a slightly slow start. Australia have another 5 overs to go in the innings.
14:25 hrs IST
Aussies looking to finish well
Stoinis and Maxwell taking control of the situation as they look to finish well. The boundaries have started to come and the Australians will want to finish with a score in the region of 180 here as the Indians have a quality batting line-up and can take the attack to the opposition bowlers on a wicket that looks good for batting.
14:15 hrs IST
DRS saves Stoinis
Stoinis was looking to play one shot too many and attempts the reverse sweep. Misses the ball and the ball hits him on the pad. The umpire gives that OUT, but the batsman goes for a review and the decision is changed as the ball was missing the stumps. This was too high and Stoinis gets the best out of the review. Stoinis bats on with the score reading 89/3.
14:06 hrs IST
Kuldeep gets the dangerous Lynn
Brilliant bowling from the spinner here as he uses his mystery deliveries to confuse Lynn and the batsman just sends back a loopy catch to the bowler who would not miss that one. India needed that wicket as Lynn was looking dangerous here, having scored 37 off 20 balls.
14:00 hrs IST
Kuldeep gets Finch
Typical Kuldeep wicket. That one was going away after pitching, but Finch did not read that and looked to hit Kuldeep over mid-wicket. The ball turns and takes the edge of the bat for Khaleel to complete an easy catch. The Australia skipper goes for 27 as Maxwell walks into the crease.
13:55 hrs IST
Lynn looking to launch into attack
With the Indian bowlers bowling a tight line, Lynn is looking to take it on himself to take apart the Indian bowling and he is dealing in big sixes here. Two off the Khaleel over here as he has moved into the 20s. Finch can now just look to hold back and give Lynn the strike. Khaleel bowling a poor line here.
13:50 hrs IST
Finch and Lynn look to set platform
With Short back in the hut, it is important for Finch and Lynn to ensure that they build a quality platform here to help the middle-order batsmen finish with a flurry. The Indian bowlers have been on the top of their game and are bowling a quality line and length. The score reads 38/1 after 6 overs.
13:40 hrs IST
Khaleel gets Short
Khaleel strikes off the first ball of his spell as Short looks to go big and hits that straight into the air for Kuldeep to pick a good catch running back. Short goes for 7 as the score reads 24/1 in the fifth over of the Australia innings. The Indian players are elated.
13:30 hrs IST
Kohli drops Finch
Poor effort from the India skipper as he drops a sitter that was going straight into his hands at cover. Finch gets a life on 6 and that could be costly as this could well be the kind of luck that the Australia skipper needed at the start of this game. Australia must make use of this opportunity.
13:20 hrs IST
Finch and Short take strike
Bhuvneshwar gets the new ball and Bumrah shares it with him. Bhuvi starts really well and gives away just 1 run from the first over and it is now for Bumrah to ensure that he keeps the pressure on the Australian batsmen. The ball is new and it is important that India pick early wickets by pitching the ball up.
13:10 hrs IST
No holding back for Kohli
India skipper Virat Kohli on Tuesday said his team has never been the one to start "anything" but will stand up for itself if the line is crossed by the opposition, while defining aggression ahead of the much-anticipated Australia tour's opening game. India and Australia will clash in the first T20 International of the three-match series here at the Gabba on Wednesday. "Aggression depends on how the situation is on field. If the opposition is aggressive towards you then you counter it. India is not a team that starts anything but we always draw a line of self-respect. If that line is crossed we stand up to that," Kohli said. "Aggression also means that within team how possessive you are to that situation and as a team how much effort you are putting in for each wicket. You can see that in body language, when bowlers bowl and how long they can keep hitting the same area. Batsmen can be aggressive without saying anything."
13:00 hrs IST
Captains speak
Virat Kohli: "We are going to bowl first. Looks a hard surface with a decent covering of grass. We haven't had much of time here, so we would like to see how the pitch behaves. We want to figure out in what areas we need to score as well. The preparation has been chilled out because for the Tests you need a lot more time and you need to be in the nets. But come game time, you need to be switched on. Both teams know the strengths and weaknesses of each other. It's going to be competitive."
Aaron Finch: "I would have preferred to bowl first, but I don't mind putting up a score on the board. It is a beautiful wicket. We have played against them a lot. Both sides are familiar with each other. Adam Zampa comes in for Nathan Coulter-Nile."
12:57 hrs IST
Playing XIs
India (Playing XI): Rohit Sharma, Shikhar Dhawan, Virat Kohli(c), Lokesh Rahul, Rishabh Pant(w), Dinesh Karthik, Krunal Pandya, Bhuvneshwar Kumar, Kuldeep Yadav, Jasprit Bumrah, K Khaleel Ahmed
Australia (Playing XI): D Arcy Short, Aaron Finch(c), Chris Lynn, Glenn Maxwell, Marcus Stoinis, Ben McDermott, Alex Carey(w), Andrew Tye, Adam Zampa, Jason Behrendorff, Billy Stanlake
12:50 hrs IST
Kohli wins toss, will bowl
Kohli says a lot of grass on the pitch and says that India will bowl first as they have just come in, trained for 3 days. Says more preparations go into Test matches. Kohli feels it will be a competitive game. Finch says he too would have wanted to bowl first and says that it looks like a good wicket.
12:30 hrs IST
Virat Kohli and boys head to the stadium
The Indian players are ready for action at the Gabba in Brisbane.
We are off to The Gabba 😎💪🏻 #TeamIndia #AUSvIND pic.twitter.com/RF9ReN2mx3

— BCCI (@BCCI) November 21, 2018
12:00 hrs IST
Bangar off to Sydney
The T20I series is starting on Wednesday, but the Indian team management has decided to send its batting coach Sanjay Bangar to Sydney to help Test specialists prepare for the five-day rubber starting December 6. So, while India will be playing their opening T20I match in Brisbane on Wednesday, Bangar will be helping out the likes of Prithvi Shaw, Hanuma Vihari, who will be having their net session in Sydney for the next five days. "Our batting coach Bangar has reached Sydney with one of our throwdown expert Nuwan and a logistics manager. The Test specialists have also arrived from New Zealand. They will train under Bangar ahead of the first class match on November 28," a BCCI official said.
11:30 hrs IST
Records in the offing for Kohli and Rohit
India go into the series as the overwhelming favourites after having won 11 out of their last 12 matches, while Australia have won only one out of last six and that was against UAE. As if task couldn't get any harder for Australia there is a big carrot dangling in front of Rohit Sharma and Virat Kohli. Kohli and Rohit could become the highest run scorers in the world in the shortest format of the game. Currently New Zealand opening batsman Martin Guptill is the leading run scorer with 2271 runs. While Rohit is second on the list and is just 64 runs behind Guptill, Kohli is 169 runs behind the Kiwi and 105 runs behind Rohit.
11:00 hrs IST
Hello and welcome
India will be eyeing for a perfect start to their two-month long Australia tour with the first T20 International contest between the two sides coming up at the Gabba on Wednesday. India will enter the series after hammering the West Indies 3-0 at home while the hosts most recently suffered a 21-run loss at the hands of South Africa in a curtailed encounter, to succumb to their sixth loss in eight games. Australia were also whitewashed 0-3 in the UAE by top-ranked Pakistan. The Virat Kohli-led Indian side arrived Down Under sitting second on the ICC's Twenty20 rankings, one ahead of Australia. India also hold the psychological advantage of winning all the seven T20I series played since November 2017, and their last defeat in the shortest format came against the West Indies last year.
Close