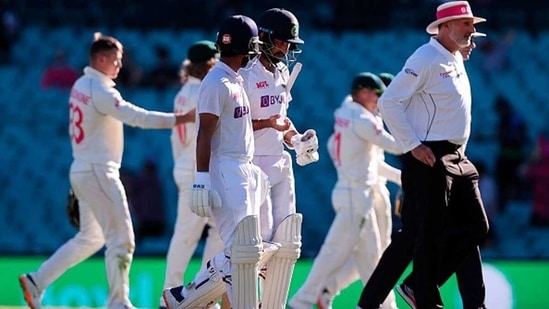 India battle on despite insult and injury
Indian openers Rohit Sharma and Shubman Gill then stitched a second straight 60-plus stand, laying the foundation for an improbable chase, before the home bowlers struck.
UPDATED ON JAN 10, 2021 08:01 PM IST
On another day, the mini collapse initiated by Navdeep Saini would have been a highlight of India's show. In successive overs, with a ball angled down the leg and another that went straight, he induced edges off Marnus Labuschagne and Matthew Wade. For a team in desperate search of breakthrough and a bowler short, the debutant pacer rose to the occasion.
Yet, in the larger scheme of things, when the third Test in Sydney is recalled, Saini's two-wicket burst may not even find a mention. There was so much else that happened on the penultimate day.
In the stands, a "nasty" SCG crowd (as Ravichandran Ashwin put it) hurled abuses at Mohammed Siraj, causing play to stop before six spectators were evicted. On the field, Steve Smith again was on song, promising all-rounder Cameron Green scored a maiden half-century and skipper Tim Paine cashed in on a dropped chance to take his team to a 400-plus lead.
Indian openers Rohit Sharma and Shubman Gill then stitched a second straight 60-plus stand, laying the foundation for an improbable chase, before the home bowlers struck. For all those advocates of tinkering with the five-day format of Tests, this is turning out to be a game that shows it is best to leave some things unaltered.
Already two down, India have a monumental 309 to chase on the final day. If Cheteshwar Pujara and Ajinkya Rahane, batting on 9 and 4 respectively, can conjure a stand worthy of their reputation, it will add another layer to this intriguing contest. The challenge goes up many times as Ravindra Jadeja (dislocated left thumb) can't bat and Rishabh Pant (bruised elbow) is only half-fit.
"We are currently behind the game but it all depends on the how we bat in the first session on the fifth day. Generally, when there is a target like 309, we don't approach it like a composite score. We have focus on each session and take it from there," Ashwin said after play.
Starting with a deficit of 197 runs, India almost dented Australia's innings the second ball through Jasprit Bumrah. Labschagne flicked a fuller delivery, but Hanuma Vihari dropped a sitter at square leg. Bumrah covered his face in frustration. It was a pose the pacer adopted again when Rohit Sharma at slip dropped Tim Paine on seven.
With the lead growing, Smith and Labuschagne were at ease when Saini struck. At 148/4, India had a chance to restrict the hosts. But first-innings centurion Smith fidgeted, shuffled and rotated the strike to take lead past 275 by lunch.
Australia's plan to give the bowlers four full sessions to try and bowl out India became clear when they shifted gear after the break. Smith started with a four and six as Siraj erred in line, repeatedly bowling into his pads.
When a successful DRS sought off Ashwin sent Smith back leg before, Green took control. The tall 21-year-old in his first Test series is touted to become a top seam bowling all-rounder. His clean hitting on Sunday, using his reach, justified the hype.
On a sun-baked pitch, Green moved into line early and found the gaps to hit boundaries regularly. With Paine, he sent Australia's run-rate soaring. After going from 200 to 250 in 101 balls, the next 50 took just 67 balls.
Green reached 84 with four sixes (three off Siraj) and eight fours, but with a maiden ton for the taking, Bumrah induced a nick, substitute wicketkeeper Wriddhiman Saha taking his fourth catch of the innings. Australia declared on 312/6.
With the target 407, India needed a positive start and Sharma and Gill provided that. It is early days for them as an opening pair, but following upon their first-innings stand of 70 with 71, they showed they can be trusted for the long haul.
Instead of going into a shell—the highest successful fourth-innings run chase at SCG is 288/2 that Australia achieved against South Africa in 2005-06—they batted with usual flair.
Against a great pace attack that kept probing outside off with length deliveries, the one innings-old pair held fort, finding boundaries to keep the hosts on their toes. Sharma got a leg before decision overturned via DRS, going on to scoring a half-century in his first Test as opener away from home. It was also the first time in 14 years that Indian openers had raised 50-plus stands away from home in the second and fourth innings. The last time was in 2006 when Wasim Jaffer and Virender Sehwag put on 61 and 109 against West Indies in Basseterre.
It ended when Gill got a faint edge against Josh Hazlewood, his seeking DRS only confirming the nick. But DRS came to Pujara's rescue after he was given out leg before on zero, off the same bowler. The ball tracker showed the ball would have gone over the stumps.
With just four overs left, Sharma pulled a Pat Cummins bouncer to Mitchell Starc on the square-leg fence, leaving Pujara and Rahane with a mountain to climb.
Close