India vs England: 'Expect competitive series if ball doesn't swing' - Graeme Swann
India lost the ODI series 1-2, giving England the bragging rights ahead of the five-match Test rubber starting August 1 in Birmingham. But Graeme Swann believes things might just change for the better for the visitors in the longest format.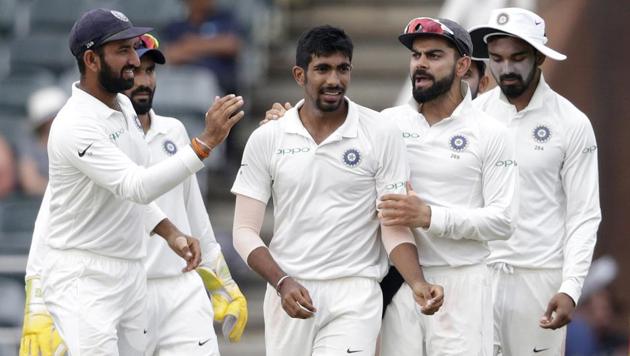 Updated on Jul 20, 2018 04:14 PM IST
London |
Press Trust of India
Former off-spinner Graeme Swann foresees a strong Indian comeback in next month's Test series against England if the ball fails to swing, the chances of which are high due to a warmer-than-usual English summer.
India lost the ODI series 1-2, giving England the bragging rights ahead of the five-match Test rubber starting August 1 in Birmingham. But Swann said things might just change for the better for the visitors in the longest format.
"If the ball doesn't swing, England will have to rely on reverse swing later on. Jimmy (James Anderson) is not the same bowler with the older ball because by the time it starts reverse swinging, Kohli will be 60-70 not out," Swann told PTI.
READ | Adil Rashid could get England Test call to face India
"England did well last time because Jimmy had the new ball swinging. It's just not Indians who don't do well against swing. Every batsman in the world doesn't like it when the ball swings around especially when Anderson is bowling," he said.
"If it swings, England will win the Test series easily but if it doesn't, and I don't think it will, I think it will be a brilliant series. England don't have a great spin attack in the Test series, so again India hold all the aces in that department too," he said.
Speaking of spinners, Swann said Kuldeep Yadav should play in the first Test ahead of either R Ashwin or Ravindra Jadeja. But he also warned against over-exposing the left-arm wrist spinner.
Yadav took 14 wickets in five matches during the limited-overs' leg.
READ | Four international captains reported approaches to ICC Anti Corruption Unit
"If I was an Indian, I would desperately want him to play in the Tests because he does provide mystery and the English batsmen cannot pick his googly. He also bowls a good length and went for just 20-odd on a beautiful batting wicket at Nottingham. He doesn't give the batsmen enough opportunity to see the ball off pitch, and can hit a perfect length and pace," Swann said.
"If India use him wisely, he could be a massive bowler for them this summer, particularly if it continues to stay dry. This is where some caution is needed. He has bowled well, but he has also come up against two very poor teams against wrist spin in South Africa and England.
"So, my advice would be to not get carried away and put too much pressure on Kuldeep that he has to perform and do well always, which I thought happened in the latter half of the ODI series," he added.
But Swann said he would definitely start Yadav ahead of Ashwin and Jadeja, because it wasn't necessary to field both the latter two in English conditions.
READ | India's middle-order muddle hurting KL Rahul, Ajinkye Rahane confidence
"It is a tough call. But I would want to look and say 'whom do England want to face? When playing in India, that answer would be Ashwin and Jadeja a hundred percent, and they would be my first two names on the sheet. In England, are they still the first two names?
"You look at their records from the past and what they bring to the team. You don't have to play both of them, you can play just one. If I were blessed with a wrist spinner to pick, I would always personally put a wrist spinner in," he said.
The other key contest during the Test series will be the renewed battle between Virat Kohli and James Anderson. The Indian skipper endured a woeful tour here in 2014, while the English pacer is now on the recovery path for the Test series.
Swann said Kohli would be eager to right the wrongs from his last trip.
READ | Hush-hush about Wriddhiman Saha injury exposes messy side of Indian cricket
"He (Kohli) is probably embarrassed by the last tour here because he is such a good player and that was not the Virat Kohli we know. He probably wants to right that wrong. And it is in his favour at the moment because the ball is not swinging.
"The hot weather we have been having, it is unseasonal, and there is no moisture around in the air or in the ground. That makes the ball swing in England and it has not been swinging," said Swann.
Looking back at the ODI/T20I series, the former international said that these two are the best sides in this format at the moment.
"England still have got some glaring weaknesses against spin and they were highlighted there. It was same for India, who thought England will be a walkover after the first ODI. Lord's was a bit of wake up call for India as well.
"(But) I don't think it (England winning ODIs) will have much impact (on the Test series) to be honest because the England test team is so different. Instead, that will play into India's hands to be honest because 80 percent of the batsmen haven't played against Kuldeep yet," he added.
Swann said India's middle-order problems are an offshoot of their in-form top-order, including the struggle of MS Dhoni, who didn't bat well during the last two ODIs.
"I don't think it is down to form but more down to the change in pitches...it is not easy to keep adjusting even for a player who is as experienced or as good as Dhoni," he said.
"It often happens when your top-order is so powerful that guys later on in the middle don't get a go (regularly). So when India win...It can sometimes mess up the middle order because they don't get so many balls on the bat," he explained.
Close Story