Hush-hush about Wriddhiman Saha injury exposes messy side of Indian cricket
Updated on Jul 19, 2018 07:31 PM IST
BCCI's medical team and the National Cricket Academy have clearly not handled Wriddhiman Saha's injury problems well. It has resulted in India without a specialist keeper for the Test series in England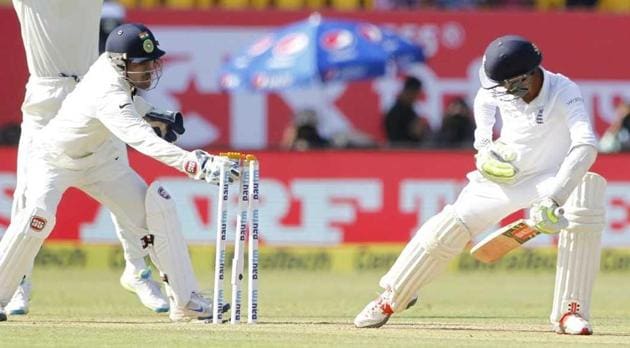 Thumb, hamstring or shoulder? The real nature of Wriddhiman Saha's injury has become the talking point after the Bengal stumper failed to make the Test squad for the England series. Typical of the hush-hush nature of Indian cricket and its officials, there is no communication from the BCCI on Saha's injury. On Wednesday, the selectors named Delhi's Rishabh Pant and Tamil Nadu's Dinesh Karthik as the two keepers for the first three Tests in England.
Unlike cricket boards of Australia or South Africa, the BCCI's medical team is often vague about injuries. On Thursday, the National Cricket Academy COO Tufan Ghosh was not available for comments. Players go to the NCA to treat injuries and plan their rehabs.
It is learnt Saha is 'officially' out with a bad shoulder and will need surgery in the United Kingdom. He could even miss the Australian tour later this year. On May 28, BCCI said Saha had injured his thumb while playing for Sunrisers Hyderabad in the IPL Qualifier 2 against Kolkata Knight Riders on May 25 at the Eden Gardens, Kolkata. On June 2, Saha was ruled out of the one-off Test versus Afghanistan in Bangalore.
READ | Wriddhiman Saha to undergo shoulder surgery, rehab plan under scanner
So when did Saha damage his shoulder?
According to a BCCI release on January 16, Saha missed two Test matches in South Africa due to an upper left hamstring tendon injury. After scoring 0 and 8 in the Cape Town Test, Saha didn't take any further part in the tour as Parthiv Patel was drafted for the remaining two Tests while Dinesh Karthik was named replacement.
Between January and May, there was never any hint of Saha's dodgy shoulder from the BCCI's medical team. Hence his dropping fuels speculations that he may have been chopped from the team due to reasons more than just injury.
Did the NCA mess up Saha's rehabilitation, then? The apparent confusion over NCA's communication with the BCCI over Saha's recovery only makes it look more muddled.
BCCI general manager (operations) Saba Karim said there was no miscommunication between the NCA and the BCCI regarding the nature of Saha's injury. "There was no miscommunication at all. I think it's better you check with the team management about this," said Karim.
READ | India's middle-order muddle hurting KL Rahul, Ajinkye Rahane confidence
But is the team management seriously looking to regain Saha's services quickly?
With no official medical update on Saha despite the latest revelations, this could turn out to be a foot-in-the-mouth situation for the BCCI after staying mum and adding to the confusion. With Patel and Karthik playing musical chairs for the position of a specialist Test wicket-keeper and Saha's injury clearly not handled well, India's gameplan looks awry. Pant's inclusion as backup only adds to the theory that India are only looking for a batsman who can keep wickets, not the other way round.
Personalise your news feed. Follow trending topics