India vs England: We haven't seen the best of Virat Kohli yet – Greg Chappell
Greg Chappell praised the gritty show by Virat Kohli in the ongoing Test series between India and England but added that the India skipper has room for improvement.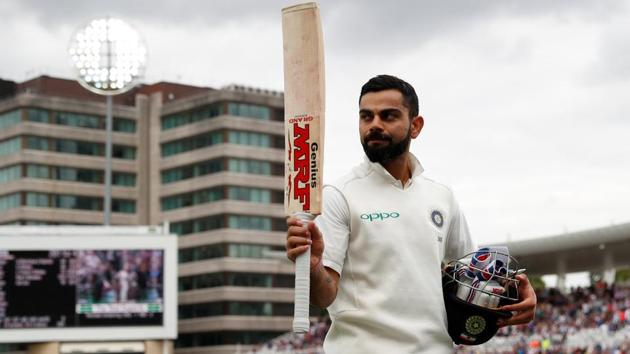 Updated on Sep 06, 2018 11:31 AM IST
Hindustan Times, New Delhi |
HT Correspondent
Virat Kohli has been a standout performer for the Indian cricket team in their ongoing Test series against England. Although the visitors have already conceded the five-match series following the loss in Southampton, Kohli has been a beacon of hope for their struggling batting line-up.
Former India coach Greg Chappell praised the gritty show by Kohli but added that the India skipper has room for improvement. Hailing his passion for the game, Chappell said that the best from Kohli is yet to come.
"Kohli, as well as having great physical talent, has the mental capacity and the emotional capacity to deal with what it takes to be successful in that really harsh environment. I don't know that there are many with more will to succeed than Virat. He has a real desire. Something's driving him that is beyond what most people are capable of. I think we still haven't seen the best of him," Chappell was quoted as saying by icc-cricket.com.
READ: Indian cricket team's overseas ambition in tatters after England series loss
Kohli had a disappointing outing during the tour of England in 2014 when he was able to score just 134 runs in five Tests. As a result, a lot of people were apprehensive about his form ahead of this year's series. However, he proved everyone wrong with his performances and currently, he is the highest scorer in the series. When asked about Kohli's performance in the ongoing Test series, Chappell said that it has only been possible with the belief that the Indian cricket team skipper carries in his abilities.
"What he has done in England on this tour has been quite exceptional. A lot of people doubted that he could manage in those conditions. I am assuming that he didn't doubt it, or if he did doubt it, he was determined to overcome it. His batting on this tour has been very outstanding. The innings between him and (Ajinkya) Rahane in the first innings of the Trent Bridge Test when they were three down for not many was quite a performance. He has probably exceeded what anyone would have expected," Chappell said.
Kohli has already scored 544 runs in four Test matches, with two centuries and three half-centuries at an average of 68. The fifth Test between India and England begins on September 7 at the Oval.
Close Story