India vs New Zealand Highlights 1st Test Day 4: New Zealand beat India by 10 wickets
Updated on Feb 24, 2020 05:52 AM IST
India vs New Zealand Highlights 1st Test Day 4: Follow Highlights of India vs New Zealand 1st Test Day 4.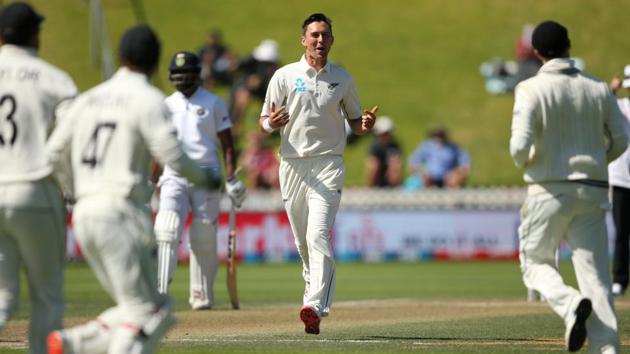 Hindustan Times, New Delhi |
HT Correspondent
India vs New Zealand 1st Test Day 4 Highlights: Tom Blundell, Tom Latham chased down the target of 9 runs, without losing a wicket. The duo completed the chase in just the second over of the 2nd innings. Earlier, Jasprit Bumrah and Rishabh Pant were dismissed in the same over by Tim Southee as he completed his five-wicket haul to bowl out India for 191, with a lead of 8 runs. Southee also trapped R Ashwin LBW with a slow one. The Indian did not sought a review. Southee also castled Hanuma Vihari with a slow inswinger before. Trent Boult managed to get an early wicket as well as he came around the wicket to Ajinkya Rahane, produced an edge off Rahane's bat. The ball went straight into wicketkeeper BJ Watling's hands.
India vs New Zealand Live Score 1st Test Day 4:
06:00 hrs: Winning captain - Kane Williamson: "Outstanding effort over the space of four days. We know how strong India are all around the world. The effort in the first innings and then a competitive total with the bat was great. The lower order runs are important to get a bit of a lead. So am all-round team effort."
05:50 hrs: Losing captain - Virat Kohli: "Toss turned out to be very important. As a batting unit we take pride in being competitive, but we weren't. Even scoring 220-230 would've been good. That first innings put us behind and then the lead put us under more pressure. The bowlers toiled well, as a bowling group we've taken pride in being competitive. Till the first 7 NZ wickets, we were really good. Wanted to restrict the lead to under 100, but the last runs from their batsmen made things difficult. But bowlers can still be more disciplined, they were not as happy with their bowling performance. You don't want to be too hard on guys like Shaw. He's played just 2 overseas Tests. He will figure a way, he will find a way to score runs. Mayank applied himself well, and he's the only other person apart from Rahane who got us any momentum with the bat. Our strength is to put big scores for our bowlers to bowl at, and that was missing in this match."
05:48 hrs: Man of the match - Tim Southee: "Very pleasing to beat India. Pleasant change coming back to home conditions. Today morning was massive. We were trying to get a couple of wickets before the new ball. A little less wind around, it tends to swing a bit more. The more you play, you get back into the rhythm. To take 20 wickets as a bowling unit was very pleasant. The pitch had a little bit more there than usual. Tennis-bally bounce."
05:35 hrs: Tom Latham and Tom Blundell have completed the chase easily. New Zealand win the first Test by 10 wickets. Take 1-0 lead in the two-match Test series.
05:28 hrs: Tom Blundell, Tom Latham out to bat for the Kiwis. Ishant starts the attack with the ball.
05:18 hrs: GONE! Bumrah edges one from Southee and a fantqstic catch in the slip by Mitchell. One handed. India all out for 191, lead by 8 runs. New Zealand 9 to win.
05:16 hrs: Pant gets out in typical Pant fashion. Tries to slog ion a straying delivery. Trent Boult takes a good catch in the deep. IND 191/9, lead by 8 runs.
05:10 hrs: GONE! Colin de Grandhomme has trapped Ishant Sharma on the pads. Umpire takes no time in raising his fingers. Ishant will not review and walks back. IND 189/8
05:06 hrs: FOUR! Ishant Sharma swings his bat against a delivery from Jamieson and India take lead in the match. India lead by 1 now.
04:59 hrs: DROPPED! Ishant Sharma hit it straight to Tim Southee and the ball plucked out of his hands. Ishant gets a lifeline. Southee, of all people.
04:55 hrs: Rishabh Pant is looking good in the middle and India need the left-hander to stay in the middle. This it the match which can convert Pant into a star, if he manages to get a hundred here and save the match for India.
04:49 hrs: FOUR! Ishant Sharma joins the party. He punches a wide one from Trent Boult through to the covers for a boundary. Fantastic shot this from the batsman. He follows it up with another boundary. India need such work from the tailenders.
04:34 hrs: GONE! Southee traps Ashwin and the umpire gives it straight away. He will not review this. Was it straying outside? Doesn't matter know since Ashwin is walking. IND 162/7
04:27 hrs: FOUR! A short one from Southee, Rishabh pounces on it and slams it for a boundary. India cross the 150-run mark. Still trailing by 26 runs.
04:15 hrs: GONE! Castled. That is a sensational slow one which nips one into Hanuma Vihari. The two set batsmen have gone early in the day. IND 148/6
04:09 hrs: GONE! Another plan works for Boult. He bowls a straighter one to Rahane, who edged it straight to Watling behind the stumps. India 148/5.
04:02 hrs: FOUR! Rahane opens up the face of the bat, but he could not get hold of it. It gets an edge, still goes past gully for a boundary. Good start for India.
04:00 hrs: Hanuma Vihari and Ajinkya Rahane start the day for India. Trent Boult starts with the ball for New Zealand. Still 15 overs to go before the Kiwis can call for a ball replacement. HERE WE GO!
03:50 hrs: Blue sky welcomes Day 4 in Wellington. No signs of clouds anywhere. Fingers crossed, it remains this way. A crucial day begins in 10 minutes.
03:40 hrs: If New Zealand win the Test, this will be their 100th Test win. They will become the sixth nation to achieve the mark.
03:30 hrs: Ishant Sharma surpassed Zaheer Khan in an elite list of Test bowlers: READ MORE
03:20 hrs: How Trent Boult set up Virat Kohli's fall: "Virat likes to feel the bat on ball like a couple of their guys. Definitely almost we miss, he hits and he hits it well and gets boundaries," Boult told reporters in Wellington. "From our point of view, we were trying to dry that up and for me personally using the wicket (crease) and the shorter ball was a good plan to try and control his run rate." READ MORE
03:10 hrs: VVS Laxman thinks Kohli missed a trick in the Test as captain. Here's what he had to say: "After getting Tim Southee's wicket, India let off New Zealand, at one stage it seemed they would not get even 100 runs lead but the partnership between Jamieson and Colin de Grandhomme got them to 183 runs lead. India will be ruing the fact - they were very defensive, tactics used by Virat Kohli were not right, especially when the second new ball was in operation." READ MORE
03:00 hrs: Ishant Sharma has a fan - "Very happy to see Ishant do so well - all down to his attitude to want to learn, improve and get better. The current coaching staff of the @BCCI team need to take a lot of credit," Gillespie tweeted. READ MORE
02:50 hrs: Tailender show - Trent Boult and Kyle Jamieson were excellent who frustrated Indian bowlers and in case Vihari and Rahanae are unable to push on and the middle-order collapses, this is precisely what Kohli would want his tail to do.
02:40 hrs: Ajinkya Rahane-Hanuma Vihari partnership: This is the partnership which India will be relying on going into Day 4. The duo need to bat throughout the first session at least to put India back into the contest. But on the first two days, we have seen the teams completely collapsing. India will hope they don't suffer the same fate.
02:30 hrs: Hello and welcome to our live blog on Day 4 of the first Test between India and New Zealand. The New Zealand have the match in the back, and front of their pockets at the moment. If Kiwis can take quick wickets early on in the day, they can easily finish the Test today itself. India need a fightback from Ajinkya Rahane.
Personalise your news feed. Follow trending topics