KKR vs SRH Highlights, IPL 2020 Match Today: Morgan, Gill shine as Knight Riders beat Sunrisers by 7 wickets
Updated on Sep 26, 2020 11:44 PM IST
IPL 2020 Live Score, Kolkata Knight Riders (KKR) vs Sunrisers Hyderabad (SRH): KKR beat SRH by 7 wickets to register their first win of IPL 2020. Shubman Gill and Eoin Morgan were involved in an unbeaten 92-run partnership for the fourth wicket after SRH bowlers had reduced KKR to 53/3. Gill scored his fifth IPL half-century and remained not out on 70, while Morgan was undefeated on 42 off 29 balls. In the first innings, Manish Pandey scored 51 off 38 balls but KKR restricted SRH to 142 for 4 after they opted to bat first in the Indian Premier League Match No.8 in Abu Dhabi. For KKR, Pat Cummins (1/19) and Varun Chakravarthy (1/25) were the pick of the bowlers on a good batting track. SRH made three changes to their side, Mohammad Nabi, Wriddhiman Saha and Khaleel come in for Mitchell Marsh, Vijay Shankar and Sandeep Sharma. KKR, on the other hand have brought in Kamlesh Nagarkoti and Varun Chakravarthy in place of Sandeep Warrier and Nikhil Naik. Both KKR and SRH are searching for their maiden win in this year's IPL.Follow KKR vs SRH live score, IPL 2020 here: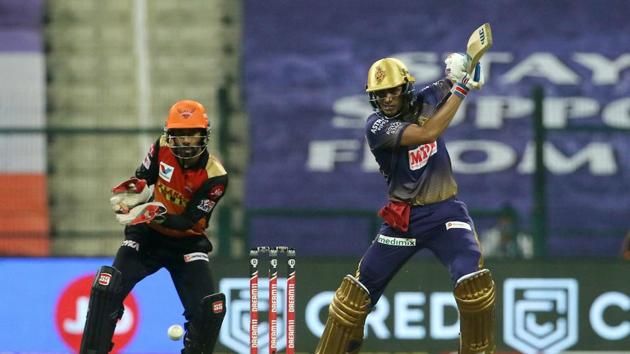 Hindustan Times, New Delhi |
hindustantimes.com
23:04 hrs IST
SIX, FOUR! Morgan finishes off in style, KKR beat SRH by 7 wickets
That's the match. Morgan finishes off with a SIX and a FOUR as KKR secure a seven wicket win and get themselves up and running on the points table. Morgan remains unbeaten on 42 and Gill undefeated on 70. Together, they put 92 runs for the fourth wicket to take KKR home.
22:56 hrs IST
SRH vs KKR Live Score: SIX! As clean as they come
Shubman Gill welcomes his India Under-19 World Cup teammate Abhishek Sharma with a six down the ground. The bat connecting the ball makes a sweet sound and it's outta here. 17 overs gone, KKR 131/3
22:52 hrs IST
A boundary to end Rashid's night
Rashid began his final over giving three off the first five balls but Morgan swept the final ball of the over to fetch KKR seven runs off it. Rashid finishes his spell 4-0-25-1. KKR 120/6 after 16.
22:48 hrs IST
First SIX for Morgan
There it is finally. This is Morgan's only second boundary shot. Gives himself room and tonks Bhuvneshwar over the sweeper cover boundary. Brings the equation to 30 needed off 30 as KKR reach 113/3 in 15 overs. Final five overs remain.
22:44 hrs IST
FIFTY partnership for Morgan and Gill
It's taken them 48 balls to get there but it's a partnership Gill and Morgan would be happy with. KKR were 53/3 when these two came together
22:40 hrs IST
100 up for KKR
End of the 14th over and KKR progress to 102/3. 41 needed off 36 balls and it all seems in control. Will the 2012 and 2014 champions be the ones to get off the mark in the Points-Table? Or will it be the 2016 winner to get their first points in IPL 2020?
22:38 hrs IST
Live Score IPL 2020 KKR v SRH: Karthik's 9th IPL duck, Narine's 5th
So, the ducks scored by Dinesh Karthik and Sunil Narine clearly aren't their first or second in IPL. This is the first time Karthik has been dismissed for a duck while playing for KKR and Narine's first against SRH
22:35 hrs IST
Fifty for Gill off 42 balls
Fine innings. This knock takes the mind back to the Under-19 World Cup in 2018 where he had made heads turn. The partnership between him and Morgan has reached 44 off 40 balls. KKR 97/3 in 13 overs, need another 46 off 42 balls.
22:30 hrs IST
Four! Gill gets a move on
In the arc and Shubman Gill breaks the shackles with a boundary. He moves to 40 off 36 balls as KKR collect eight off Rashid's third over. KKR 80/3 in 11 overs.
22:26 hrs IST
Nabi keeps it tight
Just five off his second over. It's not exactly a climb for KKR with 70 required off 60 balls but this partnership is crucial for KKR. Of course, you have Andre Russell to come after this but not too much promise in the KKR lower order. Important for these two to build a stand. KKR 72/3 after 10 overs.
22:22 hrs IST
Reverse sweep from Morgan!
It's almost as if he is still treating this as the 2019 World Cup match, Morgan that is. If the sweeps weren't audacious enough, the England skipper pulls out a reverse sweep off Rashid and creams his first boundary. Nine overs gone, KKR are 67/3. With that, it's the strategic time out interval.
22:18 hrs IST
IPL 2020 Live Score, KKR vs SRH: Morgan sweeps again, almost holes out
Close! Morgan sweeps and the ball goes to Bhuvneshwar at deep square leg on one bounce. KKR 60/3 after 8 overs and looking to build a partnership.
22:14 hrs IST
Morgan comes out!
Remember the last time Eoin Morgan and Rashid Khan faced each other? It was during the 2019 World Cup where the England captain took the leg-spinner on for a six-hitting carnival. He's come out there with intent, trying to sweep the first few balls. KKR 55/3 after 7 overs
22:10 hrs IST
OUT! Karthik our LBW to Rashid
Gone! And now it's Rashid Khan, who has picked up the wicket of Dinesh Karthik. He comes forward but the ball beats the bat to hit the pad. DK takes the review but to no avail. The ball seemed to be crashing on to middle and leg. Right then, KKR are 53/3 and SRH are in the game.
22:06 hrs IST
Consecutive FOURS! Gill looking good
Back to back fours from Shubman Gill. Gave himself room and thrashed the ball towards sweeper cover boundary and followed it with a little more traditional cut shot. KKR 52/2. Powerplay done with!
22:04 hrs IST
Five overs gone, KKR 43/2
Not too bat a start but those two wickets would hurt KKR. Good news for KKR though is that two of their finest batsman in Dinesh Karthik a and Shubman Gill are batting. One more over to signal the end of Powerplay.
21:58 hrs IST
OUT! Rana edges Natarajan
Oh dear! Rana was looking so good before he played that loose drive outside off and got out caught behind. T Natarajan strikes in his first over. Both the left-armer with a wicket in their first over. Just the start SRH needed to defend 143. Out walks Dinesh Karthik now.
21:55 hrs IST
Live Score SRH vs KKR: Rana looking like a million bucks
He has faced 10 balls, five of which he has scored a boundary off. Terrific shots all around except a top edge that went for four. Gill growing in confidence too.
21:50 hrs IST
Bhuvneshwar oversteps
And the siren goes off. It's a No-ball, which means a free hit. Rana however must be upset that he couldn't make the most of it as he hit the ball straight to Warner at mid on.
21:46 hrs IST
Back-to-back boundaries to Nitish Rana
Talk about starting positively. Rana has crunched consecutive boundaries off Bhuvneshwar Kumar on the off side. The first one was a fuller ball and Rana leaned into his drive. Next ball, Kumar pulled back his length but an alert Rana punched it off his backfoot.
21:42 hrs IST
SIX! Gill punishes Khaleel
Down the wicket he goes and Shubman Gill clears the boundary comfortably. Good hit as KKR and Gill get their first six of the innings. After 2 overs, KKR go to 12/1
21:40 hrs IST
OUT! Khaleel takes out Narine
WOW! What a start. Just his second ball of the IPL 2020 and Khaleel Ahmed picked up a wicket. Back of a length ball and Narine top edges it. Catch taken by David Warner at mid off to send Narine back for a DUCK. KKR 6/1 in 1.2 overs
21:38 hrs IST
IPL 2020 Live, SRH vs KKR: FOUR! Shubman Gill is away
Bhuvneshwar slides on to Gill's pads and the batsman flicks it for a boundary. He did not mind hitting it in the air as KKR reach 6/1 after the first over.
21:34 IST
Sunrisers have a history of defending low score...
... says Mike Haysman on air. But it will take some doing to defend it against a batting heavy unit such as KKR. And as we mention it, Shubman Gill and KKR off the mark off the first ball.
21:30 hrs IST
Action resumes
The Sunrisers Hyderabad players in the middle of a huddle. They'd be aware that they perhaps have fallen short by some 15-20 runs. All over to their bowlers now. Shubman Gill and Sunil Narine to begin KKR's chase.
21:21 hrs IST
End of SRH innings
Excellent last over by Andre Russell and it has been a fantastic bowling performance by KKR. They have restricted SRH to 142 for 4 in their 20 overs. So KKR need 143 to get off the mark in IPL 2020.
21:16 hrs IST
Wriddhiman Saha is run out
Harsha Bhogle put it aptly in the commentary. "For a run, two batsmen need to believe there is one but in this case only throught there was a run." And that was Wriddhiman Saha. He's run out by a mile as SRH lose their 4th wicket with only 4 balls to play.
21:13 hrs IST
Very g
It's not easy to bowl 1 over in the powerplay and then come in for the 19th, Shivam Mavi has adjusted pretty well, only 6 runs from this over. KKR are doing a great job in restricting SRH. They are 133 for 2 and need 17 runs to go to 150, it will be Andre Russell with the last over.
21:08 hrs IST
Last 2 overs in SRH innings
Oh it's gone over Nagarkoti's head, he came in when he just needed to stand there, a boundary to finish the 18th over. SRH 127/3 after 18 overs, can they get to 150?
21:04 hrs IST
Manish Pandey falls for 51
Was that above waste high? The umpires have gone upstairs and the replays show it wasn't so Manish Pandey has to go for 51 off 38. Andre Russell has struck. It was a high full toss from Russell, Pandey almost taken by surprise as he lobs it back to the bowler. SRH: 121/3 after 17.4 overs.
21:00 hrs IST
FIFTY for Manish Pandey
Fifty for Manish Pandey off 35 balls. This has been a very good innings by Manish Pandey. Only if he had someone who could tonk the ball a but at the other end. Meanwhile, Pat Cummins has ended his quota. 4 over 1 for 19. A great turn around after a disastrous first game. The final three overs coming up as we see Andre Russell warming up
20:54 hrs IST
Wriddhiman Saha hits a six
SIX! Boy did SRH need that one. Saha dances down the track and whacks it between square leg and mid wicket. Spare a thought for Chakravarthy, he was brilliant til now but concedes a six in the final ball of his spell. But that doesn't anything away from the job he has done. SRH: 110/2 after 16 overs.
20:50 hrs IST
Last overs in SRH innings against KKR
No risk taken against Sunil Narine. Pandey and Saha happy with six singles in the over. Seems like SRH have a target in mind, they want to ensure they get to 140 but even for that, they need to score over 8 an over now.
20:44 hrs IST
14 overs bowled, 2nd strategic timeout
Finally a boundary for SRH, it came from Manish Pandey's bat and 11 runs off the Kamlesh Nagarkoti over. At the end of 14 overs, SRH are 93 for 2. They will do really well if they can get close to 150 with only six overs to play.
20:39 hrs IST
Boundaries hard to come by for SRH
Sunil Narine comes back and bowls a tight over, only 6 runs from it. The boundaries are not coming for SRH, Wriddhiman Saha is really struggling to rotate the strike. SRH: 82/2 after 13 overs.
20:34 hrs IST
Varun Chakravarthy completes his 3rd
If it wasn't for that streaky boundary off the inside edge of Manish Pandey's bat, it would've once again be another over which leaked less than six runs for KKR> SRH get 8 runs off Chakravarthy's 3rd over. They are 76 for 2 after 12 overs.
20:30 hrs IST
Kamlesh Nagarkoti starts well
First sight of Kamlesh Nagarkoti in IPL. He's been with the franchise for the past two seasons but injuries kept him away. Nice to see he's still got that pace and what's impressive, is that he seems to have developed a very good slower one. SRH 68/2 after 11 overs.
20:24 hrs IST
IPL 2020, KKR vs SRH - 10 overs bowled
We're halfway through the SRH innings and Varun Chakravarthy has bowled a brilliant over. He got the prized wicket of David Warner and almost got Saha out LBW, only 2 runs from the over. SRH 61 for 2 after 10 overs.
20:20 hrs IST
Varun Chakravarthy gets David Warner
Caught and Bowled! What a soft dismissal and young Varun Chakravarthy has got the big fish David Warner. It almost happend in slow motion there, don't think the ball actually stopped in the surface, Warner just his it straight back. SRH 59 for 2 as Warner goes for 36.
20:15 hrs IST
End of 9th over, 1st strategic timeout
There was a six in that over but Kuldeep Yadav did well to keep it down to 10 runs. At the end of 9 overs, SRH are 59 for 1 as the umpires signal for the strategic timeout. You get the feeling that Warner and Pandey are wary of their shaky middle order, they want to bat deep.
20:13 hrs IST
Manish Pandey hits 2nd six
SIX! Excellent use of the feet from Manish Pandey. Nothing wrong with that flighted delivery from Kuldeep Yadav. Pandey got the pitch of the ball very quickly and used his reach to hit over wide long on for a six. FIFTY up for SRH
20:11 hrs IST
Varun Chakravarthy backs up Kuldeep
Great start from Varun Chakravarthy. He gives away only 4 runs in his first over. So both the KKR spinners have started well. The runs are not coming fro SRH. They are 49 for 1 after 8 overs.
20:07 hrs IST
Kuldeep yadav starts well
A good start by Kuldeep Yadav, 5 ruuns from his first over. What was heartening to see was that Kuldeep flighted the ball and allowed it time to spin. SRH 45/1 after 7 overs.
20:02 hrs IST
Bowling change by KKR
Left-arm wrist spinner Kuldeep Yadav has been introduced by Dinesh Karthik as soon as the powerplay is over. This will be an interesting battle with Warner already set and Pandey being a very good player against spin.
20:01 hrs IST
IPL 2020, KKR vs SRH - End of powerplay
Another decent over from Pat Cummins, he was pulled for a four by David Warner, but conceded only 3 in his other five balls. He has given away 11 runs and picked up a wicket in his opening spell. At the end of the powerplay, SRH are 40 for 1.
19:57 hrs IST
5 overs bowled
9 runs off Shivam Mavi's first over. We're through with 5 overs. This has been a solid start from sides. SRH haven't got off to a flier and KKR too have the important wicket of Jonny Bairstow to show.
19:55 hrs IST
Manish Pandey goes down town
SIX! Fantastic shot from Mannish Pandey, he means business here. A lot of Rohit Sharma in that shot. He plonked his front foot forward, picked up the shortish length early, just smacked it off his front foot over deep wicket for a six.
19:50 hrs IST
Pat Cummins cleans up Jonny Bairstow
BOWLED! Bairstow's joy is short-lived. What a beauty from Cummins. He was bowling in great lengths and lines today. Pitches it up, it just comes back and Bairstow always leaves a gap between hi bat and pad while going for the shots, it hits the top of off and KKR are off to a good start. SRH 24/1 after 4 overs.
19:48 hrs IST
Jonny Bairstow survives
Decision reversed. Jonny Bairstow went for the review straightaway. Oh that was a strange shot, he wanted to play the ramp shot over fine leg to Pat Cummins, missed it completely, it hit his front pad and lobbed up in the air Karthik took the catch and the umpire raised his finger.
19:44 hrs IST
End of 3 overs in IPL 2020, KKR vs SRH match
David Warner ends the over with a boundary, an expensive over from Sunil Narine, 14 runs coming from it. Warner and Bairstwo have just started to make the move. SRH: 22/0 after 3 overs.
19:42 hrs IST
David Warner's hits first six
SIX! It wasn't from the sweet spot but these days everything is sweet spot in the bat they say and we got a proof of that. It was a slog sweep from David Warner and it just cleared the ropes, it's a pretty big boundary mind you.
19:40 hrs IST
Brilliant star from Pat Cummins
That's what happens when you gibe the new ball to your best bowler. A change of length, raw pace, Cummins gives away only 2 runs in his first over. SRH: 8/0 after 2 overs
19:35 hrs IST
Pat Cummins to share the new ball
Right, all you KKR fans have got your wishes fulfilled as Dinesh Karthik has thrown the ball to the IPL's most expensive overseas cricketer Pat Cummins. He will share the new ball with Sunil Narine.
19:34 hrs IST
KKR vs SRH - End of 1st over
A couple of twos from David Warner's bat and then a single from Jonny Baristow to finish. Nothing out of the ordinary in Sunil Narine's first over. But we saw Karthik adjusting the fielding almost every ball. SRH 6/0 after the first over.
19:29 hrs IST
Sunil Narine with the new ball for KKR
Right then, we all anticipated Pat Cummins but is Sunil Narine who has the new ball for KKR. He will be up against David Warner. Gee this will be mouth-watering contest. All set.
19:25 hrs IST
Jonny Bairstow and David Warner to open for SRH
It is that fierce pair of Jonny Bairstow and David Warner who will walk to bat for Sunrisers Hyderabad against Kolkata Knight Riders. The KKR players are in a huddle, we are minutes away from the first ball.
19:21 hrs IST
Some milestones to look forward in KKR vs SRH match
Pat Cummins is 3 wickets away from completing 100 wickets in T20s.
Eoin Morgan is 5 sixes away from completing 300 sixes in T20s. He will become the 1st English cricketer to achieve this feat.
76: runs D Warner needs to get past Rohit Sharma and become the leading run scorer against KKR in IPL.
19:15 hrs IST
KKR and SRH captains speak at the toss
Dinesh Karthik: We are kind of okay with the decision to bowl. Couple of changes for us. We have Nagarkoti and Varun coming in for Sandeep and Nikhil.
David Warner: We are going to bat. I don't think too much is going to change throughout the course of this game. Nabi comes in for Marsh, Saha comes in for Vijay Shankar, who has tweaked his back a bit and Sandeep Sharma misses out as Khaleel comes in.
The @SunRisers have won the toss and they will bat first in Match 8 of #Dream11IPL.https://t.co/qt3p7Ucx5T #KKRvSRH pic.twitter.com/prqWo8lPuo

— IndianPremierLeague (@IPL) September 26, 2020
19:11 hrs IST
KKR Playing XI vs SRH
Kolkata Knight Riders (Playing XI): Sunil Narine, Shubman Gill, Dinesh Karthik(w/c), Nitish Rana, Eoin Morgan, Andre Russell, Pat Cummins, Kamlesh Nagarkoti, Varun Chakravarthy, Kuldeep Yadav, Shivam Mavi
19:10 hrs IST
SRH Playing XI vs KKR
Sunrisers Hyderabad (Playing XI): David Warner(c), Jonny Bairstow(w), Manish Pandey, Priyam Garg, Mohammad Nabi, Wriddhiman Saha, Abhishek Sharma, Rashid Khan, Bhuvneshwar Kumar, K Khaleel Ahmed, T Natarajan
19:07 hrs IST
Two changes for KKR against SRH
KKR, on the other hand have brought in Kamlesh Nagarkoti and Varun Chakravarthy in place of Sandeep Warrier and Nikhil Naik.
19:05 hrs IST
Three changes for SRH against KKR
RH made three changes to their side, Mohammad Nabi, Wriddhiman Saha and Khaleel Ahmed come in for Mitchell Marsh, Vijay Shankar and Sandeep Sharma
19:00 hrs IST
KKR vs SRH - toss update
Sunrisers Hyderabad captain win the toss and opt to bat first against Kolkata Knight Riders in the Indian Premier League match no. 8 in Abu Dhabi.
18:54 hrs IST
Brian Lara opines on Andre Russell
The teams are prepared now for Andre Russell. They should bowl full on his pads and not give him any room to free his arms. Does he have the game to counter that? Don't think so: Brian Lara in Star Sports' pre-match show.
18:49 hrs IST
KKR vs SRH live score - Abu Dhabi pitch report
The surface tonight has a lot of pronounced green grass, whether this affects the team selection, we'll have to see. Under lights, if there is dew, this might help the seamers a lot more but we haven't seen much dew in the IPL. The dimensions of this ground is mostly over 70 metres: Ian Bishop and JP Duminy with their pitch report.
18:46 hrs IST
Eoin Morgan vs Rashid Khan
The last time Eoin Morgan batted against Rashid Khan, he hit him for 7 sixes in the 2019 ODI World Cup. He broke the world record for most sixes in an ODI (17). He will be up against Rashid in today's KKR vs SRH encounter. The SRH spinner will look get one back at the England captain. This might just be the key battle that plays a key role in this match.
18:41 hrs IST
Brett Lee predicts the winner of KKR vs SRH
Former Australia fast bowler Brett Lee said although KKR is his former team but he will back Sunrisers Hyderabad to win tonight.
18:37 hrs IST
SRH Predicted XI vs KKR
David Warner, Jonny Bairstow, Manish Pandey, Priyam Garg, Vijay Shankar, Abhishek Sharma, Mohammad Nabi, Rashid Khan Bhuvneshwar Kumar, Sandeep Sharma, T Natarajan.
18:35 hrs IST
KKR Predicted XI vs SRH
Sunil Narine, Shubman Gill, Nitish Rana, Eoin Morgan Dinesh Karthik, Andre Russell, Rinku Singh, Pat Cummins, Kuldeep Yadav, Shivam Mavi, Prasidh Krishna
18:30 hrs IST
Brian Lara picks his favourite in KKR vs SRH IPL 2020 match
"Without Lynn helping him (Narine) out at the top, he's found wanting at times. Russell always seems injured, KKR have to ease the burden on him. I think KKR have the advantage, simply because of the match-winners they have," said Brain Lara in the pre-match show on Star Sports.
18:25 hrs IST
Battle of Australians in KKR vs SRH
If KKR want to stop David Warner early then they have to give the new ball to Pat Cummins. It will be a mouth-watering contest if this does happen. The mighty Australians will be up against each other.
18:20 hrs IST
Who will stop Andre Russell today?
Million dollar question, the answer? We don't have it yet. When KKR captain Dinesh Karthik was asked about in by R Ashwin, he said 'pray to God'. SRH will sure like to believe that's not the case. They have the likes of Rashid Khan and Bhuvneshwar Kumar in their arsenal who can do the job. But what they need is a proper plan against Dre-Russ. Maybe bowl full outside the off stump for Bhuvi and slow through the air, forcing him to use feet against Rashid.
18:15 hrs IST
Bhuvneshwar Kumar the man to watch out for
Bhuvneshwar Kumar who had a decent spell against RCB will have to produce some magic against KKR.
• He is the key bowler in SRH bowling line-up and needs to deliver a good performance.
• He has been the leading wicket taker against KKR with 27 wickets.
• Bhuvi has average close to 20 against KKR in IPL.This is best bowling average by a bowler against KKR in IPL (min 50 overs)
• Bhuvi has best bowling strike rate against KKR in IPL (min 50 overs)
18:05 hrs IST
Is opening with Sunil Narine a good idea for KKR?
We're having this debate for the last three seasons of IPL and KKR have continued to open with him and well, they've got decent success to say the least but every time Narine fails at the top, the question resurfaces. To be honest, don't see KKR changing it so early. Narine opening with Gill adds so much balance to the KKR playing XI.
18:00 hrs IST
KKR vs SRH - 1 hour to go for the toss
We are exactly one hour away from the toss of this exciting encounter between KKR and Sunrisers Hyderabad.
Hello and welcome to Match 8 of #Dream11IPL.

The @KKRiders are all set to take on @SunRisers.#KKRvSRH pic.twitter.com/GmflPZidv7

— IndianPremierLeague (@IPL) September 26, 2020
17:58 hrs IST
Eoin Morgan needs to step up
Along with Pat Cummins, Morgan is KKR's biggest signing thig year. The England captain looked all at sea in the previous match. He is an important part of the KKR group not only as a batsman but also as a leader. It is up to him to ease the burden of big-hitting from Andre Russell's shoulder. We might see him bat in the top four today against SRH.
17:50 hrs IST
David Warner the danger-man for SRH against KKR
KKR's purple and gold seems to spur David Warner the most. The SRH skipper, who is also one of the legends of IPL, is a prolific run-scorer against KKR.
Here are some numbers to give you an idea why David Warner is the biggest threat to KKR.
• Warner has scored 533 runs against KKR - the most by an SRH batsman.
• Warner needs 76 to get past Rohit Sharma and become the leading run scorer against KKR in IPL.
• 126:is the high score against KKR, scored by David Warner in IPL 2017
• 43.63: Warner's batting average against KKR in IPL.
• 6: Warner has joint 3rd most 50+ scores against KKR along with Shikhar Dhawan in IPL. Suresh Raina has 8 while R Sharma has 7 fifty+ scores against KKR.
• 37: David Warner has hit 37 sixes against KKR and ranks 2nd on the list. Gayle has most sixes against KKR - 49
17:43 hrs IST
How SRH prepared for KKR
Here's how SRH have prepared for their match against KKR.
🎥 Last training session before #KKRvSRH! 💪

Watch the 𝙛𝙪𝙡𝙡 𝙫𝙞𝙙𝙚𝙤 here: https://t.co/OKsdJW5VNc#OrangeArmy #KeepRising #IPL2020 #Dream11IPL pic.twitter.com/uTyb7sMmud

— SunRisers Hyderabad (@SunRisers) September 26, 2020
17:35 hrs IST
All eyes on Andre Russell in KKR vs SRH clash
Andre Russell looked a bit rusty in the firs encounter against MI while it is natural for other cricketers as all of them are coming off a long lay off but not for Russell. He did play in the CPL. But one shouldn't actually read too much into one odd failure of someone like Russell. He is one of fiercest strikers of the cricket ball and one of the most vital cogs in KKR's wheel. It will be interesting to see where Russell bats against SRH today.
17:28 hrs IST
Areas SRH need to improve
SRH were going fine till the time Jonny Bairstow was in the middle in their last match but they lost their way when he got out. They collapsed like a house of cards, this may seem cliched but you find a better way to describe it. This time around, they would hope their Indian batsmen and in Manish Pandey and Vijay Shankar will take more responsibility to give stability to their fragile middle order.
17:20 hrs IST
What went wrong for KKR in their first IPL 2020 match
Well pretty much everything. Captain Dinesh Karthik in the post-match conference shrugged it off by saying that he wouldn't want to get too critical about his side's performance, considering it was their first match and a lot of the guys were coming straight from quarantine. That aside, Karthik would agree that he missed a few tricks first up. Not Pat Cummins the new ball backfired completely while there were a few question marks over the team selection of Sandeep Warrier ahead of Prasidha Krishna and Nikhil Naik maybe ahead of Rahul Tripathi.
17:15 hrs IST
Some stats in the KKR vs SRH match
Highest Total Chased by Kolkata Knight Riders: 182 on Mar 24, 2019
Lowest Total Defended by Kolkata Knight Riders: 160 on Apr 21, 2019
Highest Total Chased by Sunrisers Hyderabad: 167 On May 04, 2015
Lowest Total Defended by Sunrisers Hyderabad: 162 On May 25, 2016
17:10 hrs IST
KKR vs SRH live score - Abu Dhabi venue insights
Highest Team Total: 206/4 By Kings XI Punjab Against Chennai Super Kings
Lowest Team Total: 70/10 By Royal Challengers Bangalore Against Rajasthan Royals
Highest Individual Score: 95 By Glenn Maxwell (Kings XI Punjab) Against Chennai Super Kings
Best Bowling Figures: 4/20 By Sunil Narine (Kolkata Knight Riders) Against Mumbai Indians
Highest Partnership: 131 By Jacques Kallis And Manish Pandey (Kolkata Knight Riders) For 2nd Wicket Against Mumbai Indians
Win Rate Batting First: 44.44% (4 Won; 5 Lost)
17:02 hrs IST
Will Kane Williamson return to SRH XI against KKR?
Well, it's a question that everybody is asking and while we don't have a definite answer yet, all the cricketing logics indicate that he should play today's match against KKR. Kane Williamson, who has been an integral part of the SRH team in last few seasons, missed the first game due to a niggle but on Friday, he was seen practising with the squad in full tilt suggesting that he is back to full fitness. Williamson should replaced Mitchell Marsh who has been ruled out of the tournament with an ankle injury.
16:55 hrs IST
KKR vs SRH head-to-head in IPL
KKR and SRH have faced each other 17 times in the IPL and KKR have the edge. They have beaten Sunrisers 10 times while the Orange Army have won only 7 times. Will KKR make it 11 or will SRH close the gap further? We will found out after a few hours from now.
16:49 hrs IST
KKR vs SRH - Who is the favourite?
Aritra: I've been a fan of KKR since the first season of IPL (yeah yeah, you guys knew it). So I'm pretty confident they will bounce back and beat SRH today. Let me back it up with cricketing logic. Do you really expect Narine Morgan and Russell to collectively misfire for two games in a row? Do you think Pat Cummins will have another off day in the office? And we are not even counting Shubamn Gill or a Dinesh Karthk here. So I'm backing KKR to get off the mark today. What about you Aditya?
Aditya: Well, have I been waiting for this one! KKR and SRH are looking for their opening points and there hasn't been a more evenly-matched contest this IPL than this one to be honest. Batting is the main area concerning both Dinesh Karthik and David Warner. I'm eager to see Warner bat since he was unlucky to be run out at the non-striker's end in the previous game. That said, I really can't think of one team to back.
16:40 hrs IST
KKR vs SRH - Who will get off the mark?
Both Kolkata Knight Riders and Sunrisers Hyderabad lost their opening encounters. KKR were outplayed by MI while SRH collapsed while chasing a target against RCB. Today, however, both these sides will look to get their campaign back on track.
16:30 hrs IST
IPL 2020, KKR vs SRH live score
Hello and welcome to the live coverage of Kolkata Knight Riders vs Sunrisers Hyderabad match No.8 of IPL 2020 in Abu Dhabi. I'm Aritra Mukherjee and I have with me Aditya Bhattacharya, we will be with you throughout the evening (and night) as these two exciting sides take on each other.
Personalise your news feed. Follow trending topics