'Next 2 games are going to be critical': Karthik's warning for India youngster, '...has been given good amount of games'
Jan 29, 2023 04:25 PM IST
Dinesh Karthik has said that the next two matches could turn out to be crucial for the player to cement a spot in the Indian team.
India will be looking to equalise the three-match T20I series against New Zealand during the second match on Sunday in Lucknow. They were caught in a spin web in Ranchi after conceding 27 runs in the final over of the New Zealand innings, with their top three falling for a combined 15 runs. Ishan Kishan and Shubman Gill are opening the innings for India with Rahul Tripathi coming in at No.3.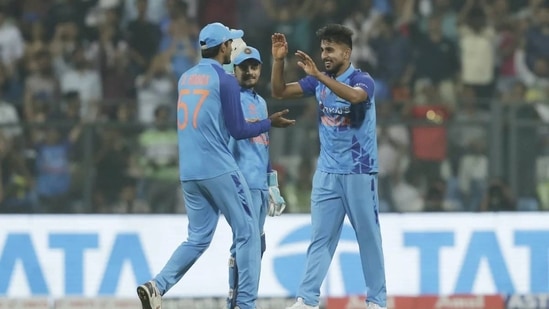 While Gill and Tripathi are still in the nascent stages of their T20I careers, time seems to be running out for Kishan. While he turned heads by scoring a historic double century in an ODI against Bangladesh in December, Kishan has registered just two single digit scores in international cricket since then.
ALSO READ | 'Sachin took 6 attempts to win World Cup. Just because Dhoni won it straightaway…': Ashwin backs Rohit, Kohli
Veteran wicketkeeper-batter Dinesh Karthik reckons that the next two games against New Zealand could prove pivotal to Kishan's future. "These next two games are going to be critical for him to get some big runs and make sure he's a consistent part of the XI," said Karthik on Cricbuzz.
Since scoring the double century, Ishan's scores in the last seven innings in both ODIs and T20Is read 37, 2, 1, 5, 8 n.o., 17 and 4. If one just considers the T20Is, it's been a while since he last scored a fifty -- against South Africa on June 14, 2022.
"One player who has been given a good amount of games but hasn't scored a fifty is Ishan Kishan. In the last 11 games, he hasn't scored a fifty. He has opened in all games and opening in T20s is luxurious, especially in Asia. He's someone who has done well in ODI cricket in the minimal chances he's got. He's looking to maximise his potential as a player and opportunities in India," said Karthik.