India vs Afghanistan, one-off Test, Day 1, Bangalore, highlights: IND 347/6, Shikhar Dhawan 107
Shikhar Dhawan and Murali Vijay blasted centuries but Afghanistan fought back as India ended day 1 on 347/6. Get highlights of India vs Afghanistan, one-off Test, Day 1, Bangalore, here.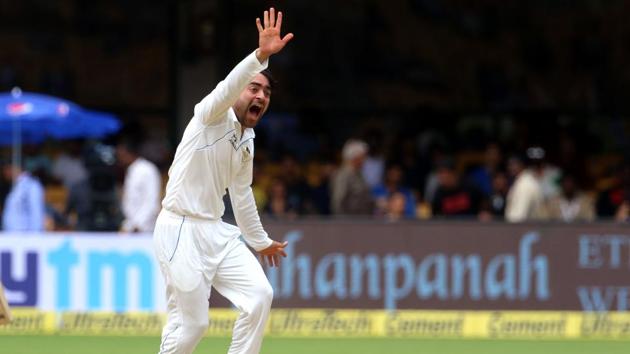 Updated on Jun 14, 2018 06:12 PM IST
Afghanistan had a torrid introduction to Test cricket as Shikhar Dhawan and Murali Vijay blasted centuries to put India on course for a big score. However, Afghanistan, primarily through Rashid Khan, fought back admirably in an extended final session. Rain ruined the middle session and both teams will be hoping that the weather does not play a part in the outcome of this Test match. Get highlights of India vs Afghanistan, one-off Test, Day 1, Bangalore, here. (IND v AFG LIVE STREAMING) (IND v AFG LIVE SCORECARD)
18:00 hrs IST: That is stumps on day 1. Afghanistan have fought back admirably but India still hold all the aces. A total of 400 will be good on this deck.
17:48 hrs IST: Hardik Pandya and Dinesh Karthik have a couple of nervy overs to negotiate before stumps. However, DK is unable to survive as he is run-out. Excellent pressure built by the Afghan spinners. Karthik taps the flatter delivery to the off side and thinks about taking a quick single. Pandya sends him back and DK is run out.
17:36 hrs IST: Mujeeb Ur Rahman gets among the wickets now and Pujara glances a flatter ball to the leg slip positioned there. Dinesh Karthik survives a LBW appeal as Afghanistan lose both their reviews.
17:24 hrs IST: Rashid is denied another wicket as Pujara edges a legbreak that kicks up on the middle stump line but Nabi at slip drops the catch. Rashid is getting into rhythm and he is bowling really well.
17:18 hrs IST: After all the punishment on day 1, Rashid Khan has something to smile for. The legbreak on leg stump and Rahane plays back to whip it to the leg side, he misses it and Rashid appeals for an LBW. The umpire gives it not out and Afghanistan review, replays show the ball was hitting middle stump. Great stuff from Rashid Khan
17:12 hrs IST: Pujara continues to grow in confidence as he glances a googly from Mujeeb down the leg side to the fine leg fence. Rahane and Pujara's combined partnership has now gone past 1000 runs in Tests.
17:02 hrs IST: For the first time in the Test, India's run-rate has slipped to below five. Afghanistan are pulling things back here but it is still advantage India.
16:50 hrs IST: First maiden over for Rashid Khan in Tests and his economy rate has come down to below six per over for the first time in the day. Can Afghanistan salvage the situation here?
16:48 hrs IST: Cheteshwar Pujara shows his aggressive streak as he hammers three fours off Asghar Stanikzai. The 300 is up in just the 60th over. Fantastic batting from India.
16:41 hrs IST: Ajinkya Rahane has been given out but he reviews immediately. Short ball from Ahmedzai and the skipper goes for the pull, there is no bat or glove involved. Instead, the ball hits his shoulder and goes to the keeper. Rahane will survive.
16:25 hrs IST: Ajinkya Rahane and Cheteshwar Pujara are steadying the ship. It is still overcast in Bangalore and one wonders whether they can stretch play till 6:00 PM.
16:12 hrs IST: OUT! Rahul goes for 54. Second wicket for Ahmadzai. Ajinkya Rahane comes to the crease.
16:08 hrs IST: OUT! Vijay departs after scoring a magnificent ton. Gets caught in front. First wicket for Wafadar. Pujara comes to the crease. India 280/2
16:00 hrs IST: FOUR! And that's fifty for Rahul. Remember, he had a great IPL 2018 for Kings XI Punjab.
15:53 hrs IST: FOUR! That's it. What an innings this has been from Vijay. Classy stuff. The challenge will be score a double century here.
15:52 hrs IST: Play resumes. Vijay needs one more run to complete his 12th hundred.
15:08 hrs IST: The rain has come back again and the covers are on. This will be frustrating for Murali Vijay as he nears his 12th ton
14:56 hrs IST: We are back for the final session. An early tea was taken and play can now be extended till 6:00 PM to make up for the lost overs. However, light could be an issue. Vijay comes closer with a boundary to third man by late-cutting a ball past the slip cordon.
13:36 hrs IST: The rain has gotten a bit heavier and the covers are coming on. Slight delay and we might have an early tea.
13:31 hrs IST: Vijay and Rahul are slowly building up momentum but the rain has started to get a bit heavier and play has been halted due to rain. The ground staff are getting some covers on the field.
13:18 hrs IST: Vijay moves closer to his century with a couple of boundaries. KL Rahul is also growing in confidence and the likes of Mujeeb and Rashid are still struggling.
13:09 hrs IST: The fifty-run stand is up between Vijay and Rahul. It has been a steady stand as Afghanistan's quest of making further inroads into the batting line-up have been thwarted.
13:03 hrs IST: It has started to drizzle at the M Chinnaswamy stadium but play will continue. The drainage facility at the ground is one of the best in the world and play can resume 10-15 minutes as soon as the rain stops.
12:54 hrs IST: The boundaries have dried up in the last couple of overs as Afghanistan look to get things back on track but Vijay is looking in great touch.
12:41 hrs IST: Vijay and Rahul are playing with intent but the run-rate has dipped following Shikhar Dhawan's dismissal. It is still hovering over 5.5.
12:27 hrs IST: 16th fifty for Murali Vijay and it has been a steady knock from him. He has played pace and spin very well and is looking good for a big score.
12:21 hrs IST: WICKET - First Test wicket for Afghanistan and it is Yamin Ahmadzai who gets his name in the history books. Full ball outside off, Dhawan edges the drive to second slip where Mohammad Nabi grabs the catch on the second attempt. Great moment for Afghanistan. Shikhar Dhawan c Nabi b Ahmedzai 107
11:32 hrs IST: Lunch on day 1 of the one-off Test between India and Afghanistan and the hosts are on top, thanks to Dhawan's blazing century off just 87 balls. It has been a fabulous knock and Afghanistan have been deflated. They will be even more demoralised considering that Rashid Khan and Mujeeb Ur Rahman, their trump card and mystery spinner have been torn apart.
11:28 hrs IST: Great moment for Shikhar Dhawan as he hits his seventh century in Tests off just 87 balls. He becomes the first Indian to score a century before lunch in Tests. Brilliance and this knock has hurt Afghanistan immensely.
11:23 hrs IST: Sublime Dhawan. Simply sensational. He absolutely tears apart Mujeeb Ur Rahman with three boundaries as Afghanistan's other mystery spinner gets clobbered for 17 runs. Dhawan on the verge of scoring a hundred before lunch.
11:11 hrs IST: The other mystery spinner, Mujeeb Ur Rahman, is also facing plenty of pressure. Vijay slog sweeps a flighted delivery to the deep square leg fence and Dhawan hits his third six by hammering Mujeeb over long on. Afghanistan are finding out the travails of Test cricket in a brutal way.
11:08 hrs IST: Rashid Khan continues to struggle as Dhawan tears him apart with two fours and one six. In the last ball of his over, there is a double appeal for an LBW and a catch but the umpire does not give it. Afghanistan take their first review in Tests but there is no inside edge and the ball was missing off stump. They lose the review and India motor along.
10:59 hrs IST: Wafadar is in the middle of a long spell while Rashid Khan continues to struggle. Dhawan capitalises on the momentum by drilling Wafadar to the wide long-off fence while he slog sweeps Rashid Khan to the fine leg fence. Things getting out of Afghanistan's hands very quickly.
10:50 hrs IST: Much better comeback over from Rashid Khan and there is an appeal for a LBW, but the ball was going down the leg side. Just for your information, Rashid has got 35 wickets in four first-class games.
10:45 hrs IST: Torrid first 15 overs from Afghanistan have come to an end. If one has to summarise, India have had it quiet easy here. Rashid Khan will be looking to bounce back after a horror first over.
10:41 hrs IST: Rashid Khan is finding out how Test cricket is a great leveller. Dhawan blasts three fours off his leg-spin bowling and he reaches his sixth fifty. Poor over from Rashid, most of the balls were either full tosses or short balls and Dhawan ensured he made him pay.
10:36 hrs IST: Here is the moment everyone has been waiting for. Rashid Khan, the No.1 bowler in T20Is, bowls in Tests. What impact he can create for Afghanistan?
10:32 hrs IST: Dhawan continues on his merry ways as he targets Mohammad Nabi for some punishment. Flatter ball on leg stump and the left-hander unfurls the slog sweep and the next ball, he flat-bats a short ball to the deep cover fence by dancing down the track.
10:28 hrs IST: Wafadar continues to bowl with good rhythm as he troubles Vijay with a bit of movement outside off. However, Afghanistan's first Test wicket continues to be elusive.
10:22 hrs IST: Superb batting by Dhawan. Nabi tosses the delivery up and the left-hander hammers the lofted shot straight down the ground for a boundary. In the previous over, Afghanistan appeal for a catch but they do not opt for the review. Replays show that there was a spike on RTS, but it was bat hitting the pad.
10:11 hrs IST: Edged but safe! Good length ball seaming away outside off, Vijay goes for the drive and the edge flies past Mohammad Shehzad at second slip for a boundary to third man. The first bowling change for Afghanistan comes about and it will be Mohammad Nabi.
10:06 hrs IST: Dhawan slams two more fours off Ahmedzai, one a crisp drive through extra cover and the other a whip to the fine leg fence. 13 runs in the seventh over and the run-rate is over five per over now.
10:01 hrs IST: Vijay is starting to feel comfortable. Afghanistan's bowlers are not bowling consistently in the right areas. Wafadar bowls on the pads and Vijay glances it to the fine leg albeit off the thigh pad. Dhawan continues his good form by whipping a full ball from Ahmedzai on his pads to the deep mid wicket fence.
09:51 hrs IST: The first maiden over in Test cricket for Afghanistan and it comes from Wafadar. Good pace and some extra bounce from the Chinnaswamy deck as Shikhar Dhawan survives.
09:47 hrs IST: Ahmedzai gets some swing and he keeps it in that channel outside off as Vijay gets beaten on one occasion and is late into the stroke the second time. However, India end the over in a streaky way with Vijay inside-edging a late-swinging delivery past off stump for a boundary to the third man fence.
09:43 hrs IST: Good start from Wafadar, the right-arm pacer as he beats Shikhar Dhawan with a back of a length delivery that jags away outside off. However, he is unable to maintain the pressure consistently as Dhawan flays him for two boundaries, one through deep cover and other to deep point.
09:40 hrs IST: Yamin Ahmedzai is the first bowler to bowl Afghanistan's first ball in Test cricket. Good areas from him but Murali Vijay and Shikhar Dhawan play him comfortably. Wafadar will open the bowling from the other end.
09:30 hrs IST: Such is the magnitude of the Test match that there was a presentation ceremony before a ball was bowled. Rajyavardhan Rathore, Union sports minister and the Afghanistan president all gave speeches congratulating the Afghanistan team. The national anthems of both teams were played and the first-ever Afghan XI strode out to the middle of the Chinnaswamy stadium in a truly historic moment.
09:06 hrs IST: India have won the toss and they will bat on a slightly greenish pitch at the M Chinnaswamy stadium. Asghar Stanikzai, the captain of Afghanistan, mentioned that it was a proud moment for his side. There is no place for Kuldeep Yadav, Navdeep Saini and Karun Nair. Here are the playing XIs of both sides
India (Playing XI): Shikhar Dhawan, Murali Vijay, Cheteshwar Pujara, Ajinkya Rahane(c), Lokesh Rahul, Dinesh Karthik(w), Hardik Pandya, Ravichandran Ashwin, Ravindra Jadeja, Ishant Sharma, Umesh Yadav
Afghanistan (Playing XI): Mohammad Shahzad, Javed Ahmadi, Rahmat Shah, Asghar Stanikzai(c), Afsar Zazai(w), Mohammad Nabi, Hashmatullah Shahidi, Rashid Khan, Mujeeb Ur Rahman, Yamin Ahmadzai, Wafadar
08:46 AM IST: A warm welcome to a historic day in sports. Not only is it the start of the FIFA World Cup 2018 in Russia, but it is the day where Afghanistan, the 12th nation to be awarded Test status, make their debut on the grand stage with a Test match against India at the M Chinnaswamy stadium. For thousands of Afghan fans, it is truly a moment to rejoice in a country which has been ravaged by war for many decades.
India have been Afghanistan's close allies and the BCCI has shown magnanimity in opening their stadiums so that the national team can practice.
But come Thursday, Ajinkya Rahane's India will not spare an inch as they are expected to put up a ruthless show.
India, sans their regular skipper Virat Kohli along with two frontline bowlers Bhuvneshwar Kumar and Jasprit Bumrah, will look to record a comprehensive win before embarking on their long and gruelling tour of England.
For Afghanistan, it will be a battle of attrition that they have never ever faced before. Test cricket is a different beast and Rashid's real battle starts now.
With no pressure of asking rate, a Murali Vijay or a Chesteshwar Pujara, if set, will play at their own pace. That Afghanistan have no idea how difficult it can get could be gauged from their skipper Asghar Stanikzai's pompous claims that his spinners are better than the home team.
The problem with Afghanistan will not be their spinners but their batsmen.
How well Shahzad, Mohammed Nabi negotiate Ashwin and Ravindra Jadeja will have a direct impact on the kind of fight Afghanistan will be able to put on.
And even before that they will have to counter the disconcerting bounce generated by Ishant Sharma and the pace worked up by Umesh Yadav.
Close Story