MS told Pant 'No Rishabh, don't want to miss my last...': Sridhar's unheard-of revelation about Dhoni's retirement
Updated on Jan 13, 2023 12:36 PM IST
India's former fielding coach R Sridhar made an explosive revelation about how MS Dhoni had already decided to end his international career even before the 2019 World Cup semi-final vs New Zealand was over. Sirdhar gave details about Dhoni's converastion with Pant.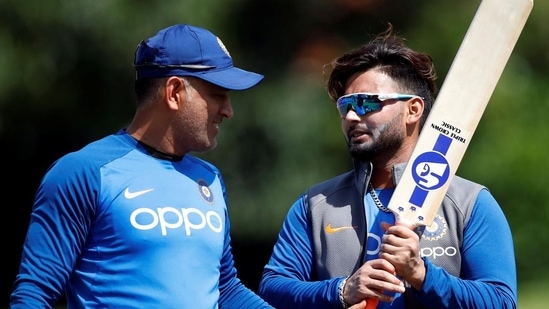 Mahendra Singh Dhoni is widely regarded as the greatest captains in the history of the game. The former India wicketkeeper-batter was the first to win all ICC trophies as captain; he led the side to inaugural T20 World Cup win in 2007, the ODI World Cup victory in 2011 and the Champions Trophy title two years later. He also secured the ICC Test Mace twice during his captaincy in the longest format of the game.
Dhoni had announced his international retirement in 2020, having made his last appearance for the Indian team at the 2019 World Cup. However, India's former fielding coach R Sridhar has now made a bombshell revelation about how Dhoni had actually hinted that he had played his last match for India in a conversation with Rishabh Pant, who eventually went on to succeed Dhoni in the wicketkeeping role.
Also Read: 'Shastri said 'Look Virat, you have to respect MS'': When 'eager' Kohli wanted Dhoni's white-ball captaincy
Sridhar revealed a conversation between the two wicketkeepers that took place during the reserve day of India's World Cup semi-final against New Zealand.
"I can now reveal that at the time of the interview to the BCCI, which I attended from Antigua, I was reasonably certain that for all practical purposes, MS had played his last match for the country. He hadn't announced it, of course, but I will tell you why I knew. On the morning of the reserve day in our World Cup semifinal against New Zealand in Manchester, I was the first person at the breakfast hall. I was nursing my coffee when MS and Rishabh walked in, picked up their stuff and joined me at my table," Sridhar wrote as he shared the story in his book, 'Coaching Beyond- My days with the Indian cricket team'
"New Zealand had only a couple of overs to bat out and we'd start our innings thereafter, so the match would end reasonably early. Rishabh told MS in Hindi, 'Bhaiyya, some of the guys are planning to leave for London today itself privately. Would you be interested?' MS replied, 'No, Rishabh, I don't want to miss my last bus drive with the team.'"
Sridhar further stated that he never narrated the conversation to anyone out of 'sheer respect' for Dhoni. "I didn't say a word to anyone about this conversation out of sheer respect for the man. He had taken me into confidence. I couldn't shoot my mouth off. So, I didn't utter a word not to Ravi, not to Arun, not even to my wife," said Sridhar.
India had lost the semi-final of the World Cup by 18 runs, with Dhoni's run out being the pivotal moment in the game. The former Indian captain had played a gritty knock of 50 off 72 deliveries, but was ran out with the side needing 24 more runs to win in nine balls.