New Zealand stare down the barrel
Updated on Aug 26, 2012 01:36 AM IST
Ashwin's six-for leaves the visitors with the onerous task of averting an innings defeat; rain halts India's charge.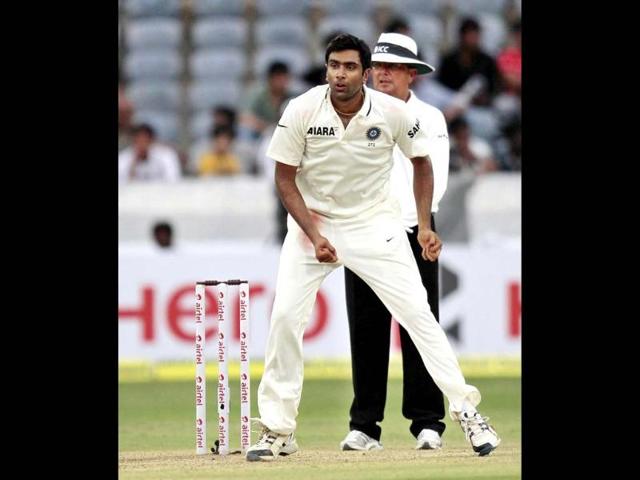 The huddle before the start of the day's play wasn't preceded by any warm-up. Instead, there was intense close catching practice. MS Dhoni trained his eye on some fine edges deflected off a stump, provided by a support staff member. Some distance away, Virat Kohli, at a makeshift leg slip, held on to some catches that came off sweeps while Sehwag & Co too cupped a few at a conventional slip.


The message was clear. The Kiwi batsmen were expected to hop around to the spinners and pop out some chances. And not wasting any time, the Indians were gearing up to grab them, especially with rain forecast.
Dhoni, however, didn't begin with the spinners straightaway. Early morning showers that delayed the start may have prompted him to keep at least one of the pacemen going as there could have been some moisture.
It wasn't until after the 18th over of the day that MSD brought spinners from both the ends.
Caved in
The delay didn't matter as New Zealand, having resumed at 106/5, folded up for 159, much to the delight of a weekend crowd of 16,000 that had assembled. Only James Franklin, a bowling all-rounder who has turned into a batting all-rounder, showed application to score 43 runs.
"We discussed what we had to do. But it didn't work that way," said a stone-faced Franklin after the day's play. "There was certainly some bounce but the wicket wasn't aiding a lot of turn."
If that was the case, then Pragyan Ojha did really well. Brought in well ahead of Ashwin, he got both drift and turn going. After Doug Bracewell had parried Indian bowlers following the early loss of Kruger Van Wyk's wicket, it was Ojha who provided the breakthrough by beating Bracewell and having him stumped. Ashwin was introduced and he mopped up the tail two minutes before lunch, taking a career-best haul of 6/31.
Following on
The intensity shown at the start may have had a lot to do with the elements. Rain was forecast and Dhoni may have wanted to put the Kiwis on the mat before going into the fourth day or heavens opening up. It was clear as Dhoni promptly enforced the follow on and then opened the second innings with Pragyan Ojha.
The spinner scalped Martin Guptill who, despite coming to India as an in-form batsman, has been forced to just grin and bear.
He was trying to work his way out of trouble with some attacking shots but India's chirpy youngsters, standing perilously close to him, seemed to cast some doubt in him. To play or not to play must have been the question as he proffered his front foot to an Ojha delivery that held its line.
The ball, unfortunately, didn't rise much and that proved fatal, though he had stretched his leg. The finger went up and India had made the first dent. Just then, unfortunately, the skies opened up.
Personalise your news feed. Follow trending topics