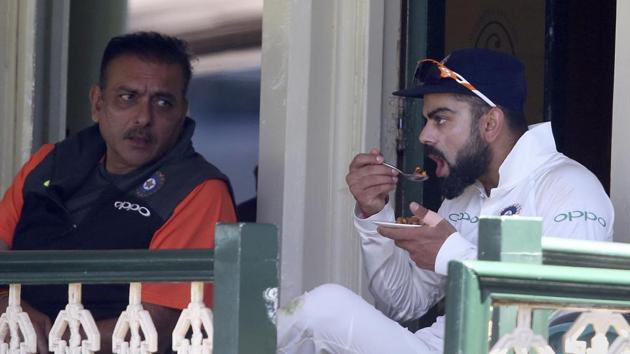 OPINION | Indian cricket's romance with Australia
Lost in the noise of the on-field rivalry is the long friendly history between the two countries and Australia's deep influence on Indian cricket.
Hindustan Times, New Delhi | By Amrit Mathur
UPDATED ON DEC 05, 2018 09:17 AM IST
It's game time again with India-Australia lined up in Adelaide, and marketing gurus are busy spinning a buzz around their intense on-field rivalry. Lost in the noise, however, is the long friendly history between the two countries and Australia's deep influence on Indian cricket.
India-Australia contests produced great cricket and compelling theatre with many well documented violent clashes. Rewind to SMG threatening a walk out in Melbourne test unhappy over an umpiring decision. Or Sachin Tendulkar judged leg before shoulder ducking into a McGrath bouncer. Or when diplomatic relations between the two nations came under strain with 'Monkeygate'. More recently, fresh hostilities broke out after Steve Smith's famous 'brain fade' in Bangalore.
Nobody would accuse the teams of having brotherly affection towards each other but, removed from the heat of play, India-Australia bond like close family. This started in 1987 with Dennis Lillee joining the MRF academy to groom Indian fast bowlers. Lillee was in Chennai for 25 years.
HELPING HAND
In this period, India-Australia cricket trade grew at an impressive rate. Australia then was a cricket superpower keen to export its expertise and India a big market and a willing customer. Australia's influence seeped rapidly into Indian cricket's bloodstream, routed through the BCCI's National Cricket Academy (NCA) Bangalore.
Rod Marsh spent time there, certifying coaches, as did Frank Tyson. Dav Whatmore supervised implementation of Cricket Australia's curriculum on fitness, injury management and fast bowler work load. And when the NCA adopted -- almost word by word -- the coaching manuals from CA's Cricket Academy, it effectively became a finishing school that taught Indian players the Aussie way of cricket.
ALSO READ: Team India name 12-member squad for 1st Test
To complete the loop, Australian umpire Simon Taufel was based in Nagpur to drive the BCCI's umpiring programme. Impressed by professional Australian coaches, Maharashtra appointed David Andrews and Shaun Williams to coach its Ranji team.
LUCRATIVE MARKET
The IPL provided a big boost to India-Australia commercial cricketing co-operation with India becoming a placement agency for all manner of Aussie talent. Australian players were sought after often purchased at crazy prices. Presently David Warner and Steve Smith are worth Rs 12.5 crores on Indian cricket's sensex as retained players and Glenn Maxwell's last hammer price was Rs 9 crores.
The list of Aussie captains in the IPL is long. It starts with Shane Warne, Adam Gilchrist, Shane Watson to Warner/Smith/George Bailey/Maxwell. Aussie coaches Ponting, Tom Moody, Brad Hodge, Brett Lee, James Hopes, Mike Hussey are much in demand. Before them, Darren Lehman, John Buchanan, David Saker, Steve Rixon, Greg Shipperd, Andy Bichel found employment.
Aussie support staff ,the physios/trainers (Andrew Leipus, John Gloster, Patrick Farhat, Trent Woodhill, John Steer) also have a ready job market in India.
Interestingly, India-Australia padded up together as partners in the ICC and elsewhere.
When the IPL floated the Champions League T20, Australia received special favours: 50 ownership, share of revenue and two slots for its teams. When India proposed a new formula to slice cricket's revenue to favour the 'Big Three', Australia were right in the core of that inner circle.
Of late, India's cricket romance with Australia has gone cold.
The NCA is more Indian in outlook now and in the ICC, India and Australia disagree on several issues. But Australia remain in our system with Virat Kohli's team playing its brand of forever front-foot cricket, though with a critical difference : India want to win and Australia want to win 'at all costs'.
(The writer, who tweets @AmritMathur1, is a senior sports administrator. Views are personal)
Close