More players pull out as IPL rolls on with increased testing
It has sparked a debate on whether it is okay to have the T20 league caravan rolling through Delhi, Mumbai, Ahmedabad, Kolkata, Bengaluru, Chennai when most of the six cities allotted this year's event have been hit by a spike in infections and a rising death toll.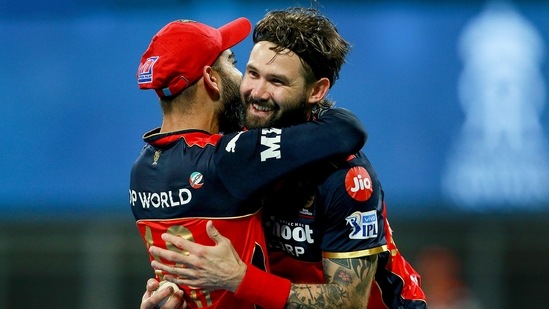 Updated on Apr 26, 2021 11:44 PM IST
A raging pandemic has left players inside the Indian Premier League (IPL) bio-bubble shaken. Three of them including Delhi Capitals' high-profile spinner Ravichandran Ashwin pulled out on Monday. Two players had left earlier.
It has sparked a debate on whether it is okay to have the T20 league caravan rolling through Delhi, Mumbai, Ahmedabad, Kolkata, Bengaluru, Chennai when most of the six cities allotted this year's event have been hit by a spike in infections and a rising death toll.
While Ashwin was clear that he wanted to be with his family in this time, Australian duo Adam Zampa and Kane Richardson have left due to "personal reasons," said their franchise Royal Challengers Bangalore. The timing of the decision, however, points at the pandemic being a possible reason for the departures. Earlier, Rajasthan Royals' English recruit Liam Livingstone opted out due to "bubble fatigue" while another Australian Andrew Tye left over the concern of getting "locked out."
Several nations including the USA, United Kingdom, Canada, Bangladesh have started closing borders for travellers from India. Australia has ordered a 30 per cent reduction in direct flights from the country. This has added to the tension among the overseas players.
Players' concerns
"There's definitely concerns," Tye, who flew from Mumbai to Doha to Sydney on Sunday, told SEN Radio. "I just thought to try and get on the front foot and get home before I got locked out of the country," said the Rajasthan Royals player.
A day after Tye departed, his compatriots Zampa and Richardson followed. Hours before that, Ashwin became the first Indian player to pull out. In a tweet posted early on Monday, Ashwin announced he was "taking a break". Ashwin's team, Delhi Capitals, had finished its Chennai leg on Sunday with a win over Sunrisers Hyderabad and would now be moving to Ahmedabad. Ashwin, a resident of Chennai, played that match.
"I would be taking a break from this years (sic) IPL from tomorrow. My family and extended family are putting up a fight against #COVID19 and I want to support them during these tough times. I expect to return to play if things go in the right direction. Thank you @DelhiCapitals," he wrote.
Delhi coach Ricky Ponting, in an interview posted in the team's Twitter account, had earlier admitted it was tough on the Indian players. "It is hard for the players to be away from their families. I can't imagine… Even if I put myself in this situation, guys that live in Chennai are actually home now, but can't see their families," the former Australia captain said.
"It must be incredibly difficult. So the more we can share these experiences, the better off we are. The people that aren't from India, the more that we can be talking to the locals about what they are going through the better off we are all going to be. We will just keep our fingers crossed."
In these circumstances, the IPL 2021 moved to Ahmedabad and will be played in Delhi. The Delhi leg begins on Wednesday till May 8 with four teams --- Chennai Super Kings, Mumbai Indians, Rajasthan Royals and Sunrisers Hyderabad --- playing eight matches. The other four teams will be based in Ahmedabad. It will be hosting eight matches too, from Monday till May 8. It has also been allotted three play-off stage matches and the final, from May 25 to May 30.
Gujarat on Sunday recorded 14,340 new Covid-19 cases – its highest spike since the pandemic broke. The Ahmedabad district alone reported over 5000 of those cases. Delhi has been recording over 22,000 cases daily since last week.
The state associations though are confident they can pull this off. "The Delhi leg of the IPL is absolutely on schedule," said Rohan Jaitley, Delhi and District Cricket Association (DDCA) president, over the phone. "We are following all the BCCI prescribed Covid protocols. There have been regular testing and no staff has tested positive in the last few weeks. We have also conducted vaccination drive for the groundsmen. Everybody is inside a bubble and the venue has been divided into zones with no passage between two zones."
More tests
On Monday, a Gujarat Cricket Association (GCA) official said: "Even without spectators, we expect 600-700 people inside the stadium on match days. This includes about 130-140 people from broadcasters, then there are the contingents from both teams which can cross 100 including everyone. Then there are policemen, franchise guests, maintenance staff among others. Everybody is getting RT-PCR done, every third day." The official, who knew about the protocols at Gujarat's Narendra Modi Stadium, spoke on condition of anonymity.
"No one can enter the stadium from outside without accreditation and permission. There are several perimeters for those present. And no one can cross those."
Amidst the surge, the teams have also increased testing. Mumbai Indians' pacer Nathan Coulter-Nile, who along with his team landed in Delhi on Saturday, said he is being tested thrice a day.
"We have a rapid response test in the morning ahead of another test later in the day, and then one at night as well," the Australian told cricket.co.au from Delhi. "And that's for everyone – players, staff, the people who do laundry, cleaners, everyone."
There are still 14 Australian players left in the IPL along with four in the commentary team.
"I was surprised to see AJ go home, and then Zamps and Richo, but when you speak to them, you definitely understand where they're coming from. But for me, I feel like it's safer for me to stay in the bubble than try and get home at the moment. Especially with all the Australian and New Zealand players in the same boat as me at the moment, I feel like something's got to give for getting home. I'm just going to wait and see how that plays out. Worst comes to worst, we'll have to quarantine in Dubai for a couple of weeks before we can fly home," he said.
Should it, shouldn't it?
Opinions are divided on whether the IPL should continue in the midst of this unfolding health crisis. The total number of positive cases has crossed 1.73 crore (second only to USA) while the number of deaths is nearly 2 lakh. Many have wondered whether this is a right time for sport in the country.
"Best wishes to all in India Frightening Covid numbers. #IPL continues. Inappropriate? Or important distraction each night? Whatever your thoughts, prayers are with you," Adam Gilchrist, former Australian player, tweeted on Saturday.
"But looking at it from an Indian point of view, how are these companies and franchises spending so much money, and the government, on the IPL when there's people not being able to get accepted into hospital? If sport can continue and be one of those avenues to relieve stress or give a glimmer of hope that the world is OK and there is light at the end of the tunnel, I think it should go ahead. But I know that's not everyone's feelings and I completely respect everyone's views from all angles," Tye told SEN.
His compatriot and Kolkata Knight Riders (KKR) pacer Pat Cummins has donated money to the PM Cares Fund. "There has been quite a bit of discussion over here as to whether it is appropriate for the IPL to continue while Covid-19 infection rates remain high. I'm advised that the Indian government is of the view that playing the IPL while the population is in lockdown provides a few hours of joy and respite each day at an otherwise difficult time for the country," he said in a statement.
"I encourage my fellow IPL players --- and anyone else around the world who has been touched by India's passion and generosity - to contribute. I will kick it off with $50,000."
No such gesture has been officially announced by any Indian cricketer. However, KKR spinner Harbhajan Singh, Ashwin and Punjab Kings batting coach Wasim Jaffer have been active in amplifying the needs to Covid patients, including those who are searching for hospital beds and oxygen, on social media.
Close Story
Personalise your news feed. Follow trending topics