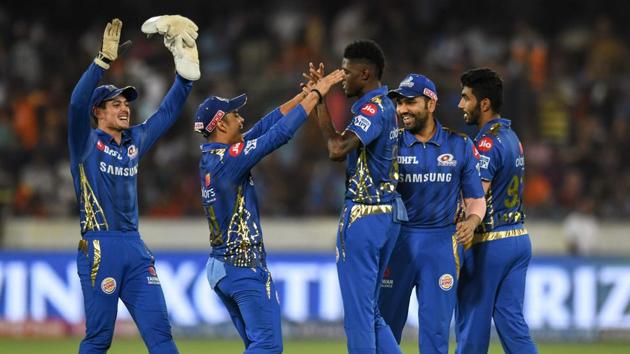 SRH vs MI Highlights, IPL 2019: Alzarri Joseph picks up best IPL figures as Mumbai win by 40 runs
Highlights: Young West Indies pacer Alzzari Joseph made a dream IPL debut by recording the best bowling figures in tournament's history as Mumbai Indians picked up a 40-run win over Sunrisers Hyderabad in a low-scoring game in Hyderabad on Saturday. Keiron Pollard hammered an unbeaten 46 off 26 balls, helping Mumbai Indians recover to 136 for seven after an ordinary start. ((Full scorecard))
Follow SRH vs MI highlights below -
UPDATED ON APR 07, 2019 08:15 AM IST
23:24 hrs IST
Joseph picks up best figures in IPL, Mumbai win by 40 runs
Alzarri Joseph finds the edge of Siddarth Kaul's bat and Quinton de Kock takes a simple catch behind the stumps. SRH are bowled out for just 96 runs and Mumbai Indians win by 40 runs. Joseph, who returned with six wickets for 12 runs, picked up the best figures in IPL. He has broken Sohail Tanvir's 11-year record of 6/14.
23:21 hrs IST
Joseph takes five wickets!
Joseph knocks over Bhuvneshwar's stumps and dismisses him for just 2 runs. Mumbai Indians need just one more wicket to win the match.
23:17 hrs IST
Nabi succumbs under pressure
Nabi mishits a delivery from Bumrah and Rohit Sharma takes a simple catch at mid-off. The Mumbai Indians needs just two more wickets to win the match.
23:12 hrs IST
Joseph takes two in two
Rashid is surprised by a short pitched ball by Joseph and top-edges a catch to the bowler. The West Indian is on a hat-trick on his IPL debut! But Bhuvneshwar Kumar safely negotiates the hat-trick ball and SRH are struggling at 89/7.
23:09 hrs IST
Three wickets for Joseph
Hooda goes for a big heave and misses the ball completely. The SRH batsman goes for 20 as Joseph picks up his third wicket of the match. This wicket may be game, set and match for Hyderabad.
23:05 hrs IST
Nabi slams Bumrah for a six
Is there a twist in the tale here. Nabi takes on Bumrah and slams him for a six off the last ball of the 15th over. SRH move to 84/5. They need 53 runs off 30 balls to win.
22:57 hrs IST
Behrendorff concedes just five runs
Behrendorff has bowled a fantastic 13th over to Nabi and Hooda. The Sunrisers batsmen have to bat out their 20 overs to have a chance of chasing down the total.
22:50 hrs IST
Pathan departs for a duck
The SRH batting line-up is falling like a pack of cards. Pathan presents a catch to Kishan and gets out for a duck. Hyderabad lose their fifth wicket!
22:46 hrs IST
Rohit takes a brilliant catch
Pandey smashes a delivery from Behrendorff straight to Rohit Sharma at mid-wicket and the Mumbai skipper judges the ball perfectly to hold onto the catch. The SRH batting line-up is falling apart here. Hyderabad: 61/4.
22:40 hrs IST
Pandey and Hooda take SRH forward
Pandey and Hooda are rotating the strike well and taking SRH forward in this chase. They have to make sure that they don't play any poor shot.
22:30 hrs IST
Alzarri Joseph dismisses Vijay Shankar
The Sunrisers are gifting away the match here. Vijay Shankar presents a simple catch to Hardik Pandya off Alzarri Joseph's bowling and gets out for 5 runs. SRH are in trouble at 43/3.
22:23 hrs IST
Pollard drops a sitter
Manish Pandey goes for a big one and the ball loops for a simple catch for Kieron Pollard. The West Indian, who usually takes brilliant catches, drops a sitter. Mumbai could have been all over Hyderabad now, but it isn't to be.
22:18 hrs IST
Alzarri Joseph's perfect start in IPL
Alzarri Joseph, playing in his first IPL match, bowls a widish delivery and Warner inside-edges the ball onto the stumps. SRH have lost their two key batsmen. Mumbai are well and truly back into this game.
22:14 hrs IST
Bairstow departs for 16
The introduction of spin has worked for Mumbai. Bairstow mishits a delivery from Chahar and presents a simple catch for Bumrah. Bairstow goes for 16. SRH have lost a wicket in the Powerplay overs for the first time in this season.
22:07 hrs IST
Warner clips a boundary
Behrendorff bowls a delivery on the leg-side and Warner clips it to the square-leg boundary. Hyderabad are going along smoothly in their chase at the moment.
22:00 hrs IST
Bairstow is on his way
Jonny Bairstow cuts a delivery off Jason Behrendorff for a boundary. Sunrisers are off to a good start with 8 runs off the first over.
21:42 hrs IST
Pollard's 46* takes Mumbai to 136/7
Pollard's brilliant batting and a few fielding errors by the SRH players in the death overs has helped Mumbai reach a respectable total of 136/7. Can SRH chase down the total, we'll have to wait and see.
21:41 hrs IST
Nabi sends Pollard's shot over the boundary
Mohammad Nabi did everything right with the ball, has made the biggest mistake by dropping a catch and letting the ball over the boundary line. Pollard sets up Mumbai for a respectable total.
21:34 hrs IST
Pollard hits Kaul for three sixes
Pollard is taking on Kaul here. He first hit him over long-off and then a six over mid-wicket in the 19th over. Later, Kaul gifted a free hit and Pollard deposited the ball into the stands again. Maybe Mumbai have a chance to reach 130 now.
21:32 hrs IST
Chahar falls for 10
Bhuvneshwar Kumar finds Rahul Chahar's edge and Jonny Bairstow takes a simple catch behind the stumps. Mumbai lose their seventh wicket.
21:29 hrs IST
Pollard dropped
Pollard slashes the ball on the off-side and Rashid tries to get in position for the catch. He gets a hand to it but isn't able to hold on to it. Mumbai move to 97/6 in 17.3 overs.
21:24 hrs IST
Rashid dismisses Hardik
Hardik goes again and he is caught by Shankar in the deep this time. Mumbai lose their sixth wicket for 86 runs. Looks like SRH may not have much to chase tonight.
21:23 hrs IST
Hardik takes on Rashid
Hardik has said enough is enough and has sent Rashid Khan over the long-on boundary. Can Mumbai push for a 130-140 total?
21:18 hrs IST
Rashid concedes just three runs
Rashid Khan has bowled a brilliant fifteenth over for the Sunrisers Hyderabad. The leg-spinner concedes just three runs as Mumbai cautiously move to 75/5. Can they at least reach 120?
21:10 hrs IST
Kaul bowls brilliantly
Siddarth Kaul is getting the ball to move around and keeping Hardik Pandya under pressure. Maybe we won't see many big shots as the wicket is helping the bowlers. Mumbai need to target a total of 130 and then look to defend it.
21:04 hrs IST
Bairstow runs out Kishan
Ishan Kishan tries to take a quick single but realises there is no single there. As he tries to run back, Bairstow takes off the bails with his body, however, when he collects the ball, he has the presence of mind to uproot the stumps before Kishan makes his ground. Mumabi lose their fifth wicket!
20:57 hrs IST
Krunal Pandya perishes for 6 runs
Kaul bowls a slower bouncer and Krunal top edges a simple catch for Bairstow. SRH continue to chip away with wickets. Mumbai: 63/4 in 11.4 overs.
20:52 hrs IST
Rashid Khan makes an impact straight away
Rashid Khan beats Krunal Pandya and Jonny Bairstow takes off the bails and appeals for a stumping. Replays show that Krunal was inside his crease. Mumbai: 61/3 in 11 overs.
20:46 hrs IST
Mumbai bank on Kishan
Ishan Kishan has to play a special innings in this match. He slams Kaul for a boundary in the fifth ball of the ninth over and gets his innings going. Mumbai: 48/3.
20:40 hrs IST
De Kock goes for 19
De Kock goes for a big heave towards long-on off Kaul's bowling but manages to present a catch to Hooda. He goes for 19 and Mumbai have lost their third wicket. They are in big trouble now.
20:37 hrs IST
De Kock and Kishan play cautiously
Rashid Khan hasn't even been introduced in the attack and still Mumbai are struggling. They are batting at a run-rate of 5.25. Mumbai Indians: 42/2 in 8 overs.
20:31 hrs IST
Excellent Powerplay overs by SRH
The Sunrisers have kept the pressure on in the Powerplay overs. Mumbai Indians are struggling at 30/2 at the end of the sixth over.
20:25 hrs IST
Sandeep dismisses Suryakumar
Sandeep Sharma delivers a perfect knuckle ball and Suryakumar Yadav misses the ball while trying to play a sweep shot. As the ball hits his pads, Sandeep goes up for an appeal. The umpire raises his finger, but Suryakumar decides to ask for a review. Replays show that the ball pitched on line (umpire's call) and would have hit the stumps (umpire's call). Mumbai: 28/2
20:17 hrs IST
Nabi strikes for SRH
Rohit Sharma just wasn't looking at his best today. Mohammad Nabi comes into bowl and induces a catch by the Mumbai skipper. Rohit goes for 11 runs.
20:13 hrs IST
De Kock takes on Bhuvneshwar
Bhuveneshwar Kumar has been bowling on consistent line and lengths in this match so far, but one delivery on De Kock's pads and the South African has guided the ball over the mid-wicket boundary. Mumbai: 19/0 in 3 overs.
20:09 hrs IST
Mumbai Indians get going
Rohit thrashes Sandeep Sharma for a huge six off the second ball of the second over. Mumbai Indians move to 10/0 in 2 overs.
20:04 hrs IST
Rohit dropped
After surviving a review, Rohit Sharma presents a high catch to Siddarth Kaul and the fast bowler has lost the ball in the bright flood lights and drops the catch. Mumbai: 1/0 in 1 over.
20:02 hrs IST
Bhuvneshwar takes a review
Bhuvneshwar Kumar swings a ball into Rohit Sharma's pads and it looks close. The umpire says not out and the SRH captain asks for a review. However, replays show that Rohit has inside-edged the ball onto his pads. The Mumbai captain survives!
19:50 hrs IST
Stat attack
2: wickets needed by Bhuvneshwar Kumar to complete 100 wickets for SRH in IPL.
5: maiden overs by Bhuvneshwar Kumar are the most by any SRH Bowler in IPL. Bhuvneshwar Kumar is the only SRH bowler to take a 5-wicket haul for SRH in IPL.
32.73: by Suryakumar Yadav is the best average among current IPL players for Mumbai (Min: 10 innings)
154.28: by Krunal Pandya is the highest strike rate by Mumbai Indians batsmen in IPL.
4: sixes needed by Hardik Pandya to complete 50 sixes for Mumbai Indians in IPL.
19.31: by Malinga is the best bowling average by Mumbai Indians player in IPL.
19:42 hrs IST
Playing XIs
Hyderabad: David Warner, Jonny Bairstow(w), Vijay Shankar, Manish Pandey, Deepak Hooda, Yusuf Pathan, Mohammad Nabi, Rashid Khan, Bhuvneshwar Kumar(c), Sandeep Sharma, Siddarth Kaul
Mumbai: Quinton de Kock(w), Rohit Sharma(c), Suryakumar Yadav, Ishan Kishan, Hardik Pandya, Kieron Pollard, Krunal Pandya, Jason Behrendorff, Rahul Chahar, Alzarri Joseph, Jasprit Bumrah
19:32 hrs IST
Toss update
Sunrisers Hyderabad have won the toss and skipper Bhuvneshwar Kumar has opted to field first against Mumbai at home. MI skipper Rohit Sharma said during the toss that he was looking to bat first on this track so nothing changes for them.
19:20 hrs IST
Player battle - Pandey vs Pandya
Middle-order batsman Manish Pandey looks like a shadow of his previous self this season as he hasn't been able to recreate the magic of the past. Pandey will have to deal with Mumbai all-rounder Hardik Pandya, who enjoys a stellar record against the SRH batsman. Not only has Pandya dismissed the right-hander twice previously, the MI star has also kept Pandey quiet by giving away just 13 runs off 11 deliveries.
19:11 hrs IST
Player battle - Bairstow vs Bumrah
Like Warner, SRH opener Jonny Bairstow is also going through a purple patch that has seen him being placed just below the Australian in the orange cap list. But things aren't going to be as easy against Mumbai as he will have to come up against Jasprit Bumrah, who has been the pick of the bowlers for the three-time champions. The two haven't faced each other in the league previously and it will be interesting to see how the two superstars will look to cancel out each other's influence in the match.
19:06 hrs IST
Player battle - Warner vs McClenaghan
With two fifties and one century in four innings, David Warner has been setting the league alight with some magnificent hitting. Against Mumbai, Warner will have to come up against left-arm pacer Mitchell McClenaghan against whom, the southpaw hasn't been as productive as he would have liked. Warner has been dismissed couple of times by McClenaghan in the past but one good thing for the Australian is that his strike-rate goes up to 157.5 against the Kiwi in IPL.
18:57 hrs IST
Player battle - Rohit vs Sandeep
The contest between two Sharma's will definitely be one of the top battles within this big war. MI skipper Rohit Sharma has been in good form as he has had starts in matches but the right-hander hasn't managed to convert it into a big score yet. Things won't get easier against Hyderabad as he will have to come up against medium-pacer Sandeep Sharma, who has caused problems for him in the past. Rohit has scored just 21 runs off 28 deliveries against him and has lost his wicket twice.
18:48 hrs IST
MI's predicted XI
The form of Hardik Pandya is a huge shot in the arm for Mumbai, he has been firing on all cylinders with the bat and ball. Three cameos in as many games - 32(14), 31(19) and 25(8). He was superb with the ball against CSK too as he picked up three wickets for 20 runs in his 4 overs - Rohit Sharma(c), Quinton de Kock(w), Suryakumar Yadav, Yuvraj Singh, Kieron Pollard, Hardik Pandya, Krunal Pandya, Mitchell McClenaghan, Jason Behrendorff, Rahul Chahar, Jasprit Bumrah
18:40 hrs IST
SRH's predicted XI
Kane Williamson is not yet fit and the side does not even need him, such has been the way they have played in the competition. Mohammed Nabi, who has been his replacement, has been brilliant with the ball and calm with the bat - Jonny Bairstow, David Warner, Vijay Shankar, Manish Pandey, Yusuf Pathan, Deepak Hooda, Rashid Khan, Mohammad Nabi, Bhuvneshwar Kumar, Sandeep Sharma, Siddarth Kaul
18:32 hrs IST
Nabi's riser
Mohammad Nabi has been powering Hyderabad since he was included in the playing XI as he took four wickets in his first match and continued with his form in his second match as well. Nabi took 2 wickets and gave away just 21 runs in his four overs and helped his side defeat Delhi Capitals at home on Thursday.
18:24 hrs IST
Will Malinga return?
Suryakumar Yadav dropped a hint that Lasith Malinga will return to Mumbai Indians soon, as the Sri Lankan bowler flew back to his country to play in the Super Provincial One Day tournament. "I do not think we are missing him for [the] whole season, not to our notice. He has done well and whenever we get him back, he will again start his service," Yadav told media-persons on the eve of the match.
18:16 hrs IST
MI's strategy
Against Sunrisers, the Mumbai batsmen will be hoping to go out all guns blazing, while the bowling unit would rely heavily on Bumrah to bail them out against the duo of Warner and Bairstow. The duo have been in sublime form and will once again look to take the attack to any bowling unit that crosses their path.
18:08 hrs IST
MI's batting conundrum
Although Mumbai have a deep batting line-up, they are yet to play to their full potential. But having toppled a strong CSK side in their last game, they are expected to get the good work going. Against CSK, Suryakumar (59) and Krunal (42) enabled the team to reach 170 and then managed to contain them to 133 for eight.
18:00 hrs IST
Afghan spin duo
Among the bowlers,spinner Mohammed Nabi and Rashid Khan will be keen to fire in unison to counter the likes of Rohit Sharma, Yuvraj Singh, Suryakumar Yadav, Quinton de Kock, Kieron Pollard and Pandya brothers (Krunal and Hardik).
17:52 hrs IST
SRH's in-form openers
The marauding pair of Warner and Bairstow have been in scintillating form this season, having shared three century-plus opening stands in four matches. After a 118-run opening stand against KKR in a losing cause, Warner and Bairstow continued their dominance up the order with 110-run and 185-run partnerships against Rajasthan and Bangalore, respectively.
17:46 hrs IST
No Williamson again?
The Sunrisers were without the services of captain Kane Williamson during Thursday's match against Delhi because of an injury and he is likely to be out again today. Bhuvneshwar Kumar led from the front as the seamer, along with Mohammad Nabi and Siddarth Kaul, chipped in with two wickets each to restrict Delhi to 129 for eight. And with opener Bairstow (48) once again shinning with the bat, the Sunrisers had a cakewalk, cruising to a five-wicket win.
17:38 hrs IST
Coming into this match
Mumbai defeated defending champions Chennai Super Kings, their first loss in four games, in their last match while the Sunrisers, after losing their opening game against Kolkata Knight Riders, went on the win against Rajasthan Royals, Royal Challengers Bangalore and Delhi Capitals.
17:30 hrs IST
Hello and welcome
A very warm welcome to the live blog of the IPL match between Sunrisers Hyderabad and Mumbai Indians. SRH have been the team to beat in the IPL thus far having won three and lost just one. While as for Mumbai, they have won two and lost two in their opening four matches. It is going to be a titanic clash between two heavyweights in Hyderabad as both look for crucial two points.
Close