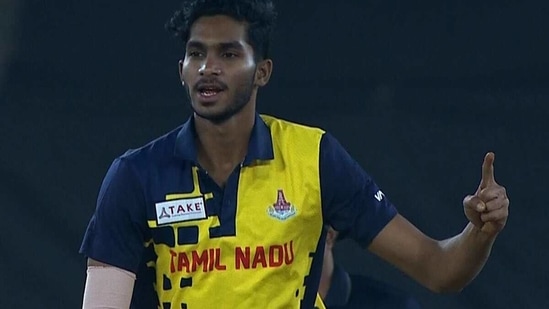 Highlights: Tamil Nadu beat Baroda to win second Syed Mushtaq Ali Trophy
Follow the highlights of the final of the Syed Mushtaq Ali trophy 2021 between Tamil Nadu and Baroda being played at the Sardar Patel Stadium in Ahmedabad.
By hindustantimes.com
UPDATED ON JAN 31, 2021 11:58 PM IST
Follow highlights of the final of the 2021 Syed Mushtaq Ali Trophy, India's premier domestic T20 tournament.
22:14 hrs: It's a four. Shahrukh Khan hits the winnings runs and with that, Tamil Nadu have been crowned champions. Khan plundered a six off the previous ball off Lukman Meriwala to bring make it just two needed.
Next ball, he cracked a cover drive to trigger euphoria in the TN dugout. Congratulations to Dinesh Karthik and Tamil Nadu. They are your 2021 Syed Mushtaq Ali Trophy champions. Manimaran Siddharth has been named Player of the Match.
22:02 hrs: OUT! Dinesh Karthik falls to an ambitious pull shot. The captain departs for 22 off 16. The 100 has come up for Tamil Nadu, and with 20 needed off the last four overs, it's still TN, who are likely to win this one, despite another wicket going down.
21:58 hrs: Back to back FOURS from Dinesh Karthik. After a couple of quiet overs, TN have hit a boundary. And an impressive one from the TN captain. On the up and Karthik hammered it between cover and extra cover. Next ball, Karthik flicked it aerial but enough to take the ball past the fielder at midwicket.
21:44 hrs: FOUR! A boundary off just the second ball for Tamil Nadu captain Dinesh Karthik. Short ball from Bhargav Bhatt and Karthik latches on the backfoot to pummel a powerful pull shot for a four. Tamil Nadu looking comfortable at 78/2 after 13th overs.
21:38 hrs: Wicket! Breakthrough for Baroda as Baba Pathan dismisses the set Hari Nishanth. The fast bowler strays down Nishanth's legs and the batsman flicks it in the air. Unfortunately for him, it flies down to Bhargav Bhatt, who fumbles but takes the catch. TN 67/2, need another 54 to win from 51 balls
21:30 hrs: Tamil Nadu continue to make steady progress. With a required run rate of six an over, Nishanth and Aparajith have look in no hurry. After 10 overs, Tamil Nadu have reached 61/1, need another 60 to win from 59 balls. Unless Baroda pick wickets, it looks like TN are likely to win their second Syed Mushtaq Ali Trophy title.
21:10 hrs: Five overs gone and Tamil Nadu have reached 36 for the loss of one wicket. Baba Aparajith is 2 off three balls while Nishanth has struck his third boundary to move to 19. Off-spinner Kartik Kakade in the attack.
21:04 hrs: FOUR and OUT! Full toss from Meriwala and Narayan Jagadeeesan crispy times it through covers for a four. However, the next ball, Meriwala puts a little more effort behind a bouncer, and Jagadeesan, the highest scorer of the tournament miscues a pull shot to be out caught.
20:55 hrs: Positive start from Tamil Nadu. Nishanth gives himself room and spanks the ball over and between point and cover for his second boundary, while N Jagadeesan gets his first boundary with an exquisitely-timed on drive.
20:45 hrs: The Tamil Nadu innings is underway and and like Baroda, it's a boundary that has opened their account. Hari Nishanth drills a cut for his and his team's first boundary. TN 5/0 after the 1st over.
20:32 hrs: End of the innings. Baroda finish on 120/9 after 20 overs, setting Tamil Nadu 121 to win their second Syed Mushtaq Ali title. Vishnu Vinod emerged star of the innings and even though he fell short of a fifty getting run out in the final over, he set up Baroda's recovery after they were reduced to 36/6. He was aided by a couple of lusty blows by Bhargav Bhatt in the final over.
20:24 hrs: Two sixes in the over, and one of them is the helicopter. Vishnu Solanki has gotten Baroda over a 100 and inches towards a half-century. Baroda 108/7 with one over left
20:20 hrs: OUT! The fighting partnership ends for Baroda as Atit Sheth holes out at long off. Goes for the biggies but doesn't connect it well as Arun Karthik completes the catch. First wicket for Sonu Yadav, Baroda 94/7
20:18 hrs: SIX! The first of the innings. Atit Sheth clears his front leg and gives it a tonk. M Ashwin concedes the first six of the match. And Baroda keep their fight alive. That six takes the score to 93/6, two overs remain.
20:10 hrs: Vishnu Solanki has moved to 31, while Atit Sheth has hit a couple of boundaries in three balls to get to 20. This partnership has reached 44 off 47 balls and given Baroda something to fight for. They are 82/6 and 120 will surely in sight now. Three overs left in the innings.
20:00 hrs: Bit of a recovery by Baroda, with Atit Sheth and Vishnu Solanki adding 26 off 32 balls. Baroda have reached 62/6 after 14 overs. With six overs to go, and four wickets left, it could make for a fascinating end to the innings.
19:50 hrs: Fifty up for Baroda as Baba Aparajith bowls a wide. Vishnu Vinod is the lone hope for his team at the moment. How dearly would Baroda be hoping for him to repeat the innings he played against Haryana.
19:44 hrs: FOUR! Much needed for Baroda. Vishnu Solanki cuts it late and the ball races away for a four, just the fifth boundary for Baroda. 10 overs gone. Baroda are 44/6
19:40 hrs: FOUR and OUT! Four wickets for M Siddharth, and to think the left-arm spinner is playing his first match of the series. Gets cut for a four but the batsman, Kartik Kakade, plays on. Baroda 36 for 6 and reeling. Siddharth has figures of 4/18 and he still has one over left.
19:35 hrs: Wicket! A soft dismissal this time. Abhimanyu Rajput out caught and bowled by M Siddharth for 2, who grabs his third wicket of the innings. Baroda all over the place at 32/5, that's half the side back in the dugout.
19:28 hrs: Wicket! Make that four. Poor calling from Bhanu Punia as he sets off hitting the ball straight to Arun Karthik, who collects the ball and throws it to his skipper Dinesh. He whips the bails off and it's a run out. Baroda are 4 down for 28 with seven overs bowled.
19:22 hrs: Wicket! Third one goes down for Baroda. Siddharth gets his second wicket, traps Smit Patel for 1. Baroda 28/3
19:14 hrs: BOWLED HIM! What a comeback. Gets hit for two boundaries in the over and comes back with a wicket. Improves his length, and Devdhar, trying to hit in the air, finds the fielder at point. Baroda 22/2 in 3.5 overs.
19:12 hrs: Back to back boundaries for Kedar Devdhar. Gets into the thick of things. Spanks one on the off side and creams the next one through leg. Baroda 22/1 in the fourth over
18:05 hrs: OUT! First wicket down for Baroda as Ninad Rathva mistimes the ball in the air for Arun Karthik to complete an easy catch. TN draw first blood. Baba Aparajith with the wicket. Baroda 1/1 in 1.1 overs.
18:50 hrs: Here's how the two teams look like...
Tamil Nadu (Playing XI): Hari Nishanth, N Jagadeesan, Baba Aparajith, Arun Karthik, Dinesh Karthik(w/c), Shahrukh Khan, Sonu Yadav, Ravisrinivasan Sai Kishore, M Mohammed, Murugan Ashwin, Manimaran Siddharth
Baroda (Playing XI): Kedar Devdhar(c), Ninad Rathva, Vishnu Solanki, Karthik Kakade, Atit Sheth, Smit Patel(w), Abhimanyu Rajput, Bhanu Pania, Babashafi Pathan, Lukman Meriwala, Bhargav Bhatt
18:45 hrs: TOSS - Tamil Nadu have won the toss and opted to bowl against Baroda.
Tamil Nadu won the first-ever edition way back in 2006/07 but are yet to repeat the glory since. Baroda, meanwhile have won the title twice in the past - in 2011/12 and 2013/14 - are are one of the three most successful teams in history along with Gujarat and Karnataka, who also have lifted the trophy twice.
Close