'Told physio, 'no problem if I don't play cricket after this'': Vihari's incredible remark on batting with broken wrist
Feb 05, 2023 01:59 PM IST
Hanuma Vihari batted with a fractured wrist during the quarter-final of the Ranji Trophy against Madhya Pradesh earlier this week.
Earlier this week, Team India batter Hanuma Vihari produced an exemplary display of grit and determination, as he walked out to bat twice for his domestic side Andhra Pradesh despite a wrist fracture. After all, a berth in the semi-final was at stake, and Vihari showed exceptional courage as he batted with one-hand and changed sides to add valuable runs to Andhra's scorecard. His knocks may have gone in vain as the side was defeated by defending champions Madhya Pradesh, but Vihari continues to gain tremendous praise from the cricket fraternity for his commitment.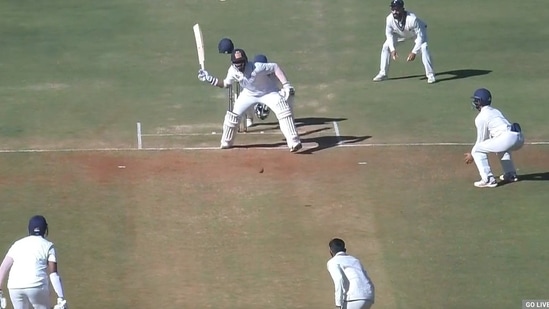 After the match, Vihari talked to former India opener Aakash Chopra to talk about his incredible contribution for Andhra in the match, and revealed that the team physio told him time and again to not bat; however, Vihari remained undeterred in his decision to play for the side.
Also read: 'Rank turners could backfire': Rohit Sharma-led India served brutal reminder as ex-IND spinner identifies major flaw
"When I said that I wanted to bat, the physio told me 10 times that my career might be at risk if I am hit on the hand again while batting. I told the physio that there is no problem if I don't play cricket after this match but if I give up for Andhra in this match, it will be in my heart forever," Vihari said during the chat on JioCinema.
Vihari further said he was "devastated" with the injury in the knock-out match and decided to bat regardless.
"I was devastated because it was a quarterfinal match, such an important match for Andhra and I was not able to bat. I thought it would be an advantage even if I could add 10 runs for the team for the last wicket and I took that decision. If you have to do it for the team, you get the courage," said the India batter, who has represented the national team in 16 Tests so far.
Vihari, however, is currently out-of-favour with the Indian team in the longest format, having made his last appearance in July last year against England in the rescheduled fifth Test. However, the batter remains positive about his comeback.
"Obviously there will be some disappointment but my job will be to score more runs in domestic cricket and I will try to do that to make a comeback. I have the confidence that if I score big runs for one or two seasons in domestic cricket and win matches for my team, I will again get the chance to prove myself for India," said Vihari.