Watch: 41-year-old crickter does the unthinkable, ICC says 'one of the finest catches you will ever see'
Jun 28, 2022 11:10 AM IST
Uganda cricketer Nsubuga ran backwards to take a stunning catch. ICC shared the video on its Twitter handle and said 'one of the finest' catches you'll ever see.'
Veteran Uganda cricketer, the 41-year-old Frank Nsubuga, pulled off one of the best catches one would see on the cricket field to leave the spectators, his teammates, the opponents, and commentators in shock and awe. Uganda was playing against Kenya in a Cricket World Cup Challenge League group stage match, being played in Kampala on Sunday, June 26. Kenyan batter Irfan Karim was batting in the 18th over when he decided to take on the bowling by charging down the wicket. He chipped the ball over the man at square leg. For the better part of the time that the ball was in the air, Karim seemed safe.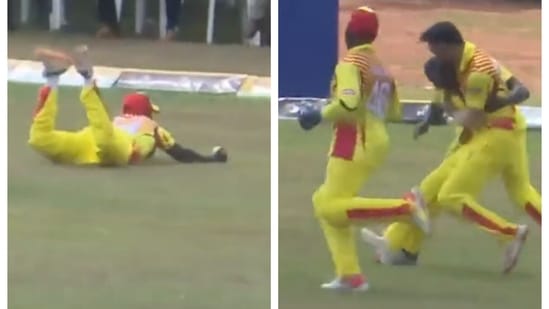 However, Nsubuga, the man fielding at square leg, had different ideas. Running back, the 41-year-old tracked the ball all the way over his shoulder, keeping pace with it, before realizing he needed to pull off a dive at the last second. In one of the most difficult techniques for catching a cricket ball, running in the same direction as the ball is travelling, Nsubuga was able to create a piece of magic. ICC shared the video on their official Twitter handle, which has since then received a lot of traction.
Nsubuga, who made his international debut all the way back in 1996 for the East and Central Africa Cricket team, celebrated with all the fervour you would expect, taking off running and jumping, celebrating the wicket. It was a remarkable piece of fielding, especially considering that Nsubuga was one of the senior statesmen of the team.
It would be one of his three catches against Kenya on the day. He also picked up the wicket of opener Alex Obanda. Uganda bowled Kenya out for 220 and then comfortably chased it down with 7 wickets and nearly 5 overs to spare. As a result, Uganda now sit on top of Challenge League group B with 8 wins and 2 losses in their 10 matches so far. The tournament is part of the qualification process for the 2023 ODI World Cup. Teams ranked between 21st and 32nd in the ICC rankings entered the Challenge League tournament in 2019.