Watch: Virat Kohli absolutely shellshocked as Shreyas Iyer becomes 'Muttiah Muralitharan' in India vs Sri Lanka 3rd ODI
Jan 16, 2023 05:36 PM IST
Virat Kohli, standing at first slip had a good view of the ball bowled by Shreyas Iyer, and was left absolutely taken aback watching the enormous amount of spin it generated.
When a team outclasses its opponents quite like India did Sri Lanka last evening at Thiruvananthapuram – winning the match by 317 runs to complete a 3-0 whitewash – we often witness things out of the ordinary. For example – bowlers are made to bat and batters bowl. Remember the historic India vs Australia Test match at the Eden Gardens? As VVS Laxman and Rahul Dravid batted the entire Day 4 in Kolkata, Australia used as many as nine bowlers – only wicketkeeper Adam Gilchrist and captain Steve Waugh did not bowl. Everyone from Ricky Ponting to Matthew Hayden rolled their arms over. The concept of part-time bowlers used to be extremely common back in the day but has over the years vanished gradually,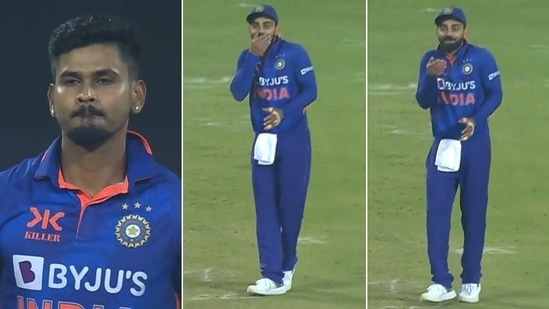 Which is why every now and then when it happens, it makes the viewing all the more fascinating. Like yesterday, when Sri Lanka were struggling at 55/8 in chase of a dauting target of 391, India had nothing to lose. Captain Rohit Sharma then, in an extraordinary move, handed the ball to Shreyas Iyer, who bowls both off-spin and leg-spin. The 28-year-old opted to roll his fingers rather than his wrist and extracted vicious spin straightaway. The ball pitched full on the off-stump and generated a huge amount of turn, beating batter Lahiru Kumara and into the hands of KL Rahul.
Also Read: 'You guys should remember their faces and names': Kohli's million-dollar gesture for India's special trio after SL win
Virat Kohli, standing at first slip had a good view of the ball, and was left absolutely taken aback. Kohli couldn't help but hide his excitement covering his mouth with hands as he had absolutely no answer as to what had just happened. One of the replies on the tweet, which said 'Muttiah Muralitharan' summed up the ball aptly.
Had that ball taken a nick, India's tactic of making sure Mohammed Siraj ended with a five-wicket-haul could have imploded. Siraj, who had picked up four wickets, was in search of a fifth, and Rohit, in order to aid his young pacer in his quest for a five-for, ensured that a less-threatening bowler bowled from the other end. Irrespective, Siraj ended with 4/32 as Kuldeep Yadav picked up the 9th and final Sri Lankan wicket to fall. Ashen Bandara was absent hurt.
Iyer, who conceded two runs in his only over of the match, does have a tendency to bowl occasionally though. He has put in 37 deliveries for India in ODIs and two in T20Is but is still searching for his maiden international wicket. He does however, have four wickets in First-Class cricket and five in List-A playing for Mumbai. With the bat. Iyer didn't endure his worst-ever series but he would have hoped to have gotten a lot more. India's highest ODI run-getter of last year, Iyer put up scores of 28, 28 and 38 in the three matches against Sri Lanka when on each instance, he could have gotten a much bigger score.