Conversion bill tabled in Uttarakhand, moots up to 2-year jail to offenders
The Trivendra Singh Rawat government on Wednesday tabled in the state assembly the Uttarakhand Freedom of Religion Bill, 2018 that proposes up to two years in jail to any person or persons found guilty of religious conversion through force or "allurement"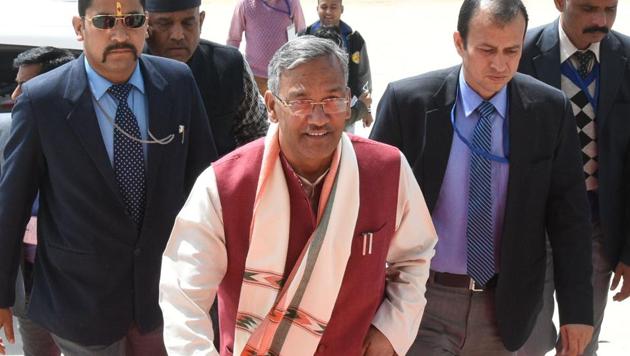 Published on Mar 21, 2018 09:40 PM IST
The Trivendra Singh Rawat government on Wednesday tabled in the state assembly the Uttarakhand Freedom of Religion Bill, 2018 that proposes up to two years in jail to any person or persons found guilty of religious conversion through force or "allurement". The allurement could be in cash, in kind of employment, or material benefit.
With the ruling BJP enjoying three-fourth majority in the 70-member House, the Bill is likely to be passed on Thursday. Once it is enacted, Uttarakhand will join states like Odisha, Madhya Pradesh, Chattisgarh, Himachal Pradesh, and Gujarat that have anti-conversion laws.
The draft legislation comes four months after the Uttarakhand High Court suggested that the state government formulate a Freedom of Religion Act to curb the tendency of religious conversions which in some cases were done "only to facilitate the process of marriage."
The draft legislation proposes an imprisonment of no less than two years in case of forced religious conversion of a minor, woman, or a person belonging to Scheduled Castes or Scheduled Tribes. It defines the term "convincing for conversion" as somebody making an individual or individuals agree to renounce one's religion and adopt another religion.
The Bill stipulates that any marriage, which was solemnized for the sole purpose of purpose of conversion by the man of one religion with the woman of another religion, may be declared null and void by the family court. It also stipulates any person who desires to convert his religion, shall give a declaration at least one month in advance to the district magistrate. Such a person will also have to give a written undertaking that he/she wishes to convert his religion without any coercion.
Similarly, the religious priest, who performs purification sanskar or conversion ceremony "shall give one month's advance notice to the district magistrate". The official concerned, after receiving the information shall get an inquiry conducted through police "with regard to the real intention, purpose and the cause of that proposed religion conversion."
The Uttarakhand High Court had in November termed as "sham" the conversion from one religion to another for facilitating a marriage. To curb the practice, the court suggested that the state government should legislate the Freedom of Religion Act on the analogy of Madhya Pradesh Freedom of Religion Act, 1968 and Himachal Pradesh Freedom of Religion Act, 2006.
The two laws seek to prevent forcible conversions, which create resentment among several sections of society and also inflame religious passions.
The court suggestion had come while hearing a case relating to the alleged elopement of a Hindu girl with a Muslim boy who later claimed that he had changed his religion for the marriage. When the police traced the girl and brought her before the court, the girl claimed she was willing to go back to her parents.
The Uttarakhand legislation comes days after the Supreme Courtt upheld the marriage of a 26-year-old Kerala woman who converted to Islam and wed a Muslim man.
Close Story