Dehradun sewage pollutes Ganga, says report
Updated on Feb 10, 2018 09:01 PM IST
Pollution control board finds water at 7 points above Lakshman Jhula to be of best quality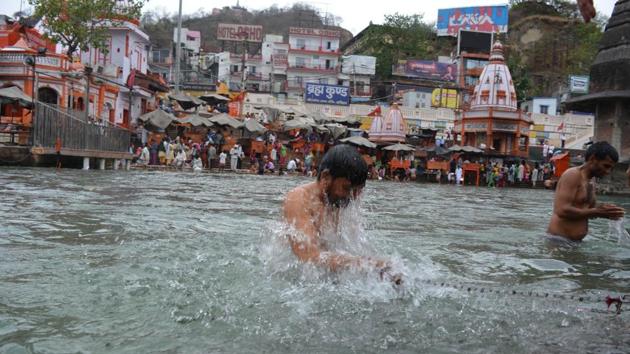 Untreated sewage from Dehradun that enters the Ganga near Rishikesh pollutes the river, said a report of the Uttarakhand Environment Protection and Pollution Control Board (UEPPCB).
"Song river that flows through Dehradun enters river Ganga near Lakshman Jhula (close to Rishikesh town). The water quality (of Ganga) before this point is best. But, we realised the untreated sewage flowing in Song river enters the Ganga and causes water pollution," said SP Subuddhi, member secretary of UEPPCB.
The Uttarakhand government has demanded that the Centre provide Rs 200 crore to establish sewage treatment plants (STPs) in Dehradun.
Under the National Mission for Clean Ganga (NMCG), the state pollution control board monitors the river water. Of 15 spots between Gangotri and Haridwar studied, water in only 7 places above Lakshman Jhula was found to be of best quality and fit for drinking.
Water samples collected from Gangotri, Rudraprayag -- confluence of Alaknanda and Mandakini -- and Devprayag, where Alaknanda and Bhagirathi rivers meet, were deemed to be of A quality on the standards set by the Central Pollution Control Board (CPCB).
The standard A is applied when water is recommended for drinking without conventional treatment but after disinfection. The total coliform is less than 50, ph (potential of hydrogen) is between 6.5 and 8.5, dissolved oxygen is more than 6mg/l and biochemical oxygen demand (BOD) is up to standard.
The situation changes from Lakshman Jhula in Rishikesh. Water samples were studied at five spots on the canals that merge with the Ganga and three points on the river. The water quality was found to be poor, the UEPPCB report said.
The water quality accessed below Lakshman Jhula is of B category, which means it is only fit for outdoor bathing. The total coliform in the water is less than 500 and dissolved oxygen is more than 5mg/l; the water has high presence of BOD.
Of the 30 sewage treatment plants (STPs) under the NMCG project, 13 have been completed and the rest are under construction. There are no projects for treatment plants in Dehradun. Rs 200 crore has been sought from the union ministry of water resources to establish an STP in Dehradun, officials said.
Funds have also been sought to set up STPs in Ramnagar, Haldwani and Kashipur as the untreated waste from these places flows into the Ganga.
"Now that we know the actual cause of water pollution in river Ganga, we should start working on establishing STPs in other parts of the state as well," said Anil Joshi, an environmentalist.