Haridwar residents demand opening of Hill Bypass road
Updated on Apr 01, 2018 10:07 PM IST
Local residents had to face massive traffic jams in Haridwar on last weekend due to rush of pilgrims and tourists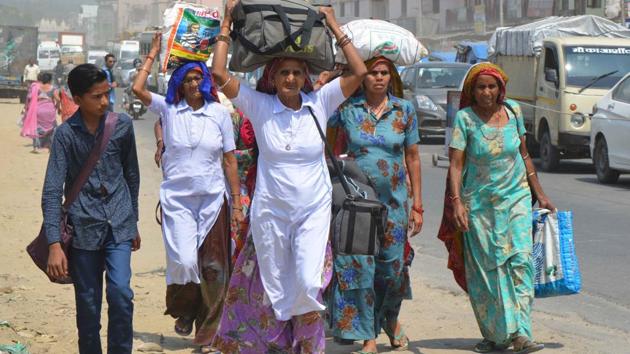 Hindustan Times, Haridwar |
Sandeep Rawat
Amid surge in the number of pilgrims and tourists on last weekend, which coincided with Mahavir Jayanti and Hanuman Jayanti festivals, local residents had to face massive traffic jams in Haridwar.
According to an estimate, more than three million people arrived in the district during the last four days.
The traffic problem was aggravated due to four-lane work on the national highway and the Supreme Court ban on traffic movement on the Hill Bypass road that falls under Rajaji tiger reserve and Haridwar forest division.
The situation forced people to reiterate their demand for the opening of 1.5km Hill Bypass road, which was reconstructed with a cost of ₹31 crore during Ardh Kumbh two years ago. During Mahakumbh in 2010, ₹58.95 crore was allocated for renovation of the hill bypass.
Last year, chief minister Trivendra Singh Rawat, during his visit to Haridwar, had assured people that the state government would move to the apex court seeking permission for opening the Hill Bypass road.
Urban development minister Madan Kaushik said the government is taking legal route to seek the apex court's permission for traffic movement the Hill Bypass road during Kumbh, Kanwar, other festivals and tourist season.
Earlier, the administration used to divert the Dehradun or Rishikesh bound vehicles through the Hill Bypass road that starts from Brahampur and passes through the mountain terrain of Mata Mansa Devi shrine before mingling with NH 58 at Khadkhadi-Doodhadhari square. But keeping in view the security of animals in Rajaji tiger reserve, the park administration does not open the gates on this stretch.
Kaushik said opening of the Hill Bypass road is vital in the absence of any other alternative route, barring NH-58.
"Earlier, pilgrims' number used to touch million mark on Somwati Amawasya, Baisakhi,Makar Sakranti and other major annual festive bathes, but now in summer weekends only pilgrims and tourists are thronging Haridwar in lakhs.So, it's imperative that during such festive bathes and also on weekends, Hill Bypass route open and city get reprieve from massive traffic congestion," he said.
Talking to HT ,former Ardh Kumbh fair OSD (officer on special duty) to Chief Minister office, Purushottam Sharma said that during Ardh Kumbh fair, a high-power committee had sanctioned budget for Hill Bypass renovation and construction of new bridges with a view to ensure opening of this stretch during major Kumbh festive bathes and annual fairs.
"Rajaji tiger reserve authorities have locked both the gates on this stretch. Even during major festive bathes in past two years, they rarely opened the gates. During Kanwar fair, just for a few hours they did open (the gates), but that was also not official. It's in interest of local residents and pilgrims that this bypass stretch open in the event of heavy rush," said JP Baduni, an RTI activist.
Commenting over the issue. Rajaji park director Sanatan, who uses only one name, said, "Due to environmental concerns and safety of wildlife, we only allow traffic movement from 10-5 pm.During certain occasions like festive bathes, we do open Hill Bypass for vehicular passage. Rest depends on court directives. We have to ensure we follow them."
Personalise your news feed. Follow trending topics