Raging fire burns down 1195 hectare forests in Uttarakhand
Hindustan Times, Pauri Garhwal |
Arvind Moudgil
May 22, 2018 10:54 PM IST
Forest fires raging for the last six days have burnt down more than 1195 hectares of vegetation in Uttarakhand's Garhwal district, officials said Tuesday
Forest fires raging for the last six days have burnt down more than 1195 hectares of vegetation in Uttarakhand's Garhwal district, officials said Tuesday. Fire is raging in Pauri Garhwal, Badrinath, Alaknanda and Rudraprayag forest divisions of the district leading to revenue loss of over ₹24 lakh, they said.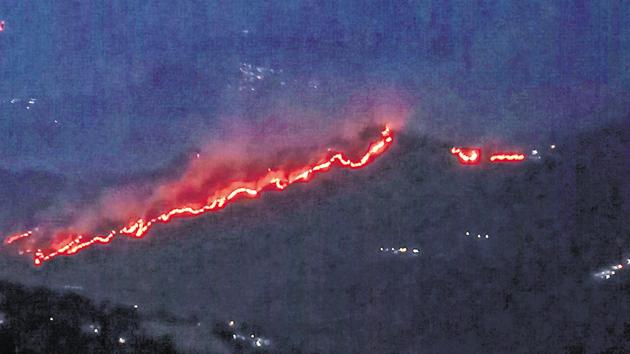 There has been a sudden spurt in incidents of fires breaking out in forest areas as temperature shot up in the hill regions in peak summer after a brief lull when Uttarakhand witnessed thunderstorms and rain. The forest department on Tuesday received 600 fire alerts from its satellite, nearly three times more than 206 that it had received Monday.
Officials, however, said this year the fire season got delayed primarily because hills received rains between March and mid-May keeping the forests and undergrowth moist.
The fire raging in Garhwal division is reported to have reached very close to several villages giving locals restless nights and forcing them to keep vigil over the advancing fire.
Dilip Jawalkar, commissioner Garhwal region has instructed the administration and forest department to rope in other departments and solicit the help of the villagers to douse the fire.
The forest department, meanwhile, has held villagers responsible claiming that they intentionally set on fire the dry grass and pine needles in order to reclaim fresh fodder for their domestic animals. At times such fires go out of control.
As per the data generated over last two years, so far the loss from fire this year is comparatively less. In 2016 during April and May 2917.14 hectare forest turned into ashes in Garhwal division. Similarly last year, 1074.91 hectare was burnt.
The fresh forest fire is posing a big threat to the saplings planted by the forest department and wildlife as well. Most of the wild animals and birds are rearing their young one these days and are vulnerable to the sporadic fires.
A raging fire created colossal devastation in the middle Himalayas in 2016 and it was for the first time in the history of Garhwal that helicopters were pressed into service to extinguish the flames. Fallen pine needles, dry bushes and dry grass have again piled up to dangerous proportions since then.
Lakshman Singh, divisional forest officer (DFO), Garhwal forest division, said, "Forest department is putting in all-out efforts to control the fires but the cooperation of the people is essential to combat it. The department is facing shortage of manpower, adequate fire-fighting equipment, and vehicles to reach the spot on time."
On Tuesday, Bageshwar, Chamoli, Pithoragarh, Nainital and all other districts reported fire incidents. A mock drill of revenue police and local team of State Disaster Response Force (SDRF) was organized at Kapkot in Bageshwar district. "We conducted mock drill today at Kapkot. There are no big fires as of now," Ranjana, who goes by her first name, district magistrate, Bageshwar, said.