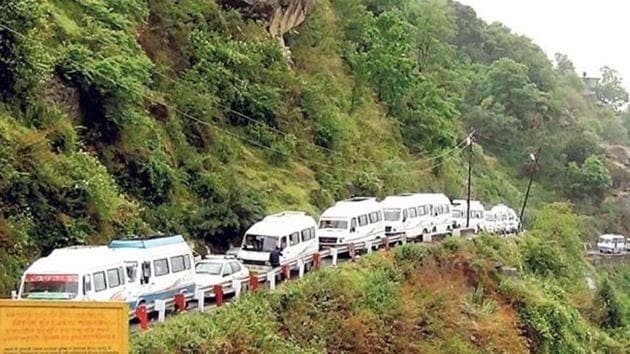 Rawat dubs Centre's Rs 12K cr all-weather Chardham road 'unnecessary'
The chief minister feels the all-weather nomenclature could give the impression that the current roads in the state are bad and could affect its tourism economy.
PUBLISHED ON DEC 25, 2016 08:52 PM IST
Uttarakhand chief minister Harish Rawat said on Sunday that the Rs 12,000 crore 'All-Weather Road Network Project' for the Chardham, foundation for which would be laid by Prime Minister Narendra Modi on December 27, was nothing but superfluous.
"This centrally-sponsored project is unnecessary in a state where the condition of roads is excellent. I hope it (project) is not a mere election stunt," Rawat told a press conference.
He said he had serious objection to the way the project was being hyped up. "Its (project) name shows as if the condition of the existing road network in the fabled religious circuit and elsewhere in the state is bad."
The chief minister claimed that such nomenclature would send a message across the country that Uttarakhand was an unsafe destination. "Such a message would bring down the number of tourists visiting the mountain state affecting its tourism-based economy."
Rawat, however, admitted that he had been invited to preside over the function where the Prime Minister would lay the foundation stone for the all-weather road project, and confirmed that he would "attend it", but expressed fears that the centrally sponsored project might not take off as in the case of Bihar.
"When that state (Bihar) was going to the polls last year, the Prime Minister at a public meeting announced a Rs 1.25 lakh crore package for its development," he said, alleging that the people of Bihar were still waiting for that package.
"However, I welcome the foundation-laying ceremony of the all-weather road project," he said while calling it an insult to the people of the mountain state.
Rawat said he would submit a memorandum to the Prime Minister objecting to the name of the project.
He said he had long back submitted to the Centre a proposal for a safe and secure road network for the state.
"In fact, in that connection, I also had fruitful talks with Union minister for road transport, highways and shipping Nitin Gadkari," he said, hoping that the Centre would clear it soon.
"I also hope that they (Centre) would release the remaining amount of the Rs 8,000 package for reconstruction of the state, which was sanctioned after it was ravaged by floods in 2013," he said.
Rawat clarified that the amount had been approved by the cabinet committee on Uttarkahand.
State BJP spokesperson Virendra Singh Bisht, however, accused the chief minister of politicising the issue with an eye on the upcoming assembly election.
"This is the country's first-of-its-kind scheme," Bisht said referring to the all-weather road project for the Chardham. "Once it is complete, the project will herald a new chapter in the state's development."
Read: Centre leapfrogs Uttarakhand govt on roads construction
Close