U'khand HC seeks report on Dhumakot bus mishap
Taking suo motu cognisance of the bus accident in Pauri in which 48 people, including 10 children and 16 women, died the Uttarakhand High Court on Wednesday directed authorities to file a reply before it by July 20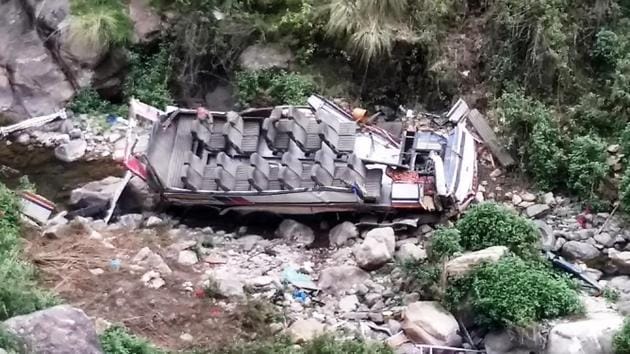 Updated on Jul 04, 2018 10:42 PM IST
Taking suo motu cognisance of the bus accident in Pauri in which 48 people, including 10 children and 16 women, died the Uttarakhand High Court on Wednesday directed authorities to file a reply before it by July 20.
A division bench of Chief Justice KM Joseph and Justice Sharad Sharma sought the response of the state's transport secretary, transport commissioner, Garhwal and Kumaon commissioners, regional transport authorities of Pauri, Dehradun, Almora and Haldwani and DIGs of Garhwal and Kumaon, said Paresh Tripathi, chief standing counsel.
The court took cognisance of newspaper reports of the accident on July 1 and treated it as a PIL — 'The Matter of Prevention And Regulation Of The Killer Public Transport System Of Uttarakhand'.
The main cause of the accident was overloading, the PIL said. The court held that transporting 61 passengers in a 28-seater bus was an invitation to an untoward incident and such a slight is due to the negligence of the public transport department.
The court further said that the government machinery failed miserably and that neither proper rescue operation was carried out nor speedy first aid was provided.
Earlier, the division bench of Justice Rajiv Sharma and Justice Lokpal Singh of the high court had passed directions to the state government to curb overloading but to no avail.
Close Story