In Delhi, BJP-ruled civic body to ban display of non-veg food outside eateries for 'sentimental' reasons
Updated on Dec 28, 2017 03:27 PM IST
The resolution moved by councillors Raj Dutt and seconded by Nandini Sharma said food items displayed in open posed a danger of "contamination" and "hurt the sentiments of vegetarian public"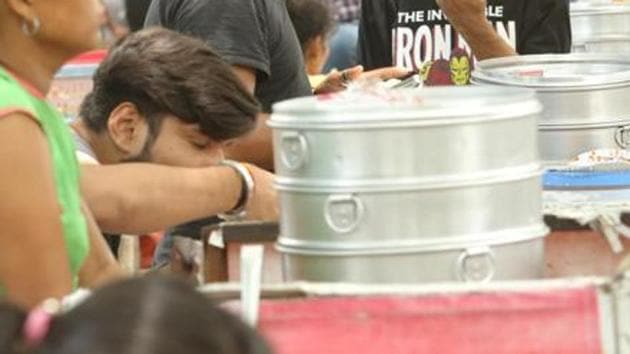 If the civic body has its way, non-vegetarian food displayed in the open on stalls outside restaurants and eateries of South Delhi would soon be prohibited for 'hygiene' and 'sentimental' reasons.
The resolution approved in the last house of the BJP-ruled South Delhi Municipal Corporation (SDMC) will come for final confirmation in the next meeting on January 3 before policies outlining terms and conditions are finally framed.
The resolution was moved by councillors Raj Dutt and seconded by Nandini Sharma saying that food items displayed in the open posed a danger of "contamination" and also "hurt the sentiments of vegetarian public".
"If restaurant owners are found displaying non-vegetarian items in public, action against them should be taken as per the municipal law," the proposal stated.
Many popular restaurants serving non-vegetarian food display items such as roasted chicken, kebabs and shawarma.
Leader of the house Shikha Rai, who approved the proposal, said that the concern of the councillors was hygiene and sentiments of vegetarian people. The proposal, she said, had come from members in the health committee of the house.
"It has been observed that shops displaying non-veg outside their premises attracts dogs and raise hygiene issue. Besides, it is also about hurting the sentiments of people who are vegetarian," she said.
An SDMC official said that the proposal would come for confirming the minutes of the meetings in the next house meeting scheduled on January 3. After this, it will take two more months to frame the policy outlining terms and conditions for rolling it out as per the Delhi Municipal Corporation Act.
"We have nothing against shops displaying the items inside their premises," he said.
Ranjeet Kumar Das of Rajinder da Dabha in Safdarjung Enclave market said the rule once implemented, it would be followed. "We generally don't display on road. On occasions we do it, we cover the food items. But if it becomes a rule we will follow it," he said.
Saleem Khan of Al Bake in New Friends Colony also said that despite space crunch, he will ensure that no item is displayed on road, once the order comes to effect.