Burari deaths: World is looking at us as a family that practices occult, says relative
Vishakha Chundawat dismissed reports of the Burari family practising superstitious rituals, and said the family members were excited about an upcoming wedding.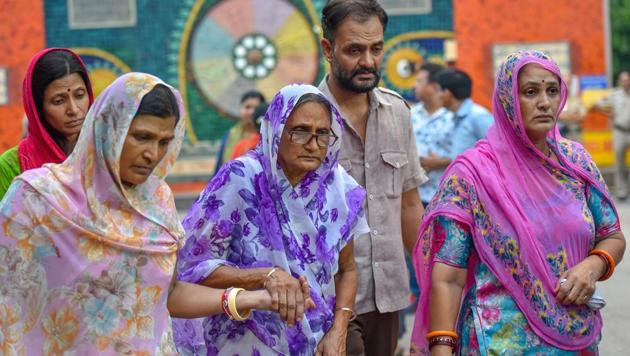 Updated on Jul 06, 2018 06:21 PM IST
New Delhi |
Press Trust of India
As the 'mysterious' death of 11 members of a family in Burari became a national talking point, a relative of the deceased rued that the world was now looking at them as a family that practised occult, with the constant media glare not allowing them to grief over the loss of their kin.
Talking to PTI, Vishakha Chundawat, granddaughter of one of the deceased, also clarified that the family is identified by the surname Singh Chundawat.
She said only two among the 11, Priyanka and her mother Pratibha, were Bhatia.
"We write our names as Singh Chundawat. My uncle's name was Lalit Singh Chundawat and not Lalit Bhatia," she told PTI.
Dismissing reports of the Burari family practising superstitious rituals, Vishakha said all the cousins were excited about Priyanka's (one of the victims) wedding and "things like registers with notes on salvation" never came up for any discussion among them.
"We have lost 11 of our family members. I was really close to Priyanka didi and all the cousins had made a WhatsApp group to discuss about her upcoming wedding. We were really excited about the event since it was the first wedding among the cousins," she said.
"She (Priyanka) never discussed about such things (registers which had notes about salvation). Rather, we would talk about what all beauty treatments we would get done for her big day," the relative said.
Vishakha said they have not had the time to grieve the loss of their relatives amid the media spotlight and various theories about her "uncle being possessed by his father's spirit" and "the 11 diaries".
She asserted that her uncle Lalit was not "suffering from any psychological disorder" and was "completely normal".
"We used to visit my grandmother's house. My brother would often visit them and we had never seen him (Lalit) behaving as if he was possessed by my grandfather's spirit.
"If there was something like that, we would have at least seen it once. During the time we were there, he was quite happy and danced a lot on June 16, a day before my cousin's engagement," Vishakha said.
The granddaughter added that she had never seen any registers in the house mentioning about salvation.
"It was after two years that we visited my grandmother's house in Burari for Priyanka didi's engagement. We were there from June 11 to June 19. We even went to a temple. Only Hanuman Chalisa and Bhagwad Gita were kept in the house. We did not see any such registers," she said.
On CCTV footage showing the family members carrying stools and wires inside the house, the relative said her aunt used to take tuitions and the stools might have been brought for the children to sit.
She said all talks about the family becoming "spiritual" after Lalit's 'miraculous' cure after an accident were also false.
"My uncle had an accident when he was trapped in the plywood shop following a fire. Some pieces of plywood fell on him and he lost his speaking abilities. He was hospitalised for a month in Karkardooma and the doctors had suggested exercises which helped him recover.
"One gets cured after a miracle only in films and not in real life," she said.
Vishakha said the entire family was fighting a battle on many fronts.
"We are fighting to overcome our grief and also the perception that the entire world has developed about us indulging in 'tantra-mantra' (occult). The case has been reported in international media also. Our minds are completely blank at the moment, but I hope the truth will come out soon," she added.
Ten of the 11 members of the deceased family were found hanging from an iron-mesh in the ceiling on Sunday, while the body of 77-year-old Narayan Devi, the head of the family, was lying on the floor in another room of the house.
Her daughter Pratibha (57) and her two sons Bhavnesh (50) and Lalit (45) were among the deceased.
Bhavnesh's wife Savita (48) and their three children - Maneka (23), Neetu (25), and Dhirendra (15) were also found dead.
The others who were found hanging were Lalit's wife Tina (42), their 15-year-old son Dushyant and Pratibha's daughter Priyanka, who was engaged last month and was supposed to get married by year-end.
On Wednesday, police had recovered CCTV footage that showed some members bringing stools and wires that were used for their hanging. They had also found 11 diaries which had "psychological musings" and things about attaining "road to God".
Topics
Close Story