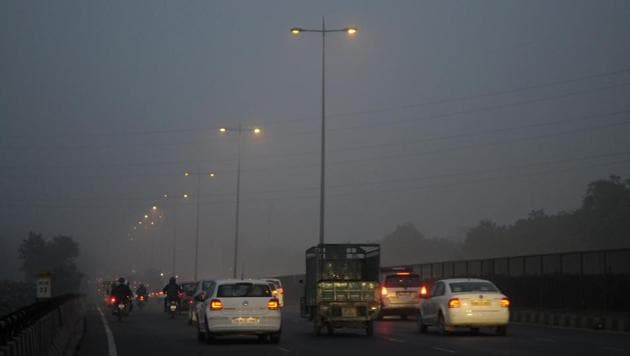 Delhi air pollution prompts officials to close schools, halt construction, entry of trucks
Delhi air pollution triggered scare as the city breathed poison on Wednesday, even as authorities took a raft of decisions to ease the situation.
Sweta Goswami and Ritam Halder, New Delhi, Hindustan Times | By
HT Correspondent
UPDATED ON NOV 08, 2017 11:26 PM IST
The toxic air in the National Capital Region worsened on Wednesday, forcing the administration to sound the alarm and announce tougher emergency measures in an attempt to reverse the trend. (Highlights)
As the average daily air quality index (AQI) hit a season-high 478, the lieutenant governor of Delhi banned the entry of trucks inside city limits, halted all construction activities, and ordered civic bodies to enforce a fourfold hike in parking fees. Schools will remain shut till Sunday.
In a high-level meeting attended by members of the Supreme Court-appointed pollution control panel (EPCA) and Chief Minister Arvind Kejriwal, L-G Anil Baijal asked the Delhi government to prepare for odd-even road rationing if the situation worsened.
Though the scheme, which allows only odd- and even-numbered vehicles to operate on alternate days, was to be implemented if the AQI breached the "severe+" mark of 500, the EPCA and the Central Pollution Control Board (CPCB) urged the L-G to treat the current condition grave enough to roll out the measure.
"The CPCB task force has advised EPCA that given the prevailing air pollution emergency in the city, there is a need to take actions which are listed in the severe-plus category," the body said in a statement.
A final decision on this will be taken on Thursday evening, according to EPCA member Sunita Narain.
With visibility falling to an alarming 50 metres in some parts, pile-ups were reported at multiple locations. On the Yamuna Expressway, over 20 vehicles collided and around 22 people suffered minor injuries on Wednesday morning.
For the second day in a row, operations at the Delhi airport were hampered and there were delays of up to two hours. Airport sources said that there were times when only one runway was operable.
The CPCB blamed the bad air primarily on low wind speeds at the ground level, coupled with pollution- and moisture-laden winds converging over Delhi at high altitudes. But an official from the board said that the situation may start improving from Friday.
"There is absolutely no wind movement at the surface level at the moment. But, from Friday, this could change, driving pollutants away," CPCB member secretary A Sudhakar told Hindustan Times.
Though a slew of measures, including increasing parking fees, had been announced by EPCA on Tuesday – when the average AQI was 448 -- it took more than 24 hours for local civic authorities to fall in line. "From Thursday, parking rates under MCDs will be Rs 80 per hour for cars and Rs 40 for two-wheelers," said Ranbir Singh, commissioner East Delhi Municipal Corporation, minutes after the L-G warned the civic bodies that not adhering to EPCA guidelines would be contempt of a Supreme Court order.
This delay happened even though all the agencies had signed off to the emergency measures months in advance under the Graded Response Action Plan (GRAP) for the National Capital Region.
The Metro rail corporation, which had been asked by EPCA on Tuesday to slash off-peak ticket prices by half, did not implement the measure citing technical issues. Instead, it said it would run an additional 186 train trips from Thursday.
Kejriwal said on Twitter that Delhi was experiencing "an emergency", while continuing to blame stubble burning in Punjab and Haryana for the pollution. In its health advisory, the government said people should stay indoors as much as possible as the "smog is poisonous" and may lead to asthma attacks and other respiratory complications.
Close