Delhi air pollution Highlights: Punjab, Noida, Aligarh join Delhi in shutting down schools, decision on odd-even Thursday
Hindustan Times, New Delhi |
HT Correspondent
Nov 08, 2017 11:28 PM IST
On Wednesday, thick smog swathed Delhi, where pollution readings in some places peaked at 500 -- the most severe level on the government's air quality index measuring the number of poisonous particles.
Delhi shut all primary schools on Wednesday as pollution hit 70 times the World Health Organisation's safe level, prompting doctors in the capital city to warn of a public health emergency.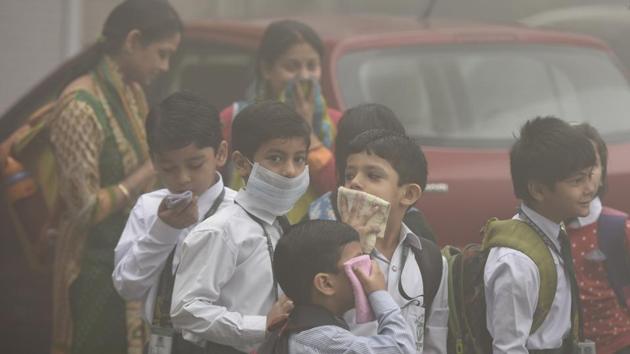 Dense grey smog shrouded the roads of the world's most polluted capital, where many pedestrians and bikers wore masks or covered their mouths with handkerchiefs and scarves.
Here are the highlights of Wednesday:
9:45pm: Noida district magistrate directs schools up to Class 8 to be shut on Thursday and Friday, due to severe smog conditions.
8:57pm: All government as well as private schools in Punjab to remain closed from November 9 to 11 due to the smog situation: ANI
8:55pm: Aligarh district magistrate directs schools up to Class 8 in the region to be shut on Thursday and Friday due to severe smog conditions: ANI
8:53pm: Union minister Mahesh Sharma says politics and blame game over the pollution issue need to be set aside in the national interest. "Blame game and politics in it should be shunned... in the national interest and humanity."
8:50pm: "Public participation and involvement of implementing agencies (are necessary). It is a situation where everyone has to participate," says Union minister of state for environment Mahesh Sharma.
8:49pm: Union minister of state for environment Mahesh Sharma calls for public participation in tackling the pollution situation.
8:48pm: "The most affected are children and the aged. Today's children witnessing such pollution will have serious implications in the next 20 years with their lungs getting affected badly," says AIIMS director Guleria.
8:46pm: 20% surge in respiratory disease patients at the OPDs of the All India Institute of Medical Sciences (AIIMS), says AIIMS director Guleria.
8:45pm: Better to stay indoors and not go out. Avoid the hotspots of air pollution, which one can come to know through apps, AIIMS director Guleria.
8:42pm: AIIMS director Guleria says N95 masks and air purifiers are not completely effective in the current air pollution scenario
8:40pm: "There are estimates that nearly 30,000 people may die within the NCR due to pollution and smog... But there is a problem with this data as these are estimates based on figures of admissions in hospitals," says AIIMS director Guleria.
8:39pm: AIIMS director Randeep Guleria says that there has been a high surge in patients with respiratory problems and there could be a high fatality rate.
8:37pm: "Promoting use of more efficient and less polluting energy sources, restricting growing number of vehicles and stringent enforcement of pollution laws will help in smooth transition to a more environment-friendly economy in the long-term," says Assocham secretary general Rawat.
8:35pm: "Delhi is facing an emergency situation but there is hardly any intention or commitment seen to address the problem as such innovative solutions like using mist cannons, creating a special force to check construction activities, vehicular pollution, rubbish burning and other factors is the need of the hour," says Assocham secretary general DS Rawat.
8:33pm: Such negative outcomes may severely impact inflow of investments and hit sectors like tourism, hospitality, outdoor recreation and others, says Assocham.
8:32pm: Increasing air pollution can take a toll on the urban economy by cutting short the lifespan of people, thereby increasing healthcare costs for the government and drive away top executives and talented individuals to other cities having better air quality, says Assocham.
8.30pm: Industry body Assocham urges the Centre and the governments of Delhi, Haryana, Punjab and Uttar Pradesh to establish a clear strategy for aggressively tackling the alarming pollution levels in Delhi-NCR.
8.24pm: "A few days back, the Kejriwal government offered Rs 1,500 crore for not increasing the Metro fares. It means they have no paucity of funds but they are not doing anything. The money could be used for purchasing 3,000 buses," says Kapil Mishra.
8:22pm: The AAP's rebel MLA Kapil Mishra, a former minister in the Kejriwal government, slams the city government over its "inaction".
8:20pm: "The city is facing severe air pollution for the past two days, but Arvind Kejriwal has failed to take any steps except for tweeting and writing letters," says Shiromani Akali Dal MLA Manjinder Singh Sirsa.
8:15pm: Three political leaders - Shiromani Akali Dal MLA Manjinder Singh Sirsa, AAP MLA Kapil Mishra and BJP leader Arvinder Singh Lovely – distribute masks to people. They hit out at the AAP government for "not taking any corrective measures".
7:58pm:
7:24pm: Supreme Court-appointed EPCA announces 'severe plus', or emergency, conditions in Delhi. It wants ban on civil construction and demolition activities, reports news agency PTI. The panel also banned the entry of trucks, except those carrying essential commodities, in the capital city. The panel said a decision on bringing back the odd-even scheme will be taken on Thursday.
6:42pm: The Central Pollution Control Board and a Supreme Court-appointed environment body have recommended "free of cost public transport" in Delhi for the next few days as the region faces a "pollution emergency".
The final decision to make bus and Metro rides free will come from the Delhi's lieutenant governor Anil Baijal, who is likely to hold an emergency meeting with environment authorities, officials said.
The CPCB, which held an emergency task force meeting, told IANS that a "pollution-clock" was being updated on its portal to monitor the situation closely and impose a "pollution emergency" if PM2.5 remained at the current levels.
Earlier, the apex court-appointed Environment Pollution Prevention and Control Authority barred the entry of trucks to Delhi and levied a parking fee four times the normal rates.
5:56pm:
5:41pm: The National Green Tribunal lashed out at the Delhi government and the Central Pollution Control Board for not issuing orders to shut down construction and industrial activities in the capital despite the worsening air quality.
It also ordered Punjab, UP and Haryana governments to spell out the steps have they taken to prevent crop burning in the states adjacent to the national capital.
The green panel directed the Delhi Pollution Control Committee to collect ambient air quality samples from different parts of the city and submit an analysis containing details of different pollutants, including particulate matter (PM) 2.5 and 10.
4:57pm: In his letter to Haryana and Punjab chief ministers --- Manohar Lal Khattar and Amarinder Singh --- Delhi CM Arvind Kejriwal says the governments have "failed to provide economically viable alternatives to stubble-burning", reports news agency IANS.
4:56pm: Major city hospitals witnessed a surge in the number of patients complaining of respiratory problems with doctors saying some may develop life-threatening conditions, reports news agency PTI.
3:27pm: Doctors issued a health advisory asking people to avoid outdoor activities like jogging and cycling as high levels of air pollution in Delhi and NCR can cause chronic lung and heart diseases and also affect the health of expectant mothers.
The smog that has enveloped the region for the past two days can cause allergies or aggravate already existing allergies and decrease lung immunity, according to tips shared by Fortis Healthcare.
3:00pm: Earlier in the day, environment minister Harsh Vardhan said in a message on social network Twitter: "Every possible step required to tackle the situation has been already identified, and the need of the hour is to put them into action."
Using the hashtag "#DelhiSmog", Vardhan urged the state authorities to rein in pollution, even if that meant deploying helicopters to spray jets of water across the capital.
1:15pm: "Delhi's air quality is getting worse. In this situation, there can be no compromise on children's health," Delhi deputy chief minister Manish Sisodia tweeted, as his government ordered all schools to be closed till Sunday in view of deteriorating air quality in the Capital.
12:54pm: Some 30 trains coming to Delhi and 30 flights landing or taking off from the Delhi airport were delayed, news agency IANS reported, quoting unnamed officials.
The air quality in Delhi and adjoining Noida (Uttar Pradesh) and Gurgaon (Haryana) continued to be alarmingly bad on Wednesday.
12:21pm: The US embassy website showed the concentration of PM 2.5 -- the microscopic particles that are the most damaging to health -- topped 700 early on Wednesday morning, 70 times the WHO guidelines on long-term exposure, before dropping slightly.
The Indian Medical Association declared a public health emergency, urging administrators to "curb this menace", while the Environment Pollution Authority warned that things were set to get worse in the coming days.
10:08am: A day after Delhi witnessed its worst 'air quality' and 'smog situation' of the year, CM Arvind Kejriwal said on Wednesday he wished to meet his Haryana and Punjab counterparts to find a solution to pollution in the National Capital Region.
Kejriwal tweeted: "Am writing letters to CMs of Punjab (Amarinder Singh) and Haryana (Manohar Lal Khattar) requesting them for a meeting to find solutions to crop burning."
The National Green Tribunal has taken the governments of Delhi, Uttar Pradesh, Punjab and Haryana to task, seeking to know why steps to prevent steps were not taken despite knowing well in advance that such a situation was likely to arise.
Here are the highlights of Tuesday:
New Delhi gasped for oxygen on Tuesday as a toxic haze reduced visibility, affected flights and trains, and prompted chief minister Arvind Kejriwal to describe the national capital as a "gas chamber".
Parking fee was hiked four times in New Delhi and its satellite cities to reduce the use of private cars as vehicle exhaust is considered one of the primary sources of air pollution.
Metro was asked to slash fares after peak hours and governments were told to increase the number and frequency of public buses.
6:40pm: Stubble burning is the "main villain" behind the severe level of pollution in Delhi and the neighbouring areas, the Delhi high court said on Monday, as it asked the AAP government and the neighbouring states what steps they have taken to address the issue.
6:10pm: The Indian Medical Association said New Delhi was in the midst of a "public health emergency" and appealed to the city government to halt sports and other outdoor activities in schools. The association also said the Delhi Half Marathon, scheduled for November 19, was likely to leave those participating especially badly hit because the air quality is worst during the early part of the day, when the run takes place.
6pm: All primary schools in Delhi will remain closed tomorrow, if needed will extend order till day after, says Manish Sisodia.
5.30pm: "We have declared a state of public health emergency in Delhi since pollution is at an alarming level," the head of the Indian Medical Association (IMA) Krishan Kumar Aggarwal told AFP.
5pm: All schools in Delhi have suspended outdoor activities and advised parents to ensure their children wear masks.
4:16pm: Delhi-NCR governments asked to get ready for odd-even scheme if pollution reaches 'emergency' level.
4:15pm: Hike parking fee across Delhi four times to curb pollution: Supreme Court-appointed anti-pollution panel to Delhi government.
3:32pm: EPCA also instructs Delhi Metro to lower fares during off-peak hours for at least 10 days, introduce more coaches.
3:30pm: Environment body EPCA recommends that parking fees in Delhi-NCR be quadrupled.
2:20pm: The Central Industrial Security Force (CISF), a paramilitary force under the Union home ministry, has ordered on Tuesday issuance of over 9,000 face masks for its personnel deployed to guard the IGI Airport, the Delhi Metro and other government ministries and installations in Delhi, according to a PTI report.
1:08pm: "Considering high level of pollution, I have requested Sh Manish Sisodia, Education Minister, to consider closing schools for a few days," tweets Delhi CM Arvind Kejriwal
12:50pm: NGT slams Delhi, UP and Haryana governments over bad ambient air quality in the national capital, directs them to explain what preventive steps did they take to deal with the 'emergency situation' prevailing today, reports news agency PTI
12:25pm: Train operations have also been affected with 33 inbound trains delayed by three hours or more.
12:20pm: At least 7 flights have been delayed, and one flight from Lucknow has been diverted to Jaipur.
12:15pm: MeT officials say runway visibility had dropped to around 400m at 8 am in the morning, but had cleared to around 425-725m at 10:30 am.
12:12pm: Delhi CM Kejriwal says Delhi has become a gas chamber for almost a month.
12 noon: Delhi chief minister Arvind Kejriwal says Delhi's air pollution is this bad at this time of the year every year.
11:50 am: ANI reports that more than 20 flights were affected at Delhi airport after the runway was closed due to low visibility
11:15am: Indian Medical Association declares Delhi a public health emergency state, ANI reports. The Association advises schools to be shut and tells people to avoid stepping out into the open
10am: Dense smog on National Highway-9 in Haryana. Long-distance trains from Bathinda to Delhi via Sirsa and Hisar are running late by an hour.
Haryana Roadways cancels several early morning long-route buses to avoid accidents.
8:50am: Long queues of four wheelers clog Delhi-Noida-Delhi Flyway and Noida-Greater Noida expressway as rush hour begins.
8:30am: Visibility in national capital at 200 metres
8am: In Haryana, Fatehabad's district collector orders schools to open one hour later than usual. Schools to now open at 9 am for the next week.