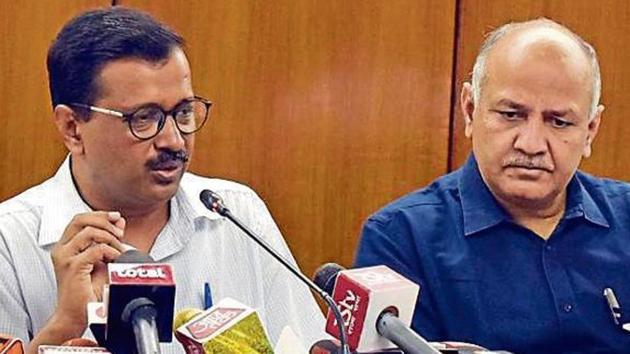 Delhi Budget goes green, focus more on cleaner fuel, electric buses
The AAP government plans to roll out 1,000 fully electric buses, 'the highest fleet of electric buses in any city or state in India, and in fact, by any city in the world outside of China'.
UPDATED ON MAR 22, 2018 11:53 PM IST
After three years,the Aam Aadmi Party government seems to have woken up to the air pollution menace as Delhi on Thursday got its first-ever green budget, which includes detailed studies, subsidies to use cleaner fuel, electric buses and solar farms, among others.
In the last three winters, when air quality dipped to dangerous levels, the government went into a firefighting mode, announcing measures such as artificial rain and smog gun. Experts said these were not feasible in Delhi.
On Thursday, however, finance minister Manish Sisodia came out with a more comprehensive plan.
"Over the past few months, we studied possible initiatives that can reduce air pollution in Delhi and brought forward the shortlisted proposals in the form of green budget… We shortlisted 26 separate programmes and projects proposed by the environment, transport, power and public works departments, and attempted to bring them together in the form of a concerted initiative to control pollution," he said.
The government plans to roll out 1,000 fully electric buses, "the highest fleet of electric buses in any city or state in India, and in fact, by any city in the world outside of China". Over 905 electric feeder vehicles will be deployed by the Metro to boost last-mile connectivity. A comprehensive electric vehicle policy to replace BS-II and BS-III two wheelers, taxi fleets and commercial goods carriers with fully electric vehicles is in the offing.
"It is encouraging that Delhi budget has tied hard money with air pollution control and energy efficiency measures to reduce air pollution and climate change impacts," said Anumita Roychowdhury, who heads the air pollution and clean transportation programme at the Centre for Science and Environment.
"Interlinking public transport strategy with electric mobility, expansion of bus fleet, coupling cycle tracks with solar power generation, explicit provision for road safety and management of roads for dust control are important. But this needs to be done at a scale, on time, and based on well laid out policies for effective impacts," she said.
Road dust is a major contributing factor in air pollution. To reduce such kind of pollution, the government is launching a new scheme called "landscaping of PWD roads", Sisodia said. Under this scheme, edge-to-edge paving/greening and beautification of all PWD roads will be initiated.
The government will partner with the C-40 Cities Climate Leadership Group, a network of the largest cities in the world, to carry out the first comprehensive citywide inventory of greenhouse gas emissions in Delhi.
The AAP government, which in 2017 missed its target of 55 lakh pollution under control (PUC) certificates by 1.77 lakh, plans to send alerts for timely checks and a third-party audit.
A spates of incentives are also being offered. Industries in approved industrial areas will get incentives of up to Rs 1 lakh to switch over to piped natural gas, Rs 5,000 per tandoor to restaurants to replace coal ones with electricity or gas-based ovens and ₹30,000 to firms to switch over from diesel generator sets of 10KVA or more capacity to clean fuel-based ones. Then there is 50% concession in registration charges for CNG factory-fitted private cars.
"Some of these initiatives will be funded through budgetary support, some will be funded through the air ambience fund or through funds collected under the environment compensation charge," Sisodia said.
The government plans an agriculture-cum-solar farm scheme to incentivise installation of solar panels on raised structures. Normal farming activities will continue below the solar panels.
"Under the power department, we have lined up a host of renewable energy initiatives to reduce Delhi's reliance on fossil fuel-based power generation…will purchase 1,000 MW of green power from solar and wind-based generation in the coming year," he said.
Delhi will become the first city to conduct a real-time source apportionment study in partnership with the University of Washington and carry out near-continuous analysis of factors regularly causing pollution.
The budget also includes projects to replace all streetlights on PWD roads with energy efficient LED lights and start a pilot project to install solar panels across 16 km of cycle tracks.
Close