Delhi jeweller begs robbers to leave some gold for his children, is shot dead in front of his son
Hemant Kaushal got into a scuffle with the men robbing his jewellery store after he begged them to leave some gold behind for his children's future. His son was in the store at the time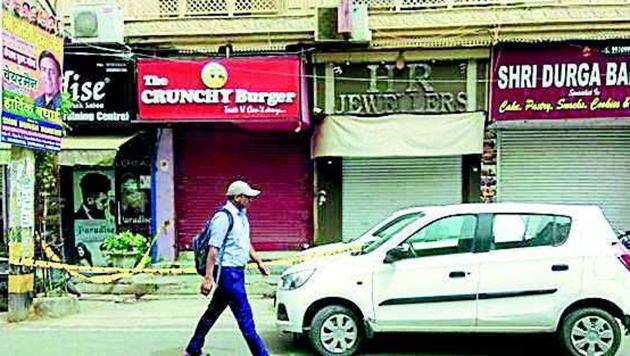 Updated on Jun 14, 2018 01:45 PM IST
Hindustan Times, New Delhi |
Shiv Sunny
A jeweller's desperate efforts to save gold for his children's "future" cost him his life during a robbery at his showroom in north Delhi's Adarsh Nagar on Tuesday afternoon.
Forty-year-old Hemant Kaushal died after being shot multiple times in front of his 13-year-old son in the showroom. The three robbers, who were wearing helmets, were yet to be identified more than 24 hours after the crime, said Aslam Khan, deputy commissioner of police (north-west).
Describing the crime, Kaushal's son, a Class 8 student, said that his father was tutoring him in an enclosure at the showroom when the robbers struck around 4 pm.
Store attendant Ashok Kumar was the first person the robbers ran into once inside.
"I asked the men to take off their helmets, but they responded by pulling out pistols. They asked me to call the showroom owner," said Kumar.
When Kaushal came out of the enclosure, he and Kumar were forced to lie down on the floor. "The robbers realised that I too was at the store and forced me to come out at gunpoint and lie down beside my father. When they threatened to kill me, my father requested them to take away all the jewellery," said Kaushal's son.
Security camera footage showed the robbers emptying multiple trays of jewellery into bags they had brought along.
"When they began leaving, my father rose on his feet and begged them to leave behind some jewellery for me and my sister's future. My father tried to stop one of them, which led to a scuffle," recounted the boy.
The scuffle resulted in Kaushal pushing one of the robbers on a sofa. "Another robber responded by shooting my father many times," said the boy.
As the robbers fled, the boy hurriedly dialled the police even as he loaded his father on an e-rickshaw to rush him to a private hospital where he was declared brought dead.
Khan said efforts are on to use the CCTV footage of the crime to identify the suspects.
Close Story
Personalise your news feed. Follow trending topics