Delhi misses chance to witness 'blood moon' as clouds obscure view
New Delhi |
Press Trust of India
Jul 28, 2018 09:26 AM IST
Several parts of north India, including Delhi, have been witnessing monsoon rains for the past a few days.
Nearly 2,000 curious skygazers converged at New Delhi's Nehru Planetarium to witness the century's longest lunar eclipse, but had to return disappointed as clouds completely surrounded the moon as if to conceal it.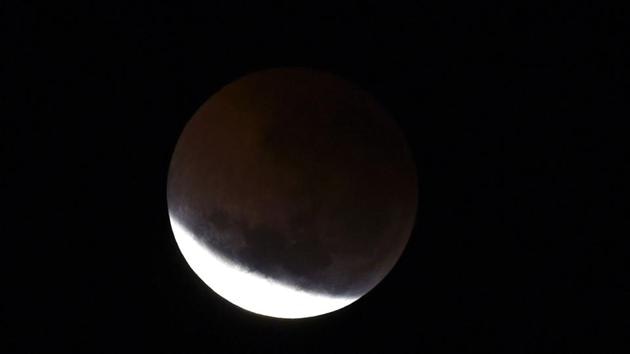 The skies turned ember but the so-called "blood moon", when the Earth's natural satellite turns strikingly red, remained elusive. Enthusiasts anxiously waited until past midnight for clouds to give way to the spectacular event to become visible.
Many of them had brought their telescopes.
Several parts of north India, including Delhi, have been witnessing monsoon rains for the past a few days. The annual weather pattern prevented people from enjoying the spectacular celestial event witnessed across several parts of the world.
The "totality" period, when light from the moon is totally obscured, started at 10:53 PM and lasted for 103 minutes (1 hour and 43 minutes).
The planetarium had organised a "Moon Carnival" and set up special telescopes for people to experience the phenomenon. It had also organised a series of programmes, including shows on astronomy, eclipse and even street plays.
Amateur astronomers were visibly excited and voluntarily explaining the phenomena to the visitors.
"Nothing was seen because of clouds," N Rathnashree, director of Nehru Planetarium, said.
Parents had brought their kids to the planetarium to view the rare eclipse but had to return with a sense of sadness. Rajiv Sharma, an amateur astronomer, was at the planetarium with son, daughter and nephew, but bad weather played spoilsport.
Many took solace in watching the shows on astronomy.
"There was a footfall of nearly 2,000 people for the shows today," Siddhartha Madaan, an educator with the planetarium, said.
The carnival served as a platform to dispel myths about lunar eclipse. "For instance, many don't eat during eclipse and there are several notions attached to it. We tried to explain it to people through our plays," Aniket Singh, a class 12 student, said.
The total lunar eclipse also coincided with another relatively rare celestial phenomenon known as the Mars opposition, the closest approach of Mars to Earth.