Delhi's iconic Signature Bridge opens today: 5 interesting facts to know
Nov 04, 2018 05:26 PM IST
Top facts of Delhi Signature Bridge: It has a 154-metre-high glass viewing box, which is double the height of Qutub Minar.
Delhi's Signature Bridge was inaugurated today after a gap of 14 years. Announced in 2004, the bridge was finally inaugurated by Delhi chief minister Arvind Kejriwal this evening. Built over the river Yamuna, it will reduce travel time significantly between north and northeast Delhi, sharing the traffic burden of Wazirabad bridge. "From the top of the bridge, people will be able to enjoy a panoramic view of the city, like people can from the Eiffel Tower (in Paris). Visitors will be taken to the top of the bridge in four elevators with a total capacity of 50 people," deputy chief minister Manish Sisodia had earlier said.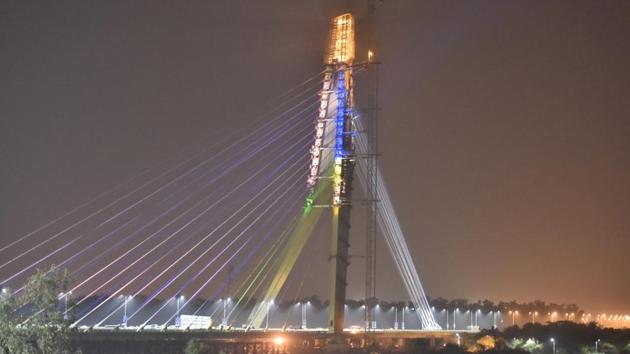 Here are five key facts about Delhi's iconic Signature bridge:
1) The bridge is being projected as India's first asymmetrical cable-stayed bridge, with the gesture 'namaste'. In the second phase of its development, the bridge will be developed into a tourist spot.
2) Graphics on the bridge symbolise a modern and progressive India. The bridge will have a 154-metre-high glass viewing box, which is double the height of Qutub Minar. The 575-metre bridge will also have selfie spots.
3) With a 250 mm thick steel plate fabrication, the bridge is one of the most contemporary landmarks in the city. The Signature Bridge is an eight-lane carriageway connecting Outer Ring Road and Wazirabad Road which reduces travel time for those going towards Ghaziabad side by more than 30 minutes.
4) The bridge boasts of 127 strands of back-stay cables, spherical bearings of 17,300 tonne vertical capacity, pendulum bearing to resist uplift of 6,300 tonnes, and transportation and handling of 460 tonne pylon base segment.
5) The iconic bridge will provide a huge boost to the economy of the area as it will draw tourists from across NCR, India and even abroad. It would definitely have an impact on the socio-cultural fabric of the area.