16-year-old girl gangraped in Delhi's Shalimar Bagh park, male friend assaulted
Updated on Dec 18, 2017 01:45 PM IST
The teenager's friend told Delhi Police that three men approached them when they were in a park in Shalimar Bagh and taunted them for being there so late in the day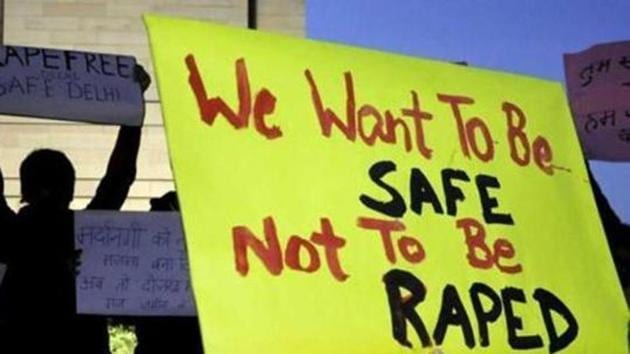 A 16-year-old girl was gangraped while her male friend was beaten up and robbed by three men on Saturday evening in a park in northwest Delhi's Shalimar Bagh.
More than 24 hours after the incident, police are yet to identify the three rapists.
The incident was reported exactly five years since the December 16, 2012 gang rape case in which a 23-year-old physiotherapy student was assaulted inside a bus in south Delhi triggering protests across the country and change in rape laws.
The teenager, who works as a domestic help, had gone to the Beri Wala park in Shalimar bagh with her male friend, aged around 18-19 years. According to their complaint, around 6.30 pm inside the park, they spotted three men who approached them. Police said the girl did not know any of the accused.
The couple alleged that the men taunted them for coming to the park in the evening. When the young man protested, the three allegedly assaulted him and snatched his cell phone.
They allegedly damaged the phone and threw it in the nearby bushes. Police said the three then took then turns to sexually assault the girl. The girl's male friend, who works as a peon in a private company, reportedly told the police that he had also shouted for help but there was no one in the park.
The three alleged rapists left the couple in the park, threatening them not to inform the police. Police said they were told about the incident by the girl who reached home and told her parents about it. The matter was reported at the Shalimar Bagh police station at around 11.30 pm.
Delhi Police spokesperson Madhur Verma said the girl's medical examination confirmed rape but did not comment on the extent of the injuries.
"She was admitted to the hospital briefly and was treated for her injuries she had sustained during the assault. She was provided counselling and her statement was recorded," he said.
Police have registered a case of gang rape, abduction, causing hurt, and under sections of the Protection of Children Against Sexual Offences (POCSO) Act. Police said they have formed several teams to track down the suspects.
Investigating officials said the alleged rapists possibly took advantage of the dense bushes in the park. The park is also poorly lit, police said. Police suspect the three accused could be drug addicts or local criminals from the area who loiter in the park after sunset.
Personalise your news feed. Follow trending topics