Low wind speed to blame for more smoggy days ahead in Delhi
Pollution levels in Delhi have remained high for the last 10 days with PM2.5 level shooting up around 9am and 10am every day.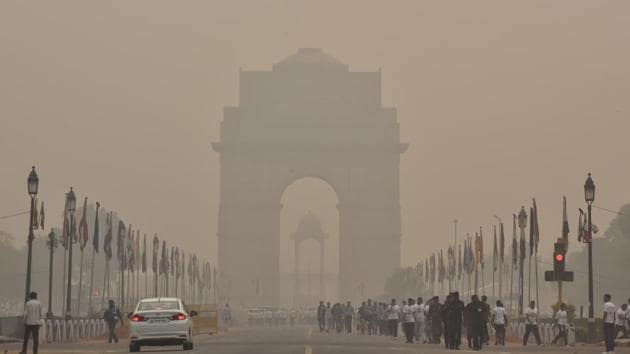 Updated on Nov 01, 2017 10:47 AM IST
Hindustan Times, New Delhi |
Ritam Halder & Joydeep Thakur
Get ready for more smoggy days as Delhi air will continue to be in the "very poor" category because of low wind speed.
Pollution levels in the city have remained high for the last 10 days and have been the worst from 9am to 10am. Scientists blame it on sudden drop in night-time temperature and high moisture content.
The low wind speed is unable to dissipate the pollutants early in the day and it is only towards the noon that the air gets better.
The foulest hour
Central Pollution Control Board (CPCB) data says that PM2.5 level is shooting up in Delhi around 9am and 10am every day. "As the sun rises and the air gets heated up, the dew starts evaporating. Moisture level rises and the air's capacity to carry pollutants increases. The pollution level, however, drops later when the temperature rises further," said D Saha, head of CPCB air laboratory.
During the morning hours, the level of PM2.5 even touched emergency levels (severe plus category) in some pollution monitoring stations like DTU, ITO, Anand Vihar and RK Puram.
Pollution level was found to be the least in the evening around 5pm and 6pm.
No respite in coming days
According to the System of Air Quality and Weather Forecasting And Research (SAFAR), the AQI clocked 367 on Wednesday morning and is set to get worse on Thursday with 380.
"There is no wind. Pollutants are not being able to disperse. According to MeT reports, the situation will continue to remain this way for another week," said Sunita Narain, a member the Environment Pollution and Control Authority (EPCA) said.
What is turning the air foul?
Low windspeed, low mixing height and high moisture content are aggravating matters say experts
The wind speed of Delhi has been hovering around 1.5 metre/second (m/s), which is way below the required 5 m/s to flush out the pollutants.
What has aggravated matters is that the mixing height has come down to 100 metres. The mixing height is the height of vertical mixing of air and suspended particles above the ground. As the mixing height has reduced, it is not allowing the pollutants to disperse. Earlier, during summers, the mixing height could go upto 1.5-2 km.
"It might get worse in the next few days, largely because of the low wind speed. On Tuesday, the wind speed dropped to around 0.9 m/s," said Saha.
Close Story
Personalise your news feed. Follow trending topics