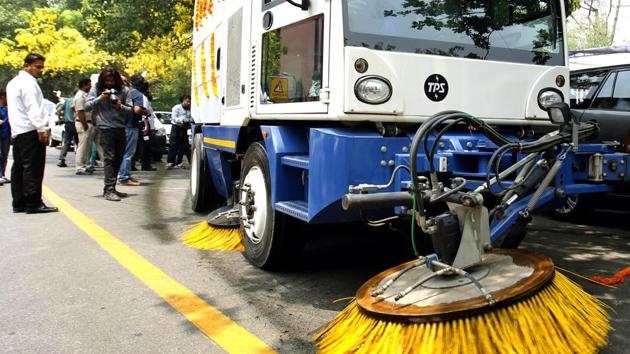 Delhi: PWD gets six more vacuum cleaners to clean 60-feet-wide roads
Six mechanical sweeping machines are already functional on an outsource basis. The tendering process has started to engage six more of these machines on big roads. These will operate four times on one particular stretch to ensure all of it, the two sides and the middle portion, is properly cleaned
PUBLISHED ON MAY 06, 2017 06:16 PM IST
The Delhi PWD is in the process of getting six more mechanical sweepers to clean Delhi's big roads.
The machines with circular brooms and vacuuming mechanism are meant to make the roads dust-free. They will be used on roads that are 60-feet-wide and above. Each road would be cleaned once a week to reduce dust.
"Six mechanical sweeping machines are already functional on an outsource basis. The tendering process has started to engage six more of these machines on big roads. These will operate four times on one particular stretch to ensure all of it, the two sides and the middle portion, is properly cleaned," a senior government official said.
An IIT-Kanpur study carried out between 2012 and 2015 says road dust is the biggest contributor to both PM10 (particulate matter) and PM2.5 emissions in Delhi.
These particles less than 10 micrograms per cubic meters in diameter are deadlier as they go deep into the airways and lungs, and cause irreversible injury to the tissue, leading to chronic obstructive lung disease, emphysema and lung cancer.
"An earlier tender got a poor response as very few Indian companies have the expertise in this area. So we are floating these global tenders to attract both domestic and international players. In India, there are a few places where roads are mechanically cleaned. We are increasing the longevity of the contract so that it becomes financially feasible for contractors to take part in the tender," a PWD official said.
Even other agencies are boosting their vacuum cleaning infrastructure. In a recent meeting chaired by Delhi L-G Anil Baijal, the New Delhi Municipal Council said it would get six mechanical sweeping machines by end of May.
The north corporation, too, is eyeing six machines while the south body will procure 30 ones. The east civic body will get four of these.
Close