Delhi sees its most chikungunya cases ever, but new infections down
Oct 03, 2016 11:54 PM IST
Delhi recorded its highest ever — 1,598 — chikungunya cases in the week ending October 1, but the worst is over.
Delhi recorded its highest ever — 1,598 — chikungunya cases in the week ending October 1, but the worst is over.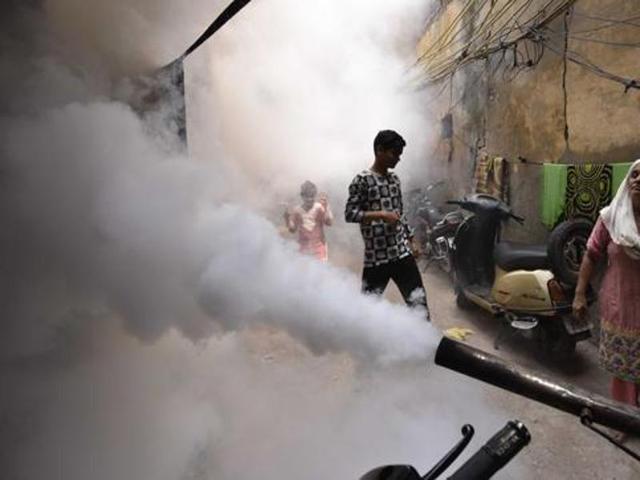 Hospital data shows that new infections are down. The downward trend, however, will reflect in the municipal cooperation of Delhi's figures next week.
"New infection is down but recorded cases are up because the confirmatory test for chikungunya is done a week to 10 days after people get symptoms," said Dr DK Seth, director, hospital administration, north corporation.
Read | Delhi govt says fogging helped contain dengue cases
The Capital faced its worst chikungunya outbreak this year. Spread by mosquitoes, the viral infection causes high fever, joint swelling and pain (lower back, ankle, knees, wrists or fingers), rash, headache, nausea and fatigue.
As many as 1,598 new cases were reported over the week, taking the total to 5,293, MCD data, which is updated once a week, show. But people with dengue and chikungunya at both Delhi-government and MCD-run hospitals have halved, showing the outbreak is waning.
Private hospitals have also registered a fall in numbers. "Through most of September, we got 30-40 chikungunya patients every day, now it's about 20. The number of hospital admissions is also down," said Dr Rommel Tickoo, senior consultant, internal medicine, Max super speciality hospital. "Even if there's rain, new cases will not shoot up drastically as the pool of infected people is falling."
Two more chikungunya deaths were reported at the MCD-run Hindu Rao hospital this week, taking the hospitals-confirmed toll to 18. None of these have been certified as chikungunya deaths by the Delhi government or MCD.
Chikungunya virus worsens existing conditions, much like other infections, experts say, pointing out that when people with HIV, which causes AIDS, die of pneumonia or tuberculosis, their deaths are certified as AIDS deaths.
Over the past week, 441 new dengue cases took the total to 2,133. The MCD has confirmed four dengue deaths. More than 7,500 dengue cases were reported till October 1 in 2015, when the viral disease infected 16,000 and killed 60.
Read | Delhi health minister blames secretary for spread of dengue and chikungunya