Delhi govt says fogging helped contain dengue cases
The Delhi government on Monday claimed that it was able to contain the spread of dengue this year by controlling the breeding of mosquitoes.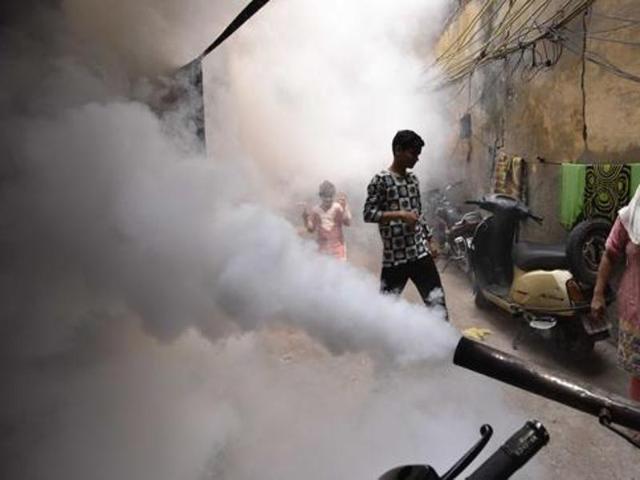 Updated on Oct 03, 2016 11:53 PM IST
The Delhi government on Monday claimed that it was able to contain the spread of dengue this year by controlling the breeding of mosquitoes.
"Usually the number of dengue cases go up during the end of September and beginning of October and peaks mid October. However, due to the efforts by Delhi government the numbers have started coming down already," said a Delhi government official.
Dengue cases, which have crossed the 2,100 mark in the city, have begun to plateau unlike last year when 6,775 cases were reported in September alone. According to a municipal report released on Monday, 2,133 dengue cases have been recorded till October 1. Of this, 1,362 were reported last month and 441 last week.
The government has pressed over 600 machines to spray pesticides in localities. The government had launched the fogging drive, a primary responsibility of the municipal corporations, two weeks ago.
"People complained that fogging wasn't happening. So, our drive will supplement the efforts of the MCDs and increase its efficacy," health minister Satyendar Jain had said.
Dr SM Raheja, in-charge of Delhi government's dengue control cell, said, "There is more focus on areas from where more cases are being reported."
Municipal officials, however, said that indiscriminate fogging is not the solution to contain the spread of vector-borne diseases.
"Fogging is visible and a populist measure, but it does not really help a lot. It just kills the mosquitoes that are out in the open, what about the ones inside homes and offices? Plus, if breeding is not stopped, more mosquitoes will be born even if fogging kills some," said a municipal health official.
With the corporations reporting 1,598 cases of chikungunya during the week ending on October 1, the total number of cases of the mosquito-borne disease has crossed the 5,000 mark. With a total of 5,293 cases, Delhi is witnessing its biggest ever chikungunya outbreak.
Only 1 chikungunya case had been reported during the same time last year.
"The disease is most commonly found in South India, but this year the viral infection reached a critical density in Delhi, meaning 10 of every 100 houses had a person affected who had chikungunya," said Dr LR Verma, additional municipal health officer.
Chikungunya is a viral disease, which is spread by the same aedes aegypti mosquito that spreads dengue, which is endemic in Delhi. Breeding control is the best way to prevent these diseases.
The mosquitoes breed in clean stagnant water. Hence, the government has been urging people to observe a "dry day" every week. "These mosquitoes take eight to ten days to develop into a fully grown adult from the larval stage. If coolers, utensils, feng shui plants and buckets are scrubbed clean once a week, it breaks the breeding cycle," said .
.
Close Story