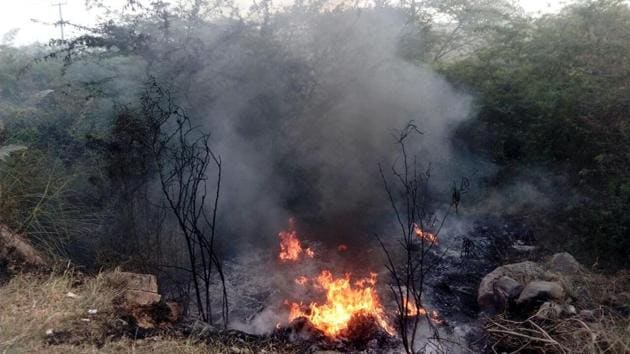 Despite NGT order, waste burning continues unabated in Delhi
On Friday, the NGT imposed a nationwide ban on the burning of bulk waste in open spaces, announcing a fine of R25,000 for any violation. A fine of R5,000 is already in place, for simple burning.
Hindustan Times, New Delhi | By Soumya Pillai and Vibha Sharma
, New Delhi
UPDATED ON DEC 27, 2016 07:30 AM IST
For residents of Nizamuddin, waking up to thick clouds of smoke — from road sides — has become a routine matter. Schoolchildren and parents going to drop them cover their noses to protect themselves from the emission. Morning walkers cough and sneeze, but the sanitation workers in the area continue to burn leaves and waste.
Despite the National Green Tribunal's (NGT) order and repeated reminders by the Delhi government's environment department banning the open burning of waste, municipal agencies continue the practice in several parts of the city.
"They sweep the roads and instead of clearing the collected waste, burn it by the road side. How can the government keep talking about pollution in the city, when their own people are making things worse?" said Sandeep Srivastava, who crosses the Nizamuddin Bridge regularly.
On Friday, the NGT imposed a nationwide ban on the burning of bulk waste in open spaces, announcing a fine of Rs 25,000 for any violation. A fine of Rs 5,000 is already in place, for simple burning.
Pradeep Tiwari, an environment activist who has filed a petition at NGT against open burning of waste by sanitation workers, said that the practice can only be checked if there is some mechanism to dispose waste efficiently.
"Most of the sanitation staff employed by municipal bodies is on contract. There is no strict way of keeping a tab on their actions. The government needs to implement a comprehensive waste segregation and disposal plan before it talks about pollution caused because of garbage burning," he said.
Read: 21 fined for open waste burning
Residents of west Delhi's Tilak Nagar also complain of such open defiance of the court order by the sanitation staff. Raj Kumar, the president of the residents' welfare association of (RWA) of J-block, Tilak Nagar, said that instead of picking up the waste, the sanitation workers only sweep the area and collect it in corner. Once a week, however, they set the collected waste ablaze.
"The problem is that even the residents here have opened their eyes to this problem recently. Earlier these people would burn garbage anytime, not caring for the health of people. Now, because people have started reacting, they do it at the break of dawn," he said.
According to the Central Pollution Control Board (CPCB), open air garbage burning contributes 5% to 11% of direct particulate matter to the air in India. In Delhi, the contribution of this is almost 18%. They also estimated that last year about 250 tonnes of garbage was burnt.
A senior official from the north corporation denied knowledge of such instances and said in case any sanitation or horticulture worker is found burning garbage in the open, s/he is liable to a fine of Rs 5,000.
"The sanitation worker is responsible to keep a check on such activities and apart from the fine the worker is also liable to disciplinary action," the official said.
Close